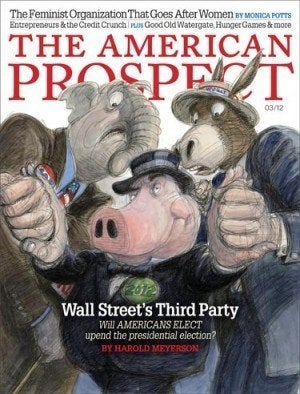 Editor Kit Rachlis told The Huffington Post on Wednesday that the magazine received a grant this week that pushed its donation haul over $1.2 million, the amount needed to cover an immediate $500,000 funding gap and another $700,000 for the budget through 2012.
So far, the Prospect has taken in a total of $1.29 million, a tally that includes several large donations in the six-figure-range, along with 3,800 individual donations of amounts that were mostly $100 or less.
"I'm pleased and relieved," Rachlis said, "but that doesn't mean Jay Harris, the publisher, and I don't have hard work to figure out next year's budget and figuring out a sustainable business model for the Prospect so that it doesn't face this type of crisis ever again."
Founded in 1990 by Robert Kuttner, Paul Starr and Robert Reich, the Prospect has long focused on covering policy rather than the minute-to-minute ups and downs in the Beltway or on the campaign trail. Indeed, the Prospect's Jamelle Bouie argued Wednesday that journalists now bemoaning the Twitter-ization of the 2012 election could do something about it and "inform readers, rather than exhaust them with vapid minutiae."
In a recent profile detailing what appeared to be the magazine's final days, GQ's Marin Cogan described the Prospect as an increasingly rare publication where young reporters "could actually try your hand at long form reporting and argument."
"Positions available to aspiring journalists in Washington are now mostly web hamster jobs," Cogan wrote, "ones that reward a performative, maniacal work ethic over context, analysis and enterprise -- who can tweet the fastest, who can write up the press conference quicker."
The Prospect has served as a launching pad for the careers of numerous journalists, including Josh Marshall (Talking Points Memo), Ezra Klein (the Washington Post), Matt Yglesias (Slate), Nick Confessore (The New York Times), Garance Franke-Ruta (the Atlantic) and Jonathan Chait (New York magazine).
Rachlis said that the Prospect's two-year writing fellows program for young journalists will continue under the new budget. He acknowledged that the magazine has been a "great training ground" and even a "farm team" for bigger, and presumably better-paying, publications, but he said he hopes the magazine becomes a place journalists stick around.
"I think the key is that the current generation and the one coming up next will stay at the Prospect and make it their own," Rachlis said.
Calling all HuffPost superfans!
Sign up for membership to become a founding member and help shape HuffPost's next chapter
BEFORE YOU GO
PHOTO GALLERY
Top 25 Magazines Of 2013