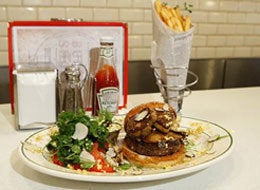 Ah, the sweet, sweet smell of sizzling meat. There isn't much that is more American than the cheeseburger, and there also isn't much that is more American than conspicuous spending. Armed with this knowledge, here are three of America's most expensive cheeseburgers.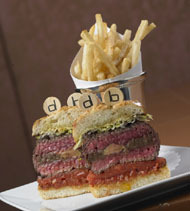 The 2nd Runner-Up is courtesy of Daniel Boulud, whose burger is composed with:
an exterior of ground sirloin with a filling of boned short ribs braised in red wine, foie gras, black truffle and a mirepoix of root vegetables. The homemade bun is topped with toasted parmesan and layered with fresh horseradish mayonnaise, tomato confit, fresh tomato and frisée lettuce.
It doesn't matter if you don't know what a "mirepoix" of root vegetables is because you take one look at that photo and you know that burger is going to taste like you're own little piece of heaven, and at the downright plebeian price of $150, you'll feel like you just paid for your own little piece of heaven too.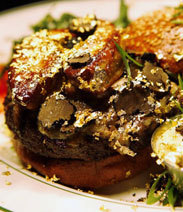 In what might now be forever known as the "War of the Burger Prices", the Wall Street Burger Shoppe has just raised the price of their burger to $175, to ensure their place as New York's most expensive burger. And no, you're not seeing things. The photo at left is sparkly and gold because their burger is topped with gold leaves. According to Reuters:
The burger, created by chef and co-owner Kevin O'Connell, seeks to justify its price with a Kobe beef patty, lots of black truffles, seared foie gras, aged Gruyere cheese, wild mushrooms and flecks of gold leaf on a brioche bun.
Wondering who on earth would pay $175 for a burger? Well, according to co-owner Heather Tierney, "the eatery sells 20 or 25 per month."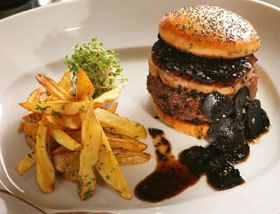 For those of you out there thinking, "Heck, I eat $175 burgers for breakfast," don't worry your fat, ostrich-leather wallets because there is one burger that puts both of these wannabes to shame. It's the Chuck Bass of burgers, the Kira Plastinina of gastronomical expenditures. It's Las Vegas' own $5000 burger. Sold at Fleur de Lys at Mandalay Bay, "the foie gras and black truffle-stuffed Kobe burger is served on a brioche truffle bun and garnished with Chef Keller's special sauce, which also has truffles. Accompanying this burger is a bottle of Chateau Petrus 1995."
Yup, you read right: the burger is so good, they throw in a thirteen-year-old bottle of wine for free!
So, what do you think? Are your tastebuds quivering, or is your wallet shivering? Tell us your thoughts below!
Popular in the Community