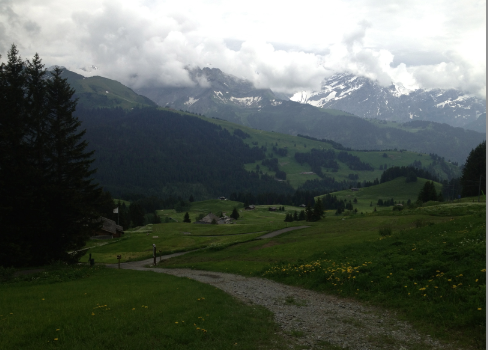 Villars-Gryon in the Swiss Alps (photos by: Margie Goldsmith)
"You see over there?" says Pascal Jourdain, a dairy farmer in the Swiss Alps. I stare up at the snow-covered peaks and wild-flower filled valleys, far removed from the skyscrapers and constant noise of New York City. Here it is serene with only the melodious sound of tinkling cowbells.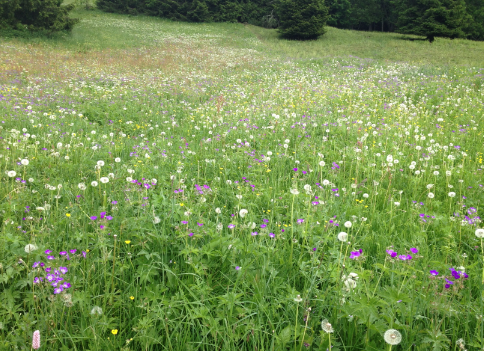 Wildflowers in Switzerland
But Pascal is not pointing out the countryside, he's warning me against walking in a field where about twenty mother cows protectively watch over their calves. "Those cows will be viscous if you try and go there, so don't."
Pascal Jourdain lives on a 6,000-foot-high dairy farm in Villars-Gryon http://www.villars.ch/en/index.cfm in the Vaud Alps, the French-speaking part of Switzerland. He has 70 milking cows and between May and October, when his cows are in the high alpine pastures eating special grasses and herbs, Pascal makes a hard cheese called L'Evitaz.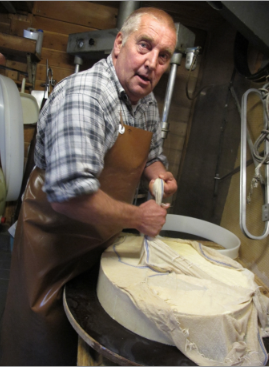 Pascal Jourdain, Swiss Farmer making L'Evitaz cheese
L'Evitaz goes back to the 12th century, and Pascal makes it the same way his father did, in a huge copper cauldron over a wood fire, averaging 264 pounds of cheese every day. Most tourists come here for the alpine breakfast, cheese tasting and a visit to the cheese cellars but not me. I'm here because I want to milk a cow. I've always wanted to milk a cow, but being first a suburban and then city kid, I never had the chance
Like most farmers in Switzerland, Pascal milks his cows electronically because the cows produce more milk and it's three times faster. But my Swiss friend, Dominique, who lives not too far from Pascal, has managed to persuade him to let me milk a cow by hand. We drive towards his farm, up country roads as winding and narrow as those in the Himalayas. I look out at the velvety green pastures dotted with wildflowers. Every now and then we pass a traditional wooden chalet, but I can't tell if it's old or new. Villars-Gryon is a protected zone and every chalet must be constructed in wood to preserve the serene, natural setting.
Perhaps I was a milkmaid in a former life because cows have always resonated with me. In Villars-sur-Ollon, the small Swiss village where I am staying, cows are everywhere. At the restaurant Le Rotisserie des Alps, two large wooden cows are just outside the entrance.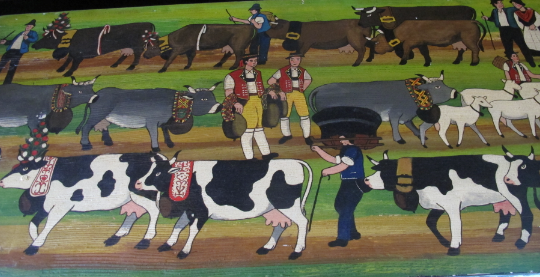 Cow paintings at Le Rotisserie des Alps, Villars-sur-Ollon
Folk art cows line the walls and the placemats feature photos of cows. My espresso arrived with a small chocolate whose decoration was a cow riding a bicycle. At Lonhea http://www.lonhea.com/en/ the wellness retreat where I am staying just down the street, there are four tin cows on the bathroom mirror and the amenities are made by Cowshed: "grumpy cow" shower gel, "cowlick" shampoo, "saucy cow" conditioner, and "dirty cow" hand wash.
Pascal, a gentle, burly red-faced man wearing rubber boots milks his cows twice a day. By the time we arrive, he has already milked half of them. Each of his cows produces from 26 to 31 quarts, he tells us, but cows give the most milk after they've had their calf. All his cows wear a bell and each is different either in shape or in size. "Why do they all need a bell?" I ask.
"Because if there's fog, you hear the cow," he says, adding that the cows don't keep the same bells all their life. "Before they are mothers, I give them big bells, but after, I change it to a smaller bell so they can graze. Otherwise, the bell is too big for them to lift their head."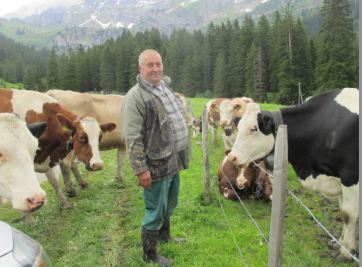 Pascal Jourdain with his cows
The cows are mostly brown and white or black and white, and except for the different bells and different sized teats, they look the same to me, except for one with horns. Pascal says they remove the horns so that when the cows are enclosed together, they won't hurt each other. I ask if he has a favorite cow. "Every farmer has a favorite," he says. "Either because she gives a lot of milk or she has a pretty face."
"And which is your favorite?" Most of the cows are standing on one side of the fence, though the ones who have been milked have wondered across the road into another field. Pascal looks among the cows and points.
"That one," he says. I don't think that cow has a particularly pretty face, so I imagine he likes her because she's a great milk producer.
There is one bull among the cows.
"Why is he there?" I ask.
"He's free," Pascal grins. "He can choose all the cows he wants. And he knows exactly when the right moment is." He pauses and then says, "So, do you want to try to milk one?"
He leads us to the trailer with two rows so the cows can be milked simultaneously. But the six cows I see are all being milked electronically. Have I come all the way here for nothing? He grins and says, "Don't worry. I have one just for you."
One of his helpers guides a cow with extra long teats onto the platform. I thought I'd be sitting on a little stool, but I'm standing at eye level with her teat. I reach out to grab it. "You have to stimulate her first," says Pascal, rubbing the cow's udder. "Then," he says, "Take your thumb and forefinger and gently run it down. And squeeze near the bottom." A long thin stream of milk comes out. "You try."
I hold the teat, which feels like a very soft finger with no knuckle or bone. I squeeze, but nothing comes out. "Stimulate her first," Pascal says. "Start above and work your way down." I gently squeeze her udder, then run my fingers gently down the teat with just enough pressure to know I'm squeezing. A long thin stream of milk squirts past my fingers. I am milking a cow!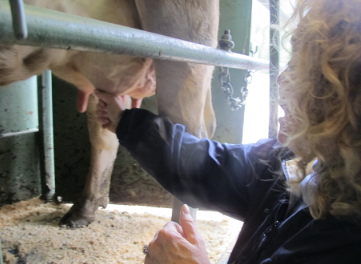 Author milks a cow
After, Pascal leads us out of the trailer and back to the car. "Which do you like better?" I ask. "The cows or making the cheese?"
"My favorite is making the cheese," he grins. "But I like the cows, because if you don't like the cows, you can't make the cheese."