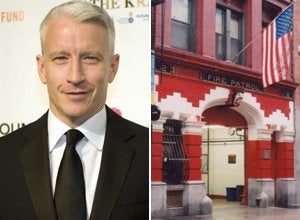 Anderson Cooper has bought a $4.3 million firehouse in New York's Greenwich Village, the New York Post reports.
The CNN anchor's new 8,240 square feet home at 84 West Third Street between Sullivan and Thompson Streets — which he purchased in September — boasts "its original spiral staircases, brass fire poles, overhead beams used to dry hoses and walls covered with murals marking the fire patrol's history" as well as a "bust of Mercury, the Roman god of speed, atop the firehouse's main door."
Cooper isn't the only celebrity to take up a converted residence in the neighborhood: Jude Law lived in a converted church just one block away on West 4th Street while performing on Broadway last year. Vogue editor Anna Wintour lives a block and a half down on Sullivan.
Cooper currently lives in a duplex penthouse on West 38th Street.
See exterior photos of his new digs below:
Related
Popular in the Community