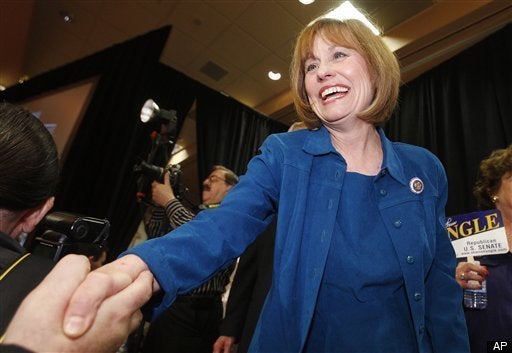 On Sunday, embarrassing audio surfaced in the midst of the Nevada Senate race, showing Republican candidate Sharron Angle personally pleading with an official Tea Party candidate, Scott Ashjian, to exit the race.
"I believe you can do some real harm, not to Harry Reid but to me," she said, in a conversation meant to be private but recorded and leaked to the press, most likely by Ashjian's campaign. "I'm not sure you can win and I'm not sure I can win if you're hurting my chance and that's the part that scares me."
As much as any singular polling number, Angle's plea underscores the tightness of her election contest with Senate Majority Leader Harry Reid (D-Nev.) -- where, literally, hundreds of votes seem destined to determine the winner. Ashjian barely registers in the polls. But his presence on the ballot, to the extent that it drains support from Angle, poses serious problems for the GOP. Even more damaging, strategists predict, will be the option for voters to simply list "none of the above" as their preference, as they are allowed to do under state law.
Rare is the election where a candidate outside of the two main political parties has an actual impact on the race. But Nevada is far from the only place where the obscure third party effect is being witnessed. In a year in which voter anger with both major political parties is at historically high levels, the presence of alternate options on the ballots seems likely to have ramifications on several Senate candidates.
"I'm two ways on this," said Stu Rothenberg, of The Rothenberg Political Report. "Most people are still going to choose between the two candidates. Now if you have an absolute squeaker, a name on the ballot, a Tea Party candidate or a Green [Party candidate] can pull just enough votes so that you can see statistically they cost someone an election.
"I think in theory, when you have a greater dissatisfaction, voters are probably willing to look at other names on the ballot, figuring they can't be any worse and it is a way to protest dissatisfaction," Rothenberg added.
In Missouri, for instance, a Constitution Party and a Libertarian Party candidate are on the ballot alongside Republican Roy Blunt and Democrat Robin Carnahan. Neither of the two have a realistic shot of winning; but each registered at four percent in a recent public opinion poll. In that same study, Carnahan still trailed Blunt. But the Missouri Republican's inability to create calming distance in the polls seems tied to the presence of more conservative options for voters. Blunt's support for the TARP and his ties to K Street have been the primary drivers of Republican angst with his candidacy.
In other states, a similar phenomenon is taking place though with less potential for electoral mischief. Michael Pryce, an Independent candidate in Ohio has been making the rounds of Tea Party events, hoping to siphon off support from Republican Rob Portman. Meanwhile, in Louisiana, Randall Hayes, a Libertarian candidate and Mike Spears, an Independent candidate, have both used their campaigns to, in part, level attacks and charges against incumbent David Vitter.
Baring major traction among voters, both Portman and Vitter seem likely to navigate their way into office come November. Only a tiny portion of the electorate in that state has said they'd consider voting for someone "other" than the two major party candidates. Pryce's name has only been included on one survey, for instance. And he received just four percent support.
A more precarious path is facing Alexi Giannoulias, the Illinois Democratic Senatorial candidate who is losing a good chunk of the progressive vote and an even bigger chunk of African-American voters to Green Party candidate LeAlan Jones.

Strategists in the party aren't taking this lightly. While they fully expect Jones' numbers to fall as the election approaches (they're currently at six-to-eight percent), the broader hope is that late campaign help from President Obama will push down Jones' impact on the race. Reflecting just how nervous the party has been about obscure candidates playing roguish roles in the election, officials have been pushing to clear the ballots of their names. In Pennsylvania, for example, the Democratic Party took proactive steps towards helping Rep. Joe Sestak's election by getting the Green Party candidate off the ticket.