A Canadian man has bid adieu to the world with two simple words: "I'm gone!"
Angus Brian MacDonald of Nova Scotia died on Good Friday at the age of 67. Before his death, he penned his own obituary -- a humorous and colorful account of his life.
"So, the world doesn't have Angus MacDonald to kick around anymore," the notice begins. "I'm gone! The devil finally called my name … I bought the farm. I bit the dust. So I guess I'm off to the promised land eh? The promised land! Imagine!"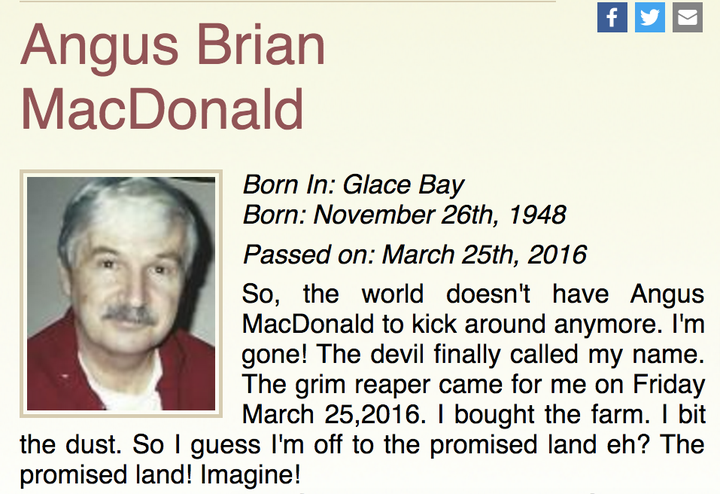 In the quirky obituary, which has won MacDonald plenty of fans online this week, the man paid tribute to his wife, his children and grandchildren, and to the medical professionals who cared for him in his later years.
He also attempted to summarize his life in a short paragraph:
"So anyway, I think I was a pretty nice guy, despite being a former punk and despite what some people would say about me. What did they know about me anyway? I loved my family and cared for them through good times and bad; I did my best. I had some serious health problems the last few years, but survived them (up till now anyway) with the help of my wife, Brenda; my granddaughter, Nicole; my sweetheart little dog, Scarlett, and my rescue kitten, Dolly."
Scarlett, MacDonald added, had died in 2013 -- a loss that had impacted him deeply.
"I guess if there's a place in the after-life where little dogs and old dawgs go, then that's where you'll find me and Scarlett. Maybe I'll see you all there sometime," he wrote.
The end of obituaries is typically where you'd find details about a funeral, but MacDonald chose a different conclusion. 
"I don't want a funeral. A funeral is a waste of harrrrrrd earned and harrrrrrd saved money that my family can use now," he wrote. "I was a very private person in life, so I don't want to end that life with people gawking at me while I lay in a coffin. I'm being cremated and my ashes are being scattered (somewhere). So instead of going to see the great creator, I will be going to see the great cremater."
According to the The Canadian Press, Patten Funeral Home in Glace Bay, Nova Scotia, confirmed that MacDonald's obituary was real. 
REAL LIFE. REAL NEWS. REAL VOICES.
Help us tell more of the stories that matter from voices that too often remain unheard.
BEFORE YOU GO