 An emaciated pit bull puppy, caged and left for dead in a damp Pennsylvania basement, is alive against all odds after a non-profit animal welfare organization came to his rescue.
"When we found him, we honestly thought he was deceased," Ruth Thompson-Carroll, director of the Erie-based Anna Shelter, told The Huffington Post. "He wasn't moving and his temperature wouldn't register. We were shocked when we discovered he was still breathing."
"Someone who was doing maintenance at this residence saw a dog kennel in the basement covered with a blanket," said Thompson-Carroll. "When he looked inside, he saw this dog and took a video of it, which he then brought to us."
PHOTOS: (Story Continues Below)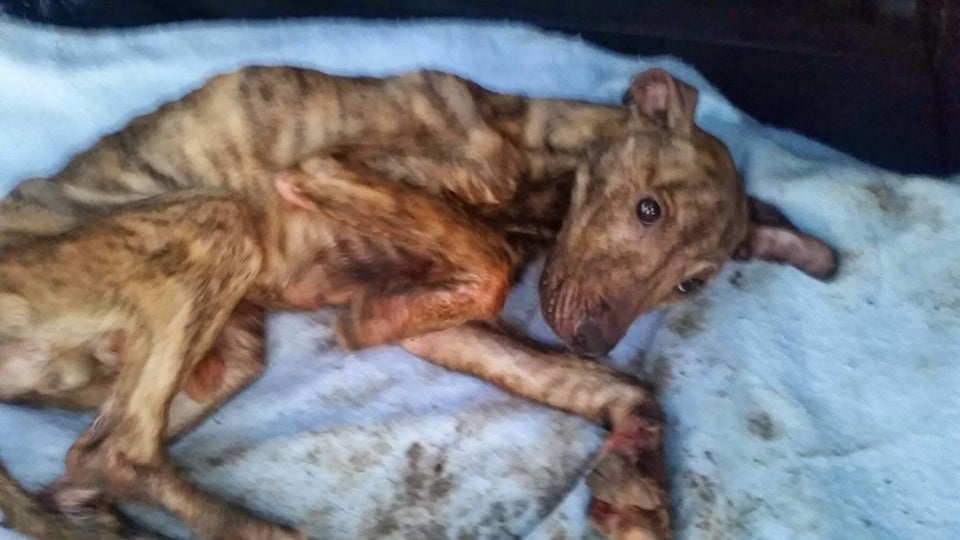 Anna Shelter 'Miracle' Dog
Animal cruelty officers confiscated the pit bull and immediately took him to the shelter for emergency treatment.
"He is all bone-weight," said Thompson-Carroll. "He has a lot of sores from lying in his own feces and his feet are pretty severely burned from the urine. Typically, in cases like this, their organs will shut down. It's amazing his didn't."
A veterinarian at the shelter started an IV drip to rehydrate the puppy and took steps to raise his body temperature. Against all odds, Thompson-Carroll said, the puppy survived the first night and has grown stronger in the days since.
"It's a miracle," she said of the dog, who is temporarily staying with a shelter employee. "He's doing much better now. He has a hard time walking, but he's figuring things out. We don't think he's ever actually been out of the crate he was found in."
The puppy will be available for adoption once he has fully recovered. He's being called "Little Man," for now.
"It's a term of endearment," said Thompson-Carroll. "We want to see what his personality is like -- which probably won't come out for a week or two -- before we give him a permanent name."
While authorities continue their cruelty investigation, a long and expensive recovery process is ahead for the puppy. Donations for his treatment can be made to the Anna Shelter, a 501 (c) 3 nonprofit, by visiting theannashelter.com.
Popular in the Community