 This post has been updated. Scroll down for the most recent information on Anonymous' February 3 series of attacks.
For long stretches of the morning, the website, BPDNews.com, has loaded an Anonymous-designed web page called "Anti-Sec," also the name of the collective's months-long campaign against a number of governments and corporations.
The page includes a message from the collective, titled, "Anonymous hacks Boston Police website in retaliation for police brutality at OWS," as well as an embedded version of the KRS-One music video, "Sound of Da Police."
A screen grab of the website at 12 p.m. Friday: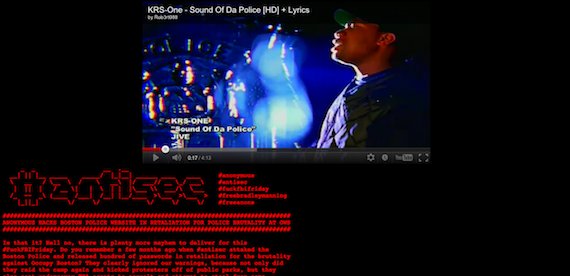 The text of the message reads thus:
Do you remember a few months ago when #antisec attaked the
Boston Police and released hundred of passwords in retaliation for the brutality
against Occupy Boston? They clearly ignored our warnings, because not only did
they raid the camp again and kicked protesters off of public parks, but they
also sent undercover TSA agents to assualt and attempt to steal from some
organizers. So you get your kicks beating protesters? That's OK; we get kicks
defacing and rm'n your websites - again. BDNNews.com, the "Boston Poice
Department Virtual Community" also fell to the swift merciless veangeance of the
hive. Do you really want to step to this??
The portion of the letter about "undercover TSA agents" likely refers to an incident last month when a TSA air marshal accosted several members of Occupy Boston, and mugged one, just hours before the Dec. 10 Dewey Square eviction. (There's little to suggest that the air marshal was, in fact, in the encampment at the best of the TSA.)
It is unfortunate that someone would go to this extent to compromise BPDNews.com, a helpful and informative public safety resource utilized daily by community members seeking up-to-date news and information about important safety matters.
UPDATE #1: Anonymous hackers also compromised the Salt Lake City Police Department's website on Friday, gaining access to "sensitive data, including citizen complaints about drug crimes, including phone numbers, addresses and other personal information," according to the Associated Press. The department claims that the hack was in retaliation for an anti-graffiti bill that died in the state's senate on Thursday.
Anonymous also published the names and personal information of more than 700 police officers from across the state of Texas, according to WFAA-TV. The data was stolen from the Texas Police Association's website, reportedly in response to the news last week that a Wylie, TX, police officer was suspended from duty as part of a child pornography investigation.
UPDATE #2: Adding to a flurry of cyber-attacks Friday afternoon, Anonymous members have now reportedly hacked the website of the Washington law firm Puckett and Faraj, according to the AFP. The hackers claim they have published three gigabytes of private emails from the firm, many pertaining to Frank Wuterich, a U.S. marine (and Puckett and Faraj client) who faced a military court martial last month in connection with 2005's Haditha massacre.
UPDATE #3: Gawker's John Cook reports that in addition to leaking documents related to Puckett and Faraj's defense of Frank Wuterich, Anonymous also published a number of emails pertaining to separate cases the firm has handled. Those emails, Cook writes, include sensitive information about "people that Anonymous might normally be aligned with." That includes sexual assault victims whose names had previously been unreported.
Meanwhile, the Boston PD's web adress is now redirecting to the organization's Facebook page.
CORRECTION: An earlier version of this article incorrectly identified Dewey Square in Boston as Dewey Park.
Related
Popular in the Community