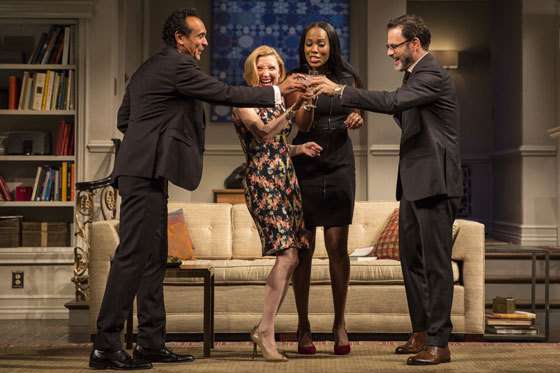 It was exciting to hear, after a performance of Disgraced at Berkeley Repertory Theatre, that this 2013 Pulitzer Prize-winning work by playwright Ayad Akhtar is being developed for HBO. Not just because it's a play well worth watching again, but because the extended Bay Area run ends on December 27. Applause to Berkeley Rep artistic director Tony Taccone for once again bringing us not just a terrific play but, in this case, the director, Kimberly Senior--who took it from Chicago to Broadway to London in the past few years--as well as some original cast members.
This is a play that makes you think, feel, and admire the good writing and fine performances all at once. It runs just 80 intermission-less minutes, and by curtain call, you feel you've been tense for most of them. The action takes place in the living room of a $600-shirt-wearing corporate lawyer, Amir Kapoor (Bernard White), and his artist wife, Emily (Nisi Sturgis). The only others we meet are Emir's African American colleague, Jory (Zakiya Young); her husband, Isaac (J. Anthony Crane), a Jewish museum curator interested in Emily's Islamic-imagery-influenced art (and, in turns out, in Emily); and Amir's nephew, Hussein, who as the play opens is going by Abe (Behzad Dabu). The "fourth wall" puts you right in the tastefully decorated Upper East Side apartment as Kapoor's life slowly falls apart, as soon as he acquiesces to a request by Hussein (then Abe) and Emily that he help defend a local imam accused of raising funds for terrorism, not for his mosque, as he claims.
The problem for Kapoor is, although he has presented himself as of Indian descent, his father was born in Pakistan--no matter that it was a part of India then--and his family's religion is Islam. His wife and nephew were right in arguing for due process, the fact that other places of worship are allowed to raise money, etc., etc.--and yet Amir was correct in assuming that once his firm's partners link him in any way with a Muslim, it will cause him trouble. Indeed, they use his "duplicity" in disguising his heritage to fire him. The heart of the play is an argument that spirals toward violence as the tightly wound, frustrated Amir knocks back his single-malt whiskey.
At the end, his nephew, now wearing a white knit skull cap, has been interviewed by the FBI and may be deported, simply because his friend said some outrageous things to a Starbucks barista. If you can't make it here, he says to his uncle, what hope is there? It's a question that lingers--along with so many others the play has raised, about identity, assimilation, our views of Islam and those we think practice it, "Islamophobia," even about how helpful art can be in enlarging our understanding.
It's hard to feel hopeful at the end of this play, and yet....
Good seats are still available.
Dec. 22, 23, 26, and 27, Berkeley Repertory Theatre, 2025 Addison St., Berkeley, 510.647.2949, berkeleyrep.org.
Photograph, from left: Bernard White (Amir), Nisi Sturgis (Emily), Zakiya Young (Jory), and J. Anthony Crane (Isaac)
Credit: Liz Lauren © Berkeley Repertory Theatre. All rights reserved.
Report this content
Calling all HuffPost superfans!
Sign up for membership to become a founding member and help shape HuffPost's next chapter