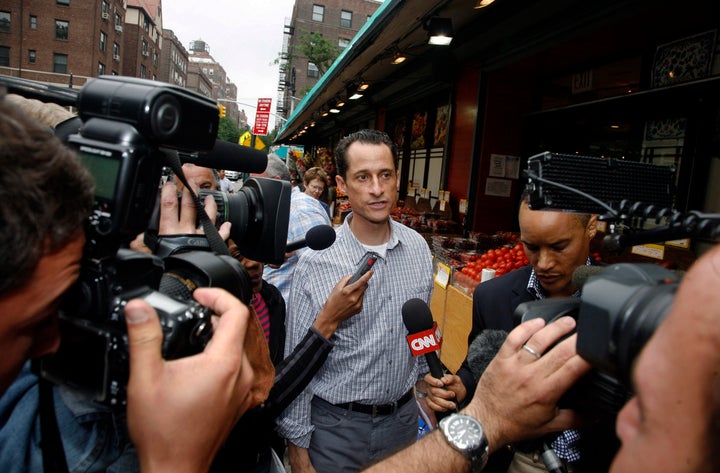 WASHINGTON -- Democrats wanted to get past Rep. Anthony Weiner's (D-N.Y.) sexting scandal Tuesday, holding a caucus meeting designed reassert the party's policy plans.
But leaving the meeting they were greeted by a phalanx of reporters interested only in what House Minority Leader Nancy Pelosi (D-Calif.) and other Democrats had to say about Weiner and whether the Democrats would try to boot the indiscreet tweeter from their midst.
Weiner's future, however, did not come up at the meeting, members said, adding that Pelosi addressed the personal mess only briefly. Pelosi explained afterwards that she wanted to be sure they knew her thinking in asking him to resign. The House has allowed Weiner to take a two-week leave of absence.
"I wanted to be sure they knew why I came to the conclusion that with the love of his family, with the confidence of his constituents and the need for help, that Congresman Weiner should resign from the Congress," Pelosi said, repeating the opinion she delivered over the weekend.
Weiner decided instead to seek counseling, and neither Pelosi nor her fellow Democrats went any further in criticizing him.
Rep. Peter DeFazio (D-Ore.) apparently missed Pelosi's Weiner explanation, catching only the policy and political talk that dominated the caucus meeting.
"There wasn't one word about Weinergate," he said after the meeting. "I'm going up to the floor to speak about [oil] speculation."
Rep. Jan Schakowsky (D-Ill.) also focused on policy.
"Really what we spent time talking about were the commodities, how the oil prices are manipulated in order to be higher," she said. "The rest I'm not commenting about."
Most members simply ignored the press, but Rep. Sheila Jackson Lee (D-Texas) was willing to chat -- about policy.
"I think the important message that we got this morning was Democrats are defined by our fight against cuts in Medicare, we're defined by our cuts, horrible cuts in the commodity commission that's going to be on the floor today that's going to increase food prices and gas prices," she said, referring to a House vote on an agriculture bill that includes measures on commodities trading.
"There's a spirit of unity in our caucus. It's a spirit of recognizing that decisions are personally made," she said in a reference to Weiner. "I hope the message comes out that Democrats are still standing to fight as hard as they can possibly fight to save the lives of working men and women."
When asked what the Democratic caucus should do about Weiner, Jackson Lee answered, "I think what the caucus has to do is be a caucus fighting for the American people."
Rep. Barney Frank (D-Mass.), who infamously was reprimanded in 1989 over his companion's use of his home to run a gay sex-for-pay ring, declined to weigh in on Weiner's future.
"I just don't think it's appropriate for me to set myself up as a judge of others," Frank said.
Minority Whip Steny Hoyer (D-Md.) was also forced to deal with the Weiner issue at the end of a later session with reporters. He said there has been no decision on whether to push Weiner out. Hoyer had also called for Weiner to quit over the weekend.
"I believe it will be very difficult for him to proceed given the circumstances," Hoyer said. "I hope that he is seriously considering taking a course that will take him out of this context and get him to deal with this and deal with his own personal life and not be burdened by being a member."
"He's taken a leave, and I'm sure he's considering this and we'll see what action he deems appropriate," Hoyer said.
So far, Weiner has insisted he is not resigning. He could be stripped of all his committee assignments and made to feel a pariah in the halls of Congress. But no one was ready to declare further steps against him Tuesday.
"We are merciful in our caucus to the extent that we recognize that individuals will make decisions," said Jackson Lee.
WATCH: Democrats duck before Pelosi speaks.
Samuel Haass contributed to this report.
Calling all HuffPost superfans!
Sign up for membership to become a founding member and help shape HuffPost's next chapter