Elbi and The Huffington Post are partnering up, with you, to help change the world as part of your daily routine. Little actions. Big difference.
Today on Elbi, people both sides of the Atlantic are swapping plastic bags for heartwarming photos of the future of our planet. Whether it's the might and beauty of Mother Nature or the next generation smiling, they're fighting plastic with positivity.
You may have heard that, on Monday this week, England joined the rest of the UK and started charging for plastic bags. The BBC reports that the government expects to save £60m in litter clean-up costs and generate £730m for good causes over the next decade. That sounds good, but if England is willing to pay 5p for each bag, it's still bad news for the planet.
Instead, we hope that the charge will encourage people to do their bit for Global Goal 14 and take their own bags to the store. Global conservation charity, Oceana, has joined this campaign, allowing Elbi users to give one dollar donations via the app's Love Button.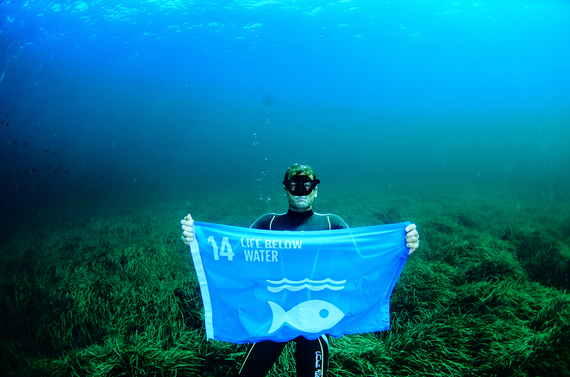 Freediving world champion Umberto Pelizzari, raised a flag to represent Goal 14, Life Below Water, off the coast of Formentera, to support the UN Global Goals for Sustainable Development. Credit: Enric Sala.
If you're after a reminder to take bags with you to the store, try this catchy tune by Comedian, Tim Minchin. (Warning 1: He drops a little 'f bomb' in all his enthusiasm. Warning 2: It really is very catchy.)
REAL LIFE. REAL NEWS. REAL VOICES.
Help us tell more of the stories that matter from voices that too often remain unheard.