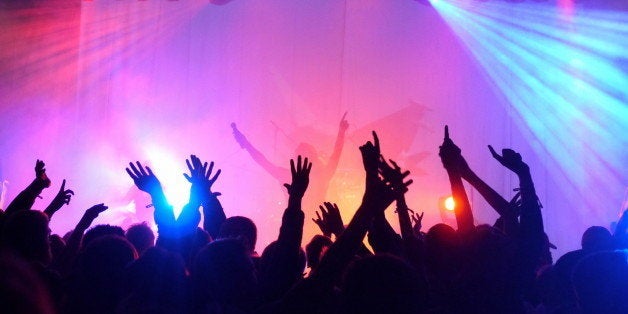 I have always considered myself a bit of a music snob.
And this being a "Fervid Friday," is there anything you are more passionate about than music?
I think all Baby Boomers will agree that we grew up in the greatest music era ever.
And this statement is made giving complete props to the music lovers of the early 1800s, knowing full well they listened to the such greats as Beethoven, Rossini, Strauss and Mozart.
Yes, we experienced the birth of rock and roll, but there was so much more.
We lived through such an incredible array of diverse sounds, styles and blends of music quite unlike any other generation.
Just think of the incredibly different sounds of the bands we loved: the jazz-inflected heavy metal of Led Zeppelin; the progressive symphonic art of Yes; the primal funk avante garde rhythms of the Talking Heads all the way to the folk poetry of James Taylor and Carole King.
There was even the techno-electronic strains of Kraftwerk, the psychedelic blues art rock of Pink Floyd, the pure metal of Motorhead and the southern fried country sounds of the Allman Brothers and Lynyrd Skynyrd.
And through the past 40 years there has been Steely Dan.
The music snob's primal band.
Well, I got a chance to scratch another item off my bucket list last Tuesday night when I saw Steely Dan perform live at the Comerica Theater in Phoenix.
In 40 years I can't believe I never had the chance to see them live, but it all made up for itself Tuesday night during their two-hour show.
Those who know Steely Dan are aware that there are no gimmicks, no flashy pyrotechnics and no elaborate laser light displays at their concerts -- just straight-forward,incredibly talented music.
To give a simple historic description of Steely Dan is to call them an American jazz rock/rock band founded by core members Walter Becker and Donald Fagen.
The band's popularity was highest in the 1970's and early 1980's and their seven albums over that period of time blended elements of jazz, rock, funk, R&B and pop.
Rolling Stone magazine has called them "the perfect musical antiheroes for the Seventies."
How about a short history?
Donald Fagen and Walter Becker first found each other while attending Bard College in Annandale-on-Hudson, New York.
As rumor has it, Fagen was walking through the student union (or a local cafe called The Red Balloon), he heard Becker practicing on his electric guitar.
In an interview, Fagen retells his experience: "I hear this guy practicing, and it sounded very professional and contemporary. It sounded like, you know, like a black person, really."
He introduced himself to Becker and, as they say, the rest was history.
Discovering that they had almost reciprocal tastes in music and common interests in jazz, blues, and even contemporary literature, particularly the "beat" genre referred to as "Black Humor," they begin collaborating on songs which they performed in various pickup bands.
They spent this time writing songs for other performers and even played in the touring band of a popular act I'm sure you will all remember: Jay and the Americans.
Certainly you remember their hit remake of the Drifters song "This Magic Moment?"
In 1972, Walter and Donald put together the first of their multitude of incredibly talented backing bands and decided to record their first album.
As a result, an adventurous new sound is created and "Can't Buy A Thrill" is released under the band's adventurous new name "Steely Dan" which, if you didn't already know, refers to the infamous family of dildos described in a steamy sex passage in the William Burroughs' novel, "Naked Lunch."
The original charter members are: Denny Dias (Guitar), Jeff "Skunk" Baxter (guitar), Jim Hodder (drums) and David Palmer (vocals).
Steely Dan recorded seven platinum albums between 1972 and 1981 including the groundbreaking "Aja" in 1977.
They have sold more than 40 million albums worldwide and truly created a major part of the soundtrack of the '70s with hits such as:
Rikki Don't Lose That Number
and
All of their albums have been recorded with a revolving cast of incredibly talented session musicians including such greats as Larry Carlton, Jeff Porcaro, Michael McDonald, Royce Jones, Wayne Shorter and Lee Ritenour.
They were inducted into the Rock and Roll Hall of Fame in March 2001.
So what makes Steely Dan's music so different and why would I consider myself a "snob" for loving it?
Steely Dan's music is very complex, built on multiple layers of jazz-influenced counter point structures and revolving brass and vocal harmonies.
If you listen to the words you will soon discover that Becker and Fagen write highly satirical lyrics bent at poking fun at the basic mores of life that surround them including the music industry, drugs, love, relationships and human behavior.
A quote from a biography written by Stephen Thomas Erlewine says it best: The music of Steely Dan is "cerebral, wry and eccentric."
It is highly noted that Walter and Donald are also very well known not only for their musical talents, but for "their notorious, and near-obsessive perfectionism in the recording studio" as well.

For example, during the year it took to record the album "Gaucho" in 1980, Becker and Fagen used at least 40 different studio musicians and 11 different engineers.
That's perfectionism at it's finest.
So, I consider Tuesday night as an evening spent with two of the greatest musicians alive.
I bet a lot of fellow Baby Boomers from the Phoenix area feel the same way too.
This tour is called the "Jamlot Ever After" tour and it lives up to it's billing.
They playfully worked their way through twp hours of their greatest hits starting the show off with a "Cubano Chant" before Donald and Walter joined the band on stage to kick everything off with an intense version of "Black Cow."
It was amazing how many hit songs they dug out of my memories.
The highlight of the evening, for me at least, was a ridiculously tight and extended version of "Bodhisattva."
Obviously, both men are showing their age and at times Donald struggled with some vocals and Walter struggled with some guitar riffs, but both were professional enough to understand their limitations and they intelligently worked around them.
Their band was stellar especially Keith Carlock on drums and Jon Herington on guitar.
Both of these guys play like they are still 18.
Fagen and Becker repeatedly emphasized that this was the "greatest" backing band they had ever played with.
It looks like the band is heading East and up to Canada for the rest of the tour which will run at least through September.
If you consider yourself a "music snob" like me then don't miss the chance to see them.
Here's a few spontaneous reviews of the concert I found on Facebook:

"Best show in ages!"
"Haven't missed a tour in the last 15 years and this one was the best. Excellent work tonight members of the Dan!"
"Best concert I've seen in a long long time... My first SD concert and it was AWESOME!"
"Pretzel Logic tonight for first time on this tour"
"Great show, thanks for hitting the road and sharing the brilliance! The songs may have originated in the 70's but they sound timeless to me. Any of us would be happy to turn out a "Black Cow" or a "Babylon Sisters" today. Or even 50 years from now!"
"Great show!!! So glad I got to go. One of the best shows I have ever seen. Love Steely Dan.... xxoo"
REAL LIFE. REAL NEWS. REAL VOICES.
Help us tell more of the stories that matter from voices that too often remain unheard.