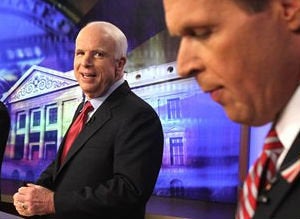 After funneling $21 million into his campaign, Arizona Sen. John McCain successfully withstood a primary challenge from former U.S. Congressman J.D. Hayworth on Tuesday night.
Once labeled a vulnerable incumbent, the four-term Arizona Republican was the clear front-runner against Hayworth going into the race in which he cast his opponent as a late-night infomercial huckster in a series of devastating ads.
"I have stood up and led the fight as a fiscal conservative and a leader on national defense and a strong supporter of the men and women who are fighting and sacrificing for this nation," McCain told a woman who questioned his record at a town hall meeting last week.
Long unpopular with some home-state conservatives, McCain immediately recognized the threat posed by Hayworth, a talk-radio host and former six-term congressman from Scottsdale. And he set out to neutralize it. McCain also realized that the anti-establishment fervor could cost him his seat in the primary; it already had claimed two other senators -- Republican Bob Bennett of Utah and Democrat Arlen Specter of Pennsylvania.
McCain tossed aside his self-described "maverick" label and adopted a hard-line stand on immigration just a few years after working with Democrats on a path to citizenship for those in the country illegally. "Complete the danged fence," he said in a campaign ad, three years after dismissing the effectiveness of building a fence on the U.S.-Mexico border.
Hayworth aides argued that McCain was vulnerable on immigration in a state that has adopted the nation's toughest law cracking down on illegal immigrants. A Hayworth ad accused the incumbent of lying about his stand on the issue -- a charge the McCain campaign denied, but which resonates with voters supporting the challenger.
But McCain, who has never lost an election in his home state, proved relentless in his efforts to cut into Hayworth's credentials as a conservative outsider.
On Tuesday night, the longtime Arizona Senator's efforts paid off. He will now face off against one of four Democratic candidates competing for the rights to compete in the state's general election this November.
Calling all HuffPost superfans!
Sign up for membership to become a founding member and help shape HuffPost's next chapter