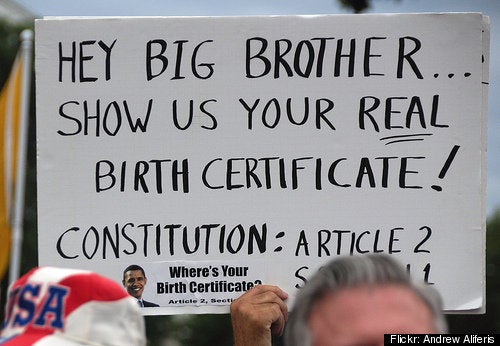 PHOENIX (AP) - The Arizona House on Monday voted for a provision that would require President Barack Obama to show his birth certificate if he hopes to be on the state's ballot when he runs for re-election.
The House voted 31-22 to add the provision to a separate bill. The measure still faces a formal vote. It would require U.S. presidential candidates who want to appear on the ballot in Arizona to submit documents proving they meet the constitutional requirements to be president.
Phoenix Democratic Rep. Kyrsten Sinema says the bill is one of several measures that are making Arizona "the laughing stock of the nation."
Mesa Republican Rep. Cecil Ash says he has no reason to doubt Obama's citizenship but supports the measure because it could help end doubt.
The Arizona Republic reports that certain state officials appear resistant to such legislation, however:
Arizona Secretary of State Ken Bennett also expressed concern about Burges' amendment, saying that creating state-level eligibility requirements to run for federal officecould violate the U.S. Constitution.

"While everyone has an interest in ensuring that only eligible citizens run for president, there are obvious issues with states implementing what could become a patchwork of different tests for a presidential candidate to prove his/her citizenship," said Bennett's spokesman, Matthew Benson, in an e-mail.
And Michael Sheridan of the NY Daily News points out:
This latest effort by the "birther" movement to challenge Obama's eligibility as President comes on the heels of an Army doctor who faces a court martial for refusing to deploy to Afghanistan because the order is "illegal."

"I believe all servicemen and women, and the American people, deserve the truth about President Obama's constitutional eligibility to the office of the presidency and the commander in chief," Lt. Col. Terry Lakin said in a video statement posted on YouTube last month.
Popular in the Community