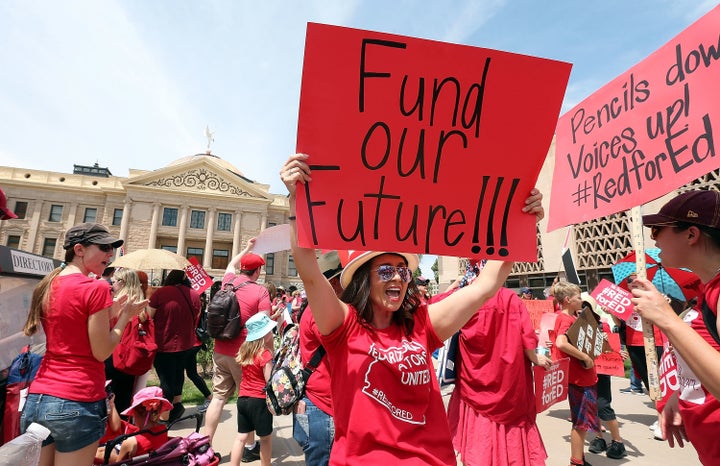 Arizona teachers appeared ready to head back to their classrooms after the governor signed a budget bill Thursday that will pump more money into schools and give teachers the first of what should be two pay raises.
The massive teacher walkout, carried out under the banner #RedForEd, began a week ago and closed schools for a majority of Arizona students. Thousands of teachers flooded the Capitol and turned downtown Phoenix into a sea of red each day, urging lawmakers to restore education funding after years of deep cuts since the recession.
The legislation signed by Gov. Doug Ducey (R) early Thursday did not meet all the demands initially laid out by the groups coordinating the walkout, and some teachers had hoped to keep schools closed until legislators committed to a larger budget. But it was enough progress for union leaders to recommend teachers return to the classroom and prepare for another battle later in the year.
Joe Thomas, president of the Arizona Education Association, the state's largest teachers union, told Phoenix's 12 News that teachers overall were unhappy with the legislation but viewed it as a start. Many teachers, he acknowledged, were hoping for more money for their classrooms.
"I think they're pretty frustrated. They wanted to see a more robust package," Thomas said, adding that the bill would not reduce class sizes. "What we do see is a lot of promises by the governor that are not going to come true."
But after a week of school closures, Thomas added, teachers will now "be moving toward the classroom" with an eye on the November elections.
The budget bill gives teachers a 9 percent pay raise next year, which, combined with a 1 percent raise already given, gets them halfway to the 20 percent hike they have called for. Ducey has promised that the second installment will come by 2020, though that is not guaranteed by the package he signed.
The plan steers bulk money to districts and gives them the discretion to dole out the raises as they see fit, meaning not all teachers will receive the same percentage pay bump. An analysis done by the Arizona Republic found that a minority of districts under the plan will not receive enough money to give all their teachers 20 percent increases.
The bill also hikes state spending on schools by $200 million per year more than Ducey originally proposed at the start of the year. Still, it comes up well short of the walkout organizers' demand that funding be restored to 2008 levels, adjusted for inflation.
The Arizona protest came on the heels of similar walkouts in West Virginia, Kentucky and Oklahoma ― all red states that have seen education funding drop and teacher salaries stagnate in recent years. The Arizona walkout was being planned for weeks, after West Virginia teachers successfully negotiated raises by closing schools for nine days. A grassroots group, Arizona Educators United, organized the walkout in conjunction with the union.
As in those other states, Arizona lawmakers have carried out significant tax cuts over the years, leading to budget shortfalls and little money to devote to schools. Per-student funding has dropped by 14 percent over the past decade, when adjusted for inflation.
The unions leading the wave of teacher strikes around the country have had to make hard decisions about how long to hold out for their demands. Parents have largely been supportive of the walkouts and their aims, but public backing can flag over time as schools remain closed and family's daily lives are disrupted.
While Arizona teachers did not get all they asked for in the budget bill, the union probably called for teachers to return to work for fear they would lose leverage over time, even if some teachers wanted to continue the walkout.
As one teacher put it on the Arizona Education Association Facebook page: "Keep fighting for the children, the future of education in Arizona!! Don't throw in the towel, this is NOT over yet!!"
Popular in the Community