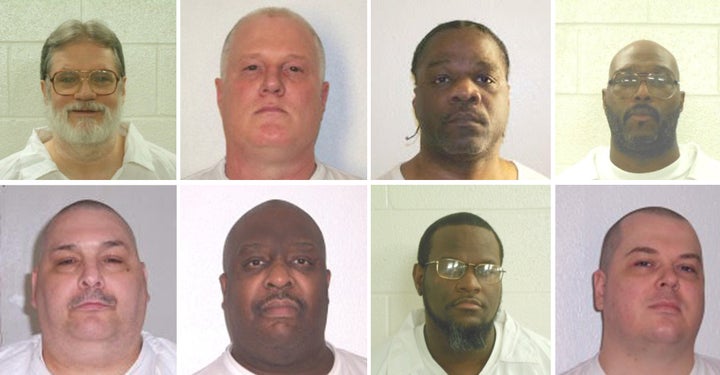 Arkansas' plan to execute eight death-row prisoners over 11 days next month has been attacked as cruel and unusual in two federal lawsuits.
Suits filed Monday and Tuesday seek preliminary injunctions halting the four double executions scheduled from April 17 to April 27, alleging the rush violates the condemned men's constitutional rights. The suits name Arkansas Gov. Asa Hutchinson (R) and Department of Corrections Director Wendy Kelley as defendants.
At a time when use of the death penalty is in gradual decline across the U.S., Arkansas Attorney General Leslie Rutledge announced last month the state would begin executing inmates who had exhausted state-level appeals. Arkansas hasn't executed anyone in 12 years, and now seeks to jump-start lethal injections in ways that depart from its own protocols and the typical practices of other states.
"This is way outside the norms," said Rick Halperin, a death penalty expert at Southern Methodist University, said of the Arkansas execution schedule. "This state hasn't carried out an execution in 12 years. Now they want to do eight in 11 days. It's a bit mind-boggling."
Double executions are uncommon, even in active death-penalty states like Texas. After Oklahoma's botched lethal injection of Clayton Lockett in 2014 ― which had been part of a scheduled double execution ― Texas recommended spacing its executions at least a week apart. Missouri recently adopted a rule limiting executions to no more than once a month.
The lawsuits against Arkansas say the pace of the scheduled executions and the state's secretive lethal injection protocol violates inmates' rights to counsel and access to courts.
The state Department of Corrections did not respond to several requests for comment.
Attorneys for the prisoners say there simply won't be enough time to defend each client in the complex and fast-moving legal process that death warrants trigger.
Attorney Jeff Rosenzweig, a sole practitioner who represents three of the eight men scheduled to die and is co-counsel for a fourth, said the scheduled procedures are inconsistent with how the state used to run executions. Back in the 1990s, he said, prison authorities were mostly "extremely cooperative" allowing lawyers access to the inmates, informing counsel of developments and [allowing] more than one lawyer to witness the execution.
"Of course, this was all before a couple of things," Rosenzweig said by phone Tuesday. "There was a legislative decision to slap a veil of secrecy over so much of [the process]. And secondly, in terms of communication with the court, we weren't dealing with a substance that was" as controversial ― the drug used to make the lethal injection cocktail.
Attorneys from the federal public defender's office represent two of the condemned inmates and serve as co-counsel for two others, including a pair of clients set to be executed on the same day.
"Attorneys with multiple clients "will potentially be required to challenge the execution process up until moments before, or even during, the execution itself," one of the lawsuits says. "Then they will have to continue challenging that process for another client just minutes after watching another client die."
"This state hasn't carried out an execution in 12 years. Now they want to do eight in 11 days. It's a bit mind boggling.""
Dale Baich, an assistant federal defender in Arizona who has worked on death-row cases for three decades, said what the attorneys are being asked is "impossible to do."
"To have three clients [facing execution] in a week … it's outrageous," Baich said. "It's unprecedented."
The short notice also reduces time for the clemency process, which violates the inmates' right to due process, according to the lawsuit filed Tuesday.
The Corrections Department will only allow one attorney in the death chamber for each execution. Other states don't generally restrict who the condemned selects as witnesses (family, friends, lawyers and spiritual advisors are typical), but do limit the number of witnesses due to the small capacity of most witness rooms. Capacity for Arkansas, lawyers said, doesn't appear to be a credible issue, as the state can't even find enough volunteers to serve as witnesses.
Five of the eight men scheduled to die have filed clemency petitions. Hearings on the petitions are scheduled in the 30 days prior to their scheduled executions ― a window normally blacked out, lawyers said. Attorneys further argued they are restricted to one hour to present evidence supporting clemency for each client, instead of the normal two.
Arkansas may be racing to thin out its death row before its supply of the lethal injection drug midazolam expires in April. The controversial sedative has become increasingly hard to find due to legal challenges and execution-averse drugmakers that refuse to sell to correctional buyers.
Drug and legal experts critical of midazolam say it's less reliable than sodium thiopental in inducing the deep, coma-like state they say is necessary to avoid a cruel and unusual execution. Midazolam has been blamed for botched executions in Arizona, Ohio and Oklahoma, where the prisoner remained conscious throughout a potentially agonizing death.
Death warrants typically allow condemned prisoners and their legal teams about four months' notice. The Arkansas schedule is sparking a flurry of legal challenges.
"Certain issues don't become ripe until the execution warrant is issued," Baich explained. "For instance, if the client is incompetent, that issue can't be raised until there's a pending execution date."
Issues related to clemency also can spark appeals, for example, if witnesses come forward to recant testimony or jurors disclose misconduct during the trial.
"As things get closer to the end, people become more aware" of the looming execution, Baich said. "They read about it in the media and they realize the finality of it and may be more willing to come forward."
The state argues a rapid pace of executions is a benefit to corrections staff. State secrecy laws shield details, so it's unknown who participates and what training they have if something goes wrong.
Halperin and others decry this secrecy, saying it's bad for prisoners and for the public.
"The death penalty is a public-policy issue and it's funded in part by taxpayers' money," Halperin said. "If the state is so hell-bent on carrying out this as a public policy, they have a moral duty to carry this out as transparently as possible."
Support HuffPost
The Stakes Have Never Been Higher
Before You Go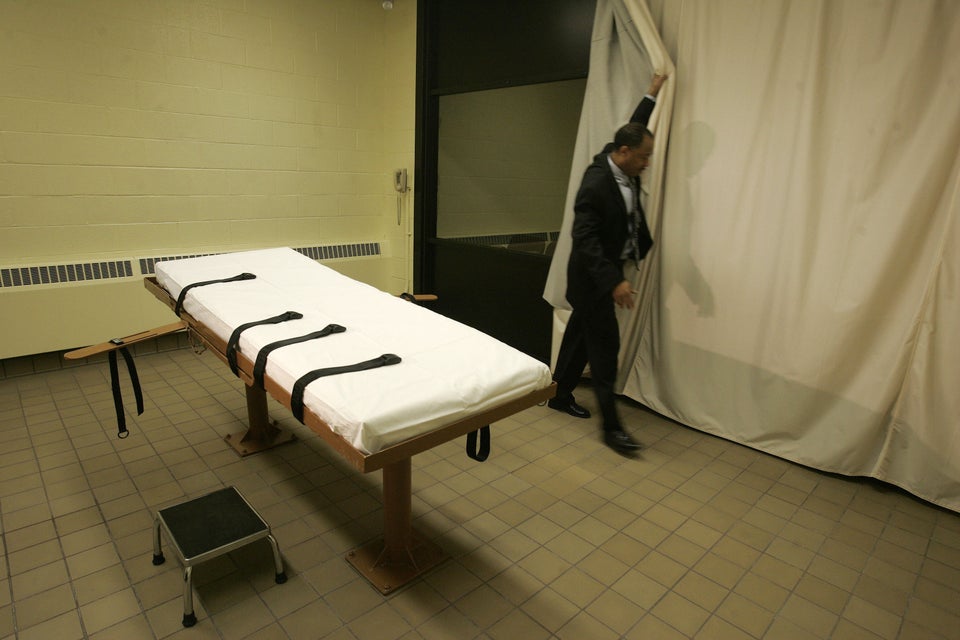 Capital Punishment Methods Through History
Popular in the Community