John Nava, Teresa of Avila, 2004, Woven Tapestry, 93.5" x 39"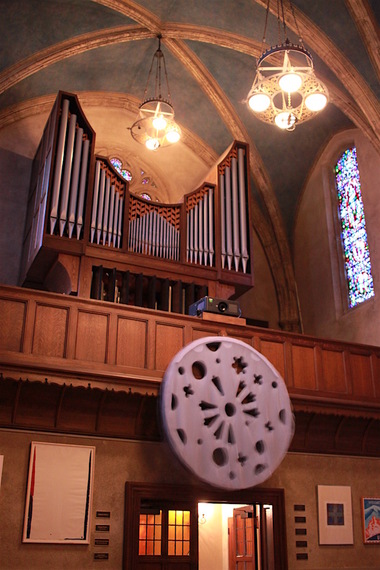 Lynn Aldrich, Rose Ghost, 2015, Tulle, 72"x72"
"I'm so pleased to open the doors of First Church as wide as we can as we invite everyone in the city of Los Angeles to explore that fascinating intersection where Art meets the Spirit." says First Church's Senior Minister, Dr. R. Scott Colglazier, who, along with Joan Agajanian Quinn, first conceived the idea of Art & Spirit as a theme for the show. "Not only are we creating this opportunity for the public, but our connection with Art Division has allowed us to tap some of our city's new artists to respond to this theme in their own unique way."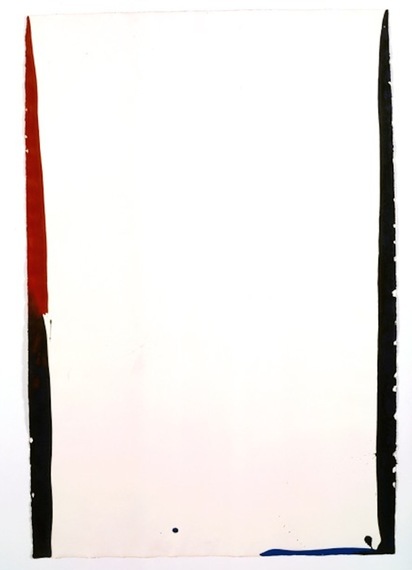 Sam Francis, Untitled, 1967, Acrylic on paper, 40" x 27" (42"x 29" framed)
While the theme of the show focuses on the idea of "spirit," many of the works are not overtly religious in nature. The collection of paintings, sculptures, and tapestries will include images by Rembrandt and Albrecht Dürer, along with contemporary works by Sam Francis, Ed Ruscha, Laura Lasworth, and Corita Kent, among others.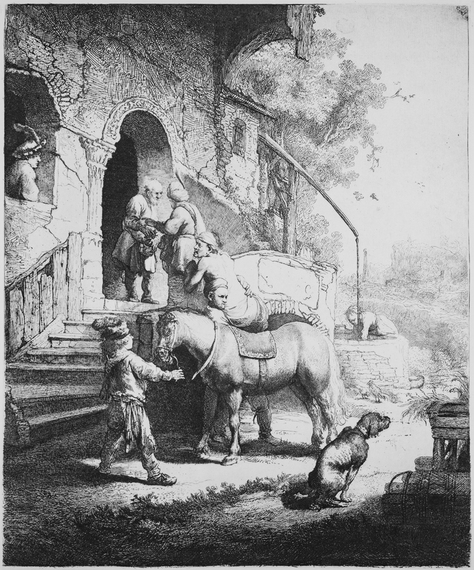 Rembrandt Van Rijn, Good Samaritan, 1633, Etching and engraving, 22" x 15.5"
A portion of the show will focus on art created by students from Art Division--a school that offers a professional training program for underserved young adults--who were asked to create works as a reaction to the theme. "The students had many reactions," explains Art Division's Executive Director, Dan McCleary, "confusion, excitement, resistance, bewilderment. They were given enormous freedom to respond as they saw fit - and the work they produced is as varied and imaginative as they are."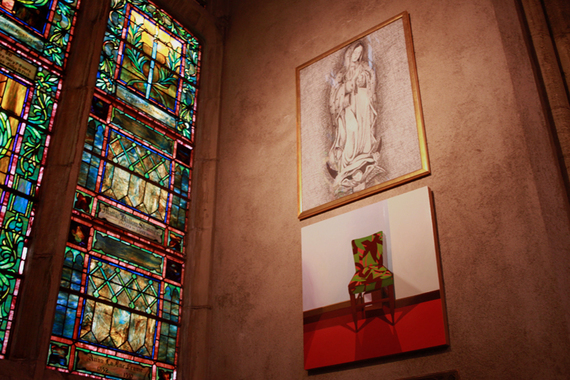 Victor Reyes, La Virgen de Guadalupe, 2016, Graphite on paper
Robert Ortiz, Walt Disney Concert Hall Chair #4, 2015, Acrylic on Panel, 36" x 36"
Joan Agajanian Quinn, the longest sitting member appointed to the California Arts Council, is co-curating the exhibit. "The theme Art & Spirit is something that isn't the norm for a show title," she explains. "Gallerists and curators don't think it's politically correct to bring religion into the art world per se, butI have always felt that art is an experience, either good or bad. It can move a person in a way that nothing else can. Maybe it's the spirit within the piece, maybe it's the spirit within the viewer; but no matter what, there is a transforming moment."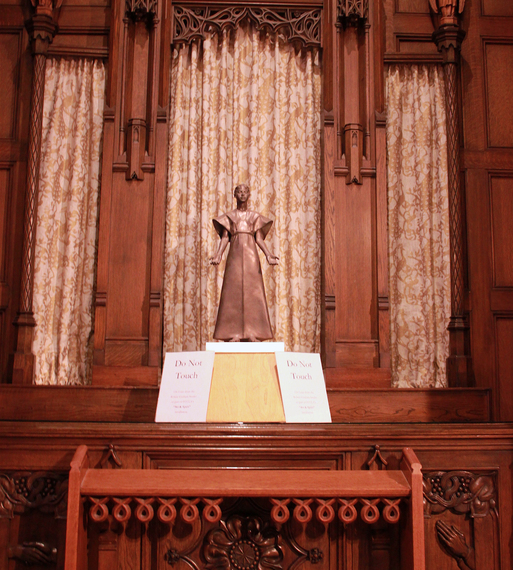 Cathedral Virgin Study, 2001, Cast bronze with patina, wood and bronze base
Opening Reception: Saturday, February 27, 2016 from 4:00-6:00pm
The gallery will be open each Sunday from 9:00am-3:00pm
Other hours by appointment only
TONY ABATEMARCO
LYNN ALDRICH
PETER ALEXANDER
JEFF ADAMS
ALFREDO ALVARADO
BILLY AL BENGSTON
JAMES BROWN
PETER CARAPETIAN
JAVIER CARRILLO
DAVIS CARRINO
KAREN CARSON
FABIAN CEREIJIDO
JULIA CONDON
MIKE CHEARNEY
JESSICA CUAUTLE
ROBERT DOWD
ALBRECHT DURER
LIN EVOLA
SAM FRANCIS
MARIA GALICIA
EMMANUEL GALVEZ
CHARLES GARABEDIAN
DILLAN GARCIA
FRANK GEHRY
ROBERTO GIL DE MONTES
JOE GOODE
ALEX GONZALEZ
STEPHANIE GORDIAN
EMILY GORDON
ROBERT GRAHAM
PHYLLIS GREEN
PORFIRIO GUTIERREZ
ANTHONY HEIM
LUIS HERNANDEZ
IVA HLADIS
VANESSA JUAREZ
KONSTANTIN KAKANIAS
MYRNA KATZ
CORITA KENT
LAURA LASWORTH
LUIS MATEO
DAN MCCLEARY
OLIVIA MIRKOVICH
JIM MORPHESIS
GWYNN MURRILL
JOHN NAVA
LINDSEY NOBEL
STEPHANIE ORTEGA
ROBERTO ORTIZ
PIERRE PICOT
LEOPOLDO PENA
ELIZABETH PEREZ
GUILLERMO PEREZ
INCARCERATED PRISONERS
LUCAS REINER
REMBRANDT
ANDY ROMANOFF
ED RUSCHA
PAUL RUSCHA
LEZLEY SAAR
FERNANDO SANDOVAL
LUIS SERRANO
KATHERINE SHERWOOD
WAYNE SHIMABUKURO
JOHN SONSINI
ROB SULLIVAN
JACK TAYLOR
RUTH WEISBERG
PATRICIA YOSSEN

Calling all HuffPost superfans!
Sign up for membership to become a founding member and help shape HuffPost's next chapter