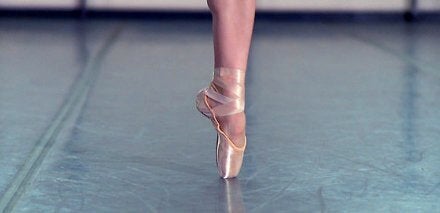 It is true that in the 21st century the modus operandi seems to be "bigger, faster, more." That applies to everything -- from technology to (fast) food. It is a universal challenge of the digital age we live in. And, regardless of your personal attitude to this phenomenon, we cannot deny that it is happening -- not only in everyday life, but also in business, sports, and, some say, even in the arts, particularly in ballet. Young dancers today strive, more than ever, for bigger jumps, higher extensions and more turns.
Does that mean, though, that they end up foregoing artistic growth in the process? Not necessarily.
Alluring as technical feats can be -- both to the dancers and the audiences -- there are still solutions that allow technique and artistry to co-exist. The key is to begin from the very beginning: teachers and schools must make it very clear to their students that while technical prowess is not inherently detrimental to dancers, it is only a shell, a house in which lives the artist that the student must become. Without emphasis on artistry, acting, and building character -- throughout their training -- students and dancers are left with only a bag of tricks that mean and convey nothing other than athleticism. To draw a parallel to public speaking, just learning how to enunciate and pronounce words correctly does not yet make one an eloquent speaker.
With proper guidance and support from teachers and mentors, students' technique and artistry can grow simultaneously. There are, of course, challenges. Sometimes, schools and companies cannot afford to hire a separate acting or character coach. Sometimes their demanding production schedule simply does not allow for time to be devoted to these performance aspects. And the ubiquitous presence of the internet -- with all the (often wonderful) distractions it has to offer via tablets, smartphones and ultra-compact computers -- chip away further from the precious time in the studio.
In companies, things are hardly any more conducive to a sustained effort to develop artistic vision: the average amount of time dancers have to prepare a ballet is only two months -- this often does not leave time for much more than just learning the music and the steps.
With these challenges in mind, we -- professionals in the field -- need to roll up our sleeves and find solutions to make sure that despite the difficulties, art must survive. And this is exactly what we try to do at Youth America Grand Prix.
First, let's dispel a popular myth: that dance competitions chuck artistry aside in favor of one-minute variations judged on the basis of their "wow factor." In fact, it's just the opposite: at YAGP, artistry is given equal consideration to technique; the judges' evaluation sheets are even graphically divided in such a way as to give equal space for jurors to write their comments in both areas. And when calculating the dancer's score for their performance, the two scores -- for artistry and technique - are weighted equally. In 2010, when presented with a choice of two dancers, one a technical wizard and one who danced a simple, but beautifully artistic variation, the jury panel unanimously gave the artistic dancer the top award.
But that is only a small part of our efforts to imbue dancers with respect for artistry. After all, the two-and-a-half-minute performance is only that -- a chance to try to bring everything you have learned so far to a moment of living on stage, as your character, and as an artist. All of our participants are still students, and therefore are still developing as artists. That is why we place such importance on scheduling classes and educational workshops at absolutely every one of our competition events.
At YAGP workshops, students have had a chance to work with such consummate artists as Alla Osipenko, Melissa Hayden, Tatiana Legat, Susan Jaffe, Vladimir Malakhov, Karine Plantadit. All of them taught students how to become better artists.
Of course, during a short workshop students cannot learn how to be an artist. But they can get inspired by some of the greatest artists and arts educators working today -- and, through that, understand the importance of artistry, so that they can continue developing it when they go back to their home studio.
Inspiration is a big theme at Youth America Grand Prix. It is why we have created our "Legends in Dance" Galas four years ago. We felt it was important to inspire -- and educate -- our participants and the audiences. By choosing a towering figure in dance history and building an entire evening of ballet around it, we make sure that the standards of artistry that ruled 20th Century ballet are still alive in the 21st. Previous "Legends in Dance" honorees have included Ballerina Assoluta, Natalia Makarova, and the legend of Soviet Ballet, Vladimir Vasiliev. And the artists chosen to celebrate these artistic legends themselves embodied the highest standards of artistry: Nina Ananiashvili, Yevgenia Obraztsova, Yuan Yuan Tan.
So artistry is not dead -- nor is it dying. Yet Ms. Kaplowitz is correct: contemporary life makes it more and more challenging to keep the standards of artistry that make our art, an art. And to make sure that artistry continues to reign supreme despite these challenges, we need to keep the dialogue alive among dance professionals -- attend conferences, forums and competitions, talk to each other via blogs and various publications, and share our trials and successes in educating the next generation of artists.
Together, we can rise to the challenge.
Larissa Saveliev is YAGP's Artistic Director and a former dancer of Bolshoi Ballet.
Sergey Gordeev is YAGP's Founding Director of External Affairs and a NYC-based journalist.
Related
Popular in the Community