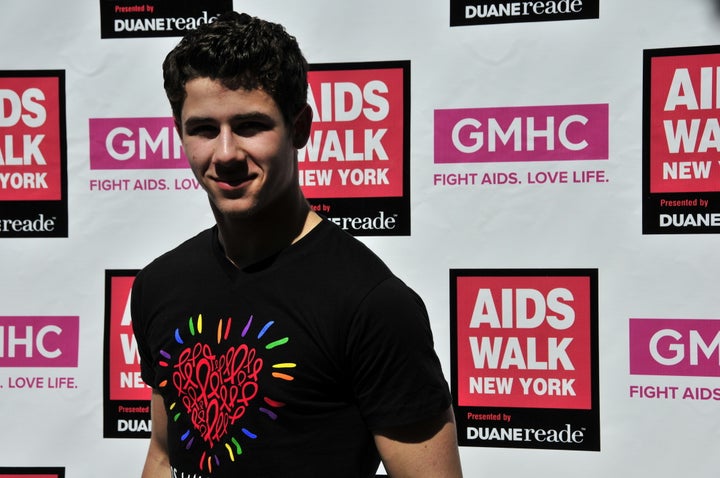 Nick Jonas, recently of the Jonas Brothers, recently of the London stage as Marius in Les Miz and recently as Finch in How To Succeed In Business Without Really Trying is talented, enormously popular, diverse in his abilities as an actor/singer/songwriter/television star/concert touring artist and star of both the Broadway and London stages.
Wearing dungarees and a plaid shirt with a closely cropped military haircut, he walked out onto the stage of the great Shubert Theatre. The decimal-shattering roar was overwhelming. Mr. Jonas was there to be Master of Ceremonies for the presentation of the 7th Annual Shubert Foundation/MTI Broadway JR. Student Share.
Seven hundred students plus their teachers and (in some cases) family members and educators from a variety of locations sat in the audience.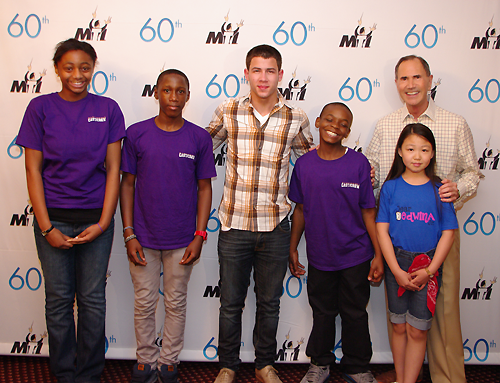 Thirty middle schools performed and Nick Jonas was the warm, embracing, nurturing emcee who not only knew how to talk the talk but has the "creds" of having walked the walk on the Broadway stage. He gave the students something to aspire to.
This program takes schools without any arts in their curriculum, introduces musical theatre as a way of straddling music, visual arts, theatre, dance and theater crafts into the New York City schools in all five boroughs and prepares the schools with teacher workshops, parent education, community involvement and evolves into self-sustaining theatre programs, weaning the support team away from the school. All the schools that started have continued. There are 1,200 schools in the city of New York, so there is more work to do.
The Shubert Foundation's generosity, the New York City Department of Education's visionary blueprint for the arts and ongoing commitment in identifying schools in the five boroughs that meet the criteria as well as the unique age-appropriate materials created especially by Music Theatre International all combine to make this difficult task work in a city where most schools are at poverty level, where children speak more than 52 languages and is the essence of diversity and remains the melting pot of America.
Fifty states utilize Broadway JR. to perform the same function. Four million U.S. students have heretofore participated in 70,000 separate productions of JR. musicals over the last 17 years. Those grade school students represent households with over eleven million Americans. This program makes the world a better place and makes the children better prepared to be good citizens working collaboratively and collegially, utilizing their imagination, creativity and inventiveness as well as doing an awful lot of hard work ... and enjoying the hard-work ethic.
That very same day was "Music Theatre International Day," officially proclaimed by the mayor of New York City on the 60th anniversary of the founding of our company. This was particularly validating to me. I was simultaneously immersed with all of these children in the Shubert Theatre and knowing I conceptualized the JR. program in 1994 ... Dreaming comes true with hard work and good partners and a mayor's proclamation. Wow!
Stimulating creativity and appreciation of the arts as well as understanding intellectual property mean that all is not lost for America. It bodes well for what these children have in store for them. They are better prepared for new inventions, positive risk-taking, building their attention spans and developing a work ethic of which we can all be proud. Through theater, all of these things take place as well as learning history, reading skills and building core confidence in themselves and most of all, realizing that it's okay to dream and everyone has a time when they can "shine."
So, all in all, it was a wonderful emotionally wrenching day for me and for my wife Myrna.
Thank you, Mr. Mayor. Thank you, Shubert Foundation. Thank you, Department of Education. Thank you, Nick Jonas. And thank you as well to all of the marvelous principals who had the courage to "go for it," their assistant principals and teachers who keep this program going and all of our partners -- the ArtsConnection and iTheatrics, in particular -- for working day-to-day, week-to-week, "on the ground" and "in the classrooms" to insure that it is not going off course, that questions are answered, that children and teachers feel a sense of support and that valuable substantive information is provided to them each year.
*A well-known American musical theatre writer of the 20th century was Meredith Willson. He studied music with Walter Damrosch at what we now know as the Juilliard School of Music. He played piccolo in the John Philip Sousa marching band. He wrote The Music Man.
He also wrote a song which I remember singing in my public school during a Thanksgiving holiday. The lyrics came to mind as I went down this list of people to thank and all of the children I saw performing. And they are:
"May the good Lord bless and keep you."
Related
Popular in the Community