First-time buyers who came into the housing market after the recession now are becoming first-time sellers. And more of them are looking to cash out.
In a Redfin survey of more 1,700 home sellers in July, nearly 36 percent of millennials said a top reason for selling their house was to take a profit. Three in four of those young adults were first-time sellers.
Like other homeowners, the majority of first-time sellers want to trade up to a bigger house or move to better schools as they start families. But last month, as home price gains continued to slow, a bigger share of millennials said they wanted to cash out.
In April's survey, about 27 percent of homeowners 34 and younger checked "I want to pull out my profit" as a top-three reason for selling. In January, the number was 29 percent.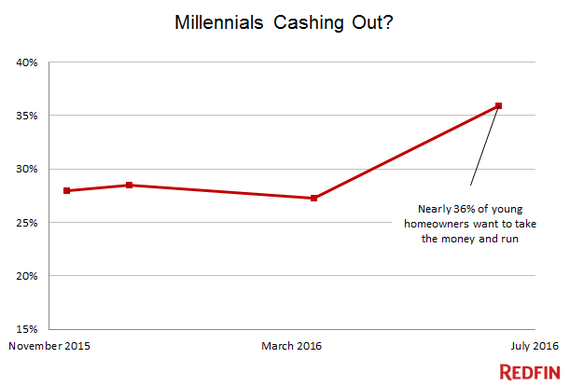 In most cities, home prices are at or near the peaks they hit in 2006, before the subprime credit collapse threw the country into recession. Millennials who came of age during that era of foreclosures, high unemployment and rising student debt have waded into the housing market more slowly and tentatively than earlier generations.
As those young first-time buyers now become first-time sellers, they might be thinking differently about homeownership than their parents did.
Among first-time sellers of all ages, profit-taking ranked second (25.5%) to trading up (53.6%) in July's survey. For sellers as a whole it ranked third, behind trading up and relocation.
Fewer than one in five homeowners aged 35 to 54 cited cashing out as a top reason for selling, Redfin's survey found. Among owners 55 and older it was about 14 percent.
Home prices have been skyrocketing, so there's plenty of cash to be had for owners who don't mind renting. Between November 2013 and November 2014, median home sale prices soared by double digits every month, according to the most recent Redfin data. In San Francisco, Denver and elsewhere, values have gone up even faster.
As of 2015, U.S. households collectively had more than $11 trillion worth of home equity, according to the Urban Institute, an average of nearly $134,000 for a typical home.
Now that price growth has slowed to a more sustainable pace, homeowners might be looking to catch what they think are peak values. Others might be fearing another downturn.
Those mindsets might be particularly prevalent among millennials, who came of age during the housing collapse. Surveys have shown that they're more risk averse and view homeownership with a skeptical eye. Some aren't sure if it's worth the commitment or financial risk.
Redfin's survey results come as homeownership fell to a 51-year low in the second quarter of this year. Only 62.9 percent of households own a home, according to the Census Bureau, even as mortgage rates flirt with record lows.
Why? After all, the economy is recovering and households have repaired their balance sheets. But at the same time, real estate values have soared, wage growth is weak, mortgages are difficult to come by and student debt is locking many would-be buyers out of homeownership.
It's a troubling development for the housing market and the broader economy. For many middle-income Americans, homeownership is a kick-starter to wealth building and a crucial source of retirement income. The societal and financial benefits of owning a home are so well recognized that they're written into tax law.
For decades, the IRS treated a house like any other financial asset. Homeowners had to pay taxes on the profit when they sold their primary residence or roll the money into a more expensive home to avoid the tax.
That changed in 1997, when Congress made profits from the sale of a typical primary residence tax free. It allowed seniors to sell to pay for retirement. Parents could downsize to finance college tuition for their children. Entrepreneurs could use profit from their houses to start businesses.
Nearly 20 years later, the tax exemption also gives homeowners more freedom to sell if they fear another price downturn, or if they just want to sit out the current highly competitive, low-inventory market.
That's what Brandon Campell was ready to do. The first-time seller had outgrown the two-bedroom, two-bath Los Angeles condo he'd bought in 2010. He put it on the market and it found a buyer quickly, fetching a $514,000 for a unit he'd picked up in a distress sale for $335,000.
Suddenly, Campbell was a buyer again in a city where the housing market had changed radically since 2010. Homes in some neighborhoods went under contract in days. After two months of house hunting, he went looking for an apartment and was ready to sign a lease.
"I was unsure whether I wanted to buy," said Campbell, 27. "This market is very hard and requires a lot of luck. I was waiting for things to settle. Everything is just so fast-paced right now."
"I just wanted to wait until it was not so crazy," he said.
As luck would have it, he and his girlfriend found a 3-bedroom house at the last minute. They move in September. Until then, Campbell is crashing with family.
Calling all HuffPost superfans!
Sign up for membership to become a founding member and help shape HuffPost's next chapter