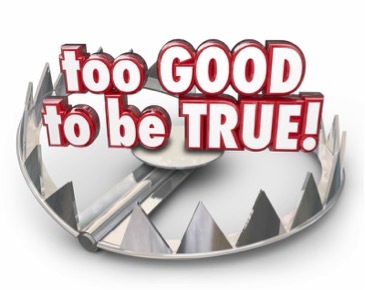 That bear trap is actually nicer than the traps that many are falling into these days when it comes to trying to locate the perfect rental home. Rents have been rising consistently as rental home demand keeps growing. For sale home inventories are low, even as buyer pressure isn't at normal levels either. Home prices have risen, leaving many unable to afford buying, so they rent.
If there has ever been a situation that proves the point, when it comes to rental home advertisements and listings, 'IF IT SEEMS TOO GOOD TO BE TRUE, IT PROBABLY IS." One of the reasons for a huge rise in scamming activity is the ease and largely free ways in which scammers can advertise rental properties they don't own.
1. The rent is well below comparable properties (too good).
2. The supposed owner can only communicate via phone or email, but can't meet in person.
3. For some reason (travelling or out of the area temporarily) the advertiser isn't available to show the prospective tenant the property.
4. The advertiser asks for money to "hold" the rental, or up-front rent or deposit payments.
This is the simplest scam, as the scammers do not have access to the property, instead just taking the details from a real listing and copying them for a fake listing with their contact information. The prospective renter is never in touch with the real owner. This isn't just done on Craigslist, but it is a national marketplace and draws a huge audience of renters and scammers.
An article over at SparkRental.com describes a couple of scam approaches that steal from renters who are just trying to find a nice home for the money. One is to run the ad and when the tenant calls or emails they're told that it's been rented. However, if they'll leave their email address, they'll be contacted if something happens to make it available again. They're pretty disappointed, but suddenly a few days later they get an email that the other tenant backed out. They're very happy and gladly send off a deposit to hold it and keep it from disappearing again. They never hear anything else and they never get the home.
A more elaborate and much more profitable scam involves getting a key copied from the property. The scammer may find a gullible owner who lets them sign a lease and gives them a key. They then run an ad to rent the property and show as many tenants the home for a few weeks. They take deposits and/or first month rent from many of them, with signed fake leases. They then leave the area with a pot of renter money and a bunch of moving vans pulling into a home's driveway with nowhere to unload.
If you're searching for the ideal rental property, NEVER send any money to anyone you haven't met personally at the property. Check online property records to see who actually owns the home, as most county records are now available online. Also, run searches on the same address as a rental to see if there are other ads with different contact information. Renter beware.
Have you found success in real estate investing by implementing different approaches? Have you struggled to take that first step? Let me know what you think by leaving a comment below, or by finding me on social media:
REAL LIFE. REAL NEWS. REAL VOICES.
Help us tell more of the stories that matter from voices that too often remain unheard.