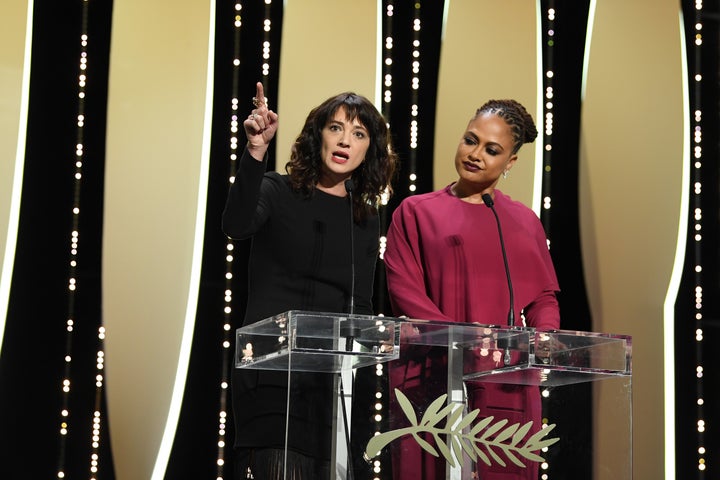 There were a few moments of protest for equal rights at the Cannes Film Festival this year, but none quite as fierce as the surprise speech actress Asia Argento gave at the festival's closing ceremony on Saturday.
Before presenting the award for best actress, Argento said she had something to say. She called Cannes Harvey Weinstein's "hunting ground," and said he raped her at the festival in 1997 when she was 21 years old. Festival organizers reportedly had no idea she was going to make any remarks.
"I want to make a prediction," she added. "Harvey Weinstein will never be welcomed here ever again. He will live in disgrace shunned by a film community that once embraced him and covered up for his crimes."
She went on to call out predators she said still work in the film industry and issued a warning.
"And even tonight sitting among you there are those who still have to be held accountable for their conduct against women. For behavior that does not belong in this industry ― does not belong in any industry or workplace. You know who you are. But most importantly, we know who you are, and we're not going to allow you to get away with it any longer," she said.
According to The Hollywood Reporter, Argento entered to roaring applause but the audience looked visibly stunned as she made her remarks about Weinstein and Cannes.
Argento is one of several women who have previously accused Weinstein of rape, sexual assault and sexual harassment. She was one of the earliest to speak out and share her story in Ronan Farrow's Pulitzer Prize-winning piece in The New Yorker last year on the widespread allegations of Weinstein's predatory behavior.
Argento shared her remarks on Twitter with a message for sexual assault survivors. "For all the brave women who came forward denouncing their predators, and for all the brave women who will come forward in the future. We got the power," she wrote.
Weinstein has denied having non-consensual sex with anyone. Among criminal investigations into his behavior, Weinstein faces a lawsuit filed by Ashley Judd, who was also one of the first to speak out and allege sexual misconduct against the disgraced film producer.
More than 70 women have accused Weinstein of sexual misconduct ranging from rape to sexual harassment.
Calling all HuffPost superfans!
Sign up for membership to become a founding member and help shape HuffPost's next chapter