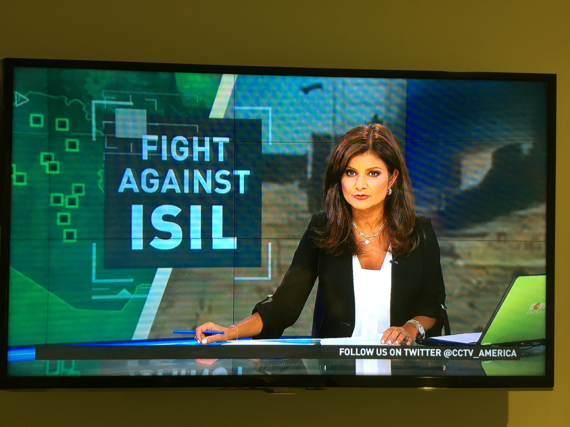 With the goal of harnessing the untapped potential of Iranian-Americans, and to build the capacity of the Iranian diaspora in effecting positive change in the U.S. and around the world, the West Asia Council has launched a series of interviews that explore the personal and professional backgrounds of prominent Iranian-Americans who have made seminal contributions to their fields of endeavour. We examine lives and journeys that have led to significant achievements in the worlds of science, technology, finance, medicine, law, the arts and numerous other endeavors. Our latest interviewee is Asieh Namdar.
Asieh Namdar is an Anchor for CCTV America in Washington, D.C. She comes to CCTV with more than 20 years of experience at CNN, where she served as an anchor for CNNI, a senior writer for HLN, and a contributor to CNN.com.
Namdar has written and reported on many international stories, including the wars in Afghanistan and Iraq, the tsunami disaster in Asiain 2004, the disputed 2009 election and protests in Iran, and typhoon Haiyan as it hit the Philippinesin 2013.
Namdar has conducted one-on-one interviews with Nobel Peace-Prize Laureate Shirin Ebadi, former U.S. President Jimmy Carter, Jordan's Queen Rania, Pakistani Prime Minister Benazir Bhutto, and best-selling author Azar Nafisi.
Recently, she spoke one-on-one with Iran's foreign minister, Javad Zarif, on the sidelines of the U.N. General Assembly.Please check (here)
In 2004, she traveled to ancient city of Bam in Iranfor a humanitarian mission after a deadly earthquake. It was her first trip to her native Iransince she left at the age of 12. Namdar has been recognized for her work by numerous Iranian-American organizations. She graduated from the University of California at Berkeley, where she earned a bachelor's degree in communications.
Tell our readers where you grew up and walk us through your background. How did your family and surroundings influence you in your formative years?
I grew up in Tehran, Iran until the age of 11. I have wonderful memories of my childhood. I was always surrounded by cousins and aunts, and summers by the pool or winter trips to the mountains to ski were very joyous times. And of course the excitement over the Persian new year, Norooz, and buying new clothes and shoes, a ritual for every Iranian girl. The 1979 Islamic revolution changed all that. Mom, dad, and my older sister and I moved to the San Francisco Bay Area. My aunt had been living there for years, and helped us find an apartment to begin a new life in America. I attended summer school to learn English. Everything was foreign to me. Things only got more difficult once I started school. Changing classes was confusing, the locker combination never worked--I had no idea what I was doing. I felt alone and isolated. Lunch-time was the absolute worst because I had no one to dine with. I would sit in a corner by myself pretending I was doing homework, so at least I looked busy. The hostage crisis made me even more of an outcast. I was the "skinny, strange kid" who came from "EYE-RAN," the country that had taken 59 American hostages. No one talked to me, and when they did, I had no idea what they were saying and why they were laughing. Middle school years were by far the toughest, and the loneliest period of my life. Academically, socially, emotionally, I was a mess and constantly in tears.
Since you started your journalism career, you have been committed to debunking stereotypes. How did you challenge people's assumptions about your identity?
For one, I'm always trying to pitch stories about Iran you don't often see in mainstream US media--the types of stories that dig deeper and move beyond the headlines. During my 20+ years at CNN, I did countless reports on Iranians making a difference in the world, and my move to CCTV-America has not dampened my enthusiasm for these types of stories. The inspirational reports on two remarkable women who started "Mahak" Cancer center and "OMID Foundation" make me especially proud. Please see(here) and (here).
My dark middle school years probably played a role in my relentless pursuit to have more stories about Iran on the air. People would ask questions like, "Do you have cars, or do you ride camels over there" ... "Do you live on an oil field" ... The endless questions made me more determined than ever to be an ambassador of sorts. To talk about the wonderful Iran I knew, the culture, the food... to show pictures, invite kids over and try to positively impact their perceptions.
How did your job at CNN compare to your work for CCTV? Have you learned much about China and the country's global perspective through your work at the station?
My early training in journalism began at CNN in Atlanta more than 20 years ago. It's where I started my professional career. I will always be grateful for the experience and Ted Turner's pioneering vision for a 24-hour news network. It's also where I met my husband and some of my closest friends.
I've been at CCTV-America in Washington D.C. for nearly three years. I've met some remarkable journalists who share my passion for news. I know more about China and the world NOW than ever before. We do first-rate reporting from every corner of the globe, including Africa, Latin America, Asia (including West Asia) and the U.S. We provide viewers with an alternative source of news and analysis. It's important to see the world - from all perspective not just a Western one. I believe it has made me a better journalist.
In your opinion, what are the most profound changes that journalism has undergone in the last two and a half decades?
The biggest change in Journalism over the past few years is the rise of social media and technological advances. From Iran's "Green Movement" to the Arab revolutions, to the war on terror, ordinary activists turned into citizen journalists, posting their eyewitness accounts and videos on twitter and Facebook. You no longer need a fancy camera and a crew to report breaking news. How often have we seen shaky videos captured on cell-phones go viral? Unfortunately, there's always a downside. Social media has helped terror groups spread their message of hate and to recruit sympathizers. The heart-wrenching videos of hostages and executions - often posted on social media.
You've interviewed many prominent people over the years, from Nobel Peace-Prize Laureate ShirinEbadi, former U.S. President Jimmy Carter to Jordan's Queen Rania, the late Pakistani Prime Minister Benazir Bhutto. Who would you say was your toughest and/or most illuminating interviewee?
That's a difficult question to answer. They were all gracious and warm. President Carter was my first big interview as a young journalist. He was patient and kind, even after learning I was of Iranian origin! I developed a special connection with Nobel Peace Laureate, Iranian Shirin Ebadi, the first Iranian to win the award. I was so proud to be sitting next to her, and didn't want the conversation to end. Jordan's Queen Rania -talked openly and passionately about gender issues and challenges facing women. I will never forget Benazir Bhutto's courage, and humility; she was fearless. The interview I was perhaps the most anxious about and that kept me up at night, was the one with Iranian Foreign Minister, Javad Zarif, in 2014. There was so much at stake at the time, with the nuclear negotiations. I kept thinking the Iranians would back out and the interview and that it wouldn't happen. Also, I had a lot of questions and wanted to make sure I got to all of them in the time slot we were given, which, luckily, I did.
As a professional journalist, do you think that the U.S. media reflect the diversity West Asian people, especially women?
The short answer: no. I think there has been some progress, but there's still a long way to go. The women of West Asia/Middle East -- Iranian and Arab... Muslim, Christian or Jewish --. are often lumped in one category. But we are not a homogeneous mass. Iranian women, for the most part, are educated, ambitious politically and socially active and are often pushing the boundaries imposed by Islamic laws, which is not the kind of portrayal we often see in the media.
How can the media do justice to the modern reality of women in West Asia and North Africa?
In an ideal world, it would be refreshing to see news organizations go beyond the politics and the rhetoric to explore and highlight the complexities--the diversity-- of the women in the region. The young, the old, the working class, the stay-at-home moms, the musicians, the artists, the scientists, the lawyers, the entrepreneurs, etc.
In the course of your career, what have been some of the key challenges that you have encountered?
I love my job at CCTV-America, and I work with hardworking and talented journalists from every corner of the world. But moving to Washington without my family has been a huge challenge. My life and entire support system in Atlanta seemed to vanish with my move--a new job, a new town, a new life, outside my comfort zone. And for someone who hates change, it seemed I had made the biggest change of my adult life. As a mother, I'm often consumed with tremendous guilt being far away from my daughters and my husband. And more than two years after my move, my biggest concern is still my 16-year-old daughter. I'm away from home at a time when she needs me the most. I have a supportive, loving husband who is an incredible father, so that helps. My move did not impact my oldest daughter as much. She's finishing her last year in college. So far, we've all adapted, and we see each other every chance we get. On a professional level, I've been fortunate for the most part. But I do remember, when I first started my on-air career, someone in the business told me that I should consider changing my name. "Too tough to pronounce", he said. He also told me if I had a "British accent," I would get further ahead in my career. I did not listen, and I seemed to have done just fine.
What are some common myths about the journalism profession?
Most people think it's a glamorous job but Journalism is hard work. It needs much discipline. It's about having a natural curiosity about the world. It's about working every holiday, and crazy graveyard shift hours, and loving what you do, despite all the challenges.
For those who aspire to become journalists, what do you recommend they study in school and how can they get their first job?
Internships are the best way to discover whether you really love the news business. You get a sense of the hours and the rolling deadlines. Plus, you meet people who can inspire you, and guide you along the way. I had a number of internships starting my junior year in college - at local TV stations, and the CNN bureau in San Francisco. With the help of amazing role models, I learned how to research, write and conduct interviews. And as I found out quickly, just because I got A's on my college essays, that didn't make me a good writer in broadcast journalism. A different set of skills are involved; one needs broad knowledge, and to be able to perform under pressure, faced with constant deadlines. What you study in college, and your major--do not make a difference. What DOES: Your passion, drive, hard work, and attitude.
Can you share your thoughts on your Iranian-American identity? What does it mean to be an Iranian- American to you?
Being an Iranian-American has given me the best of both worlds. A new country that has given me an education, countless opportunities, life-long friendships. My husband is American and my daughters grew up celebrating Christmas, as well as Norooz. I'm also incredibly proud of my Iranian identity. Iran is a land of many contradictions. For me it will always be "vatan" or "homeland." It's where I have my happiest childhood memories. It's love, it's family, and it's the land of "tarof" (social graces) and "tahdig" (crunchy rice at bottom of the pot). The culture, traditions, and the food, and people's warmth and kindness--truly unparalleled.
Popular in the Community