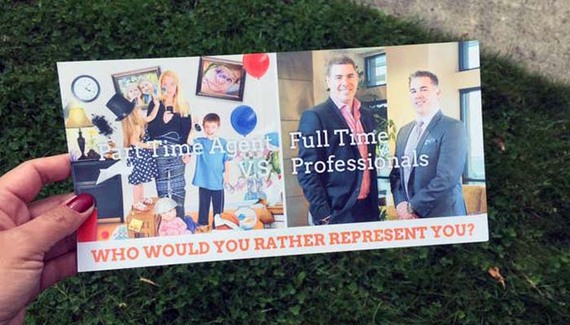 Image via Twitter/ Alison Grande
A real estate ad was circulated in the Seattle area last week, and it is now circulating all over the internet. An advertising win for the ad agency it represents? Oh no, it's a major advertising fail! The ad asks "Who would you rather represent you?' On one side a mother stands in a messy living room, tied up in a jumprope, juggling a few kids. On the other side of the ad, two men stand proudly in suits, listed as Full Time Professionals.
The picture is bad enough, but the sexist ad continues on the back of the mailer. There are two columns and one lists all of the services Costello and Costello can offer you. On the mom's side it lists: "Available at THEIR convenience."
Costello and Costello has since issued a formal apology on their Facebook page. Here's the apology, as listed by Kiro TV, however the Facebook page has now been deleted:
There are thousands of professional agents working in our area who are also dedicated mothers, including several members of our team. Our original hope with this message was to show the value of having a full-time agent in a competitive market, but we completely failed. We have the upmost respect for moms and working mothers, and we know that the job of a mother is far more demanding than what we do as real estate professionals. Again, we are truly sorry. It was not representative of the company we wish to be.
It will be interesting to see if Costello and Costello can recover from this massive advertising fail. Perhaps they should try and hire some working moms to come in and clean up their mess. Good luck with that!
Related