AUSTIN, Texas ― When Kim Klein moved here from Chicago with her husband and their dog six months ago, she settled in the well-to-do area of Travis Country in southwest Austin. It was a nice neighborhood, she thought, near the tree-lined hiking trails of the Barton Creek Greenbelt.
But after hearing the booming sound of a bomb exploding outside her home on Sunday night, Klein felt shaken. The explosive, the fourth unexplained bombing here this month, detonated just around the corner from her house. After leaving early Monday morning to drop off her husband at the airport, a yellow line of police tape barred her and the dog from returning, as FBI agents and Austin police officers scoured the scene of the incident, which left two people hospitalized.
The string of bombings this month has unnerved the usually safe, bustling city and has left law enforcement scrambling for answers.
Unlike the other three bombs in packages that detonated across the city earlier this month, the one in Travis Country was triggered by a tripwire, adding a new element of uncertainty and heightened concerns from law enforcement that there's a "higher level of sophistication" in the explosives.
A fifth package, reportedly bound for Austin, exploded in a FedEx facility near San Antonio early Tuesday, authorities said. An FBI spokesperson told CNN that "we suspect it is related" to the earlier incidents.
The first attacks struck people of color, leading local authorities to raise the possibility that they were targeted because of their race. The bombing on March 2 killed 39-year-old Anthony Stephan House, a black man. Two more parcel bombs exploded on March 12, the first killing 17-year-old Draylen William Mason, also black, and injuring his 41-year-old mother; and the second leaving a 75-year-old Latina in critical condition. But the fourth bombing Sunday night injured two white, non-Latino men, in a predominantly white area of town, casting doubt on that logic ― or indeed, any logic ― behind the violence.
Whatever the motivation, police believe a single individual is behind the attacks.
"We are clearly dealing with what we expect to be a serial bomber at this point," Austin Police Chief Brian Manley told reporters on Monday. "We have seen similarities in the devices that exploded here last night and the other three devices."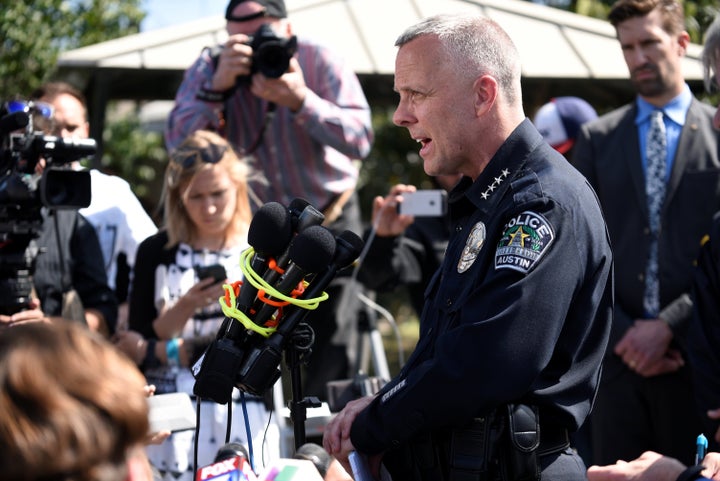 The sudden uptick of unusual bombings had some Austin residents treading with more caution. Elizabeth Guevara, 19, was evacuated from her home after the second bombing, just a few houses away, killed Mason, a talented musician.
When she was allowed to return to her home, she received an unusual package. Instead of opening it, she called the police. It turned out to be an unexpected letter. But the Austin Police Department has responded recently to about 800 calls reporting suspicious packages, a department spokesman told HuffPost, as the mundane task of picking up the mail suddenly seems more dangerous.
"Honestly, I feel like we need to be more careful," Guevara said.
Down the street from Guevara, Pastor Leonard James Sr. planned to install a set of surveillance cameras at his two-story home like the ones used at his Greater Works Baptist Church. One of his neighbors had already put up cameras in response to the bombings that had forced them to evacuate, he said.
"I've got neighbors who've lived here 30 years and never heard anything louder than an ambulance siren," James said.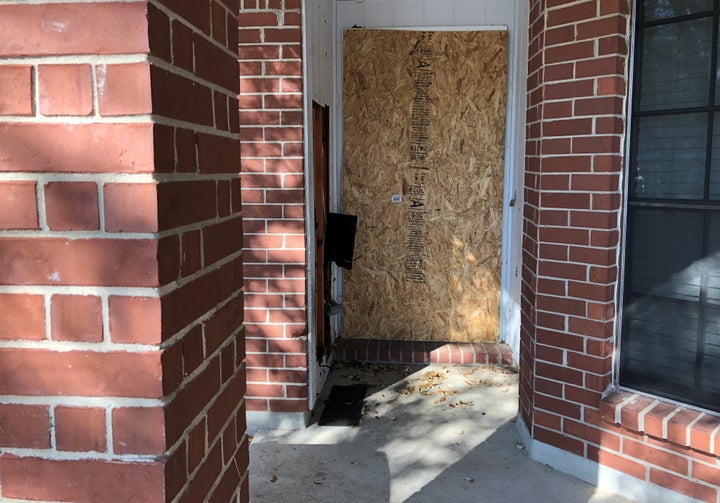 While James understood it was natural for people to retreat into their homes when they felt scared, he hoped that people in the community would continue to congregate on the streets and porches of their neighborhoods instead of staying inside.
"There's two things they don't like," James said of people who commit violent crimes. "They don't like light and they don't like eyeballs."
"To be clear, these bombings must be classified as ongoing terrorist attacks and should be investigated as such. Also, we need to understand if these attacks are ideologically or racially motivated," Reps. Bennie Thompson (Miss.), Cedric Richmond (La.) and Sheila Jackson Lee (Texas) wrote in a statement. "For too long we have focused only on certain sources of terrorism and violence while ignoring others."
"We are listening," Chief Manley said at the news conference. "We want to understand what brought you to this point, and we want to listen to you."
The bomb rocked Klein's neighborhood just hours later.
Popular in the Community