Here at DoSomething.org, we know that there's more to Valentine's Day than candy hearts and stuffed teddy bears from a boo, crush, or the mysterious cutie who's been smiling at you in between classes. Love and appreciation come in all kinds of packages, and everyone could use a little reminder of how much they mean to the world.
Valentine's Day can be a particularly lonely holiday for many, especially for older adults. According to a 2012 study, 11.8 million American seniors live alone and face isolation due to location, disability, or language barriers. That's why we decided to expand the scope of Valentine's Day and invite members to be their own cupids with the Love Letters campaign. By creating (over 30,000!) handmade cards (delivered around the country by Meals on Wheels Association of America), our members were able to spread some love and kindness to seniors who need it.
Here are 11 of the most butterfly-inducing, awww-inspiring labors of love from our DoSomething.org cupids.
1. "LIVE Every Moment. LAUGH Until It Hurts. LOVE Like Crazy!"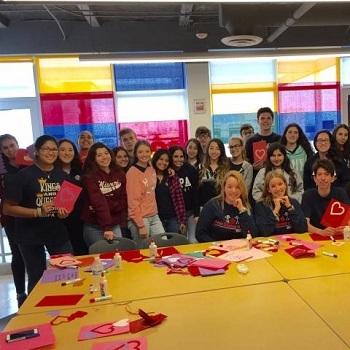 High school students at International Students Preparatory Academy in Florida teamed up to make 322 cards for seniors in their area.
2. CUPID EXTRAORDINAIRE: 1,200 Cards for Seniors in Hospice Care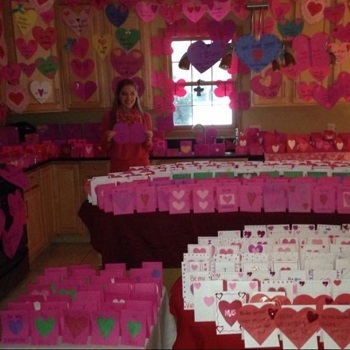 Hannah, 19, crushed the Love Letters campaign and made 1200 V-Day cards for seniors in hospice-specific nursing homes.
3. Hand-Delivered Valentine's Day Cards in Three Languages!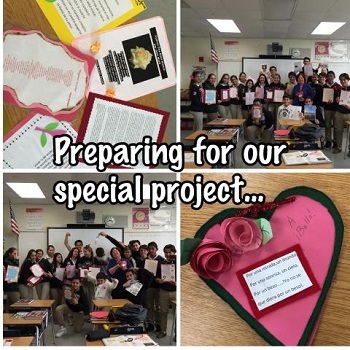 Students at Curry Middle School in Miami, Florida created 385 cards in three languages that they personally delivered to seniors in an assisted-living facility in their community.
4. Cats Love Seniors Too!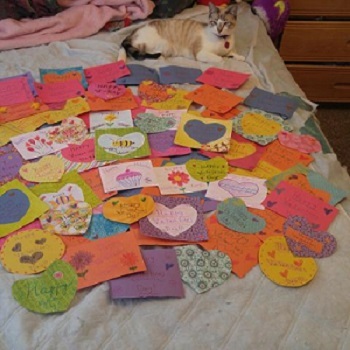 DeAnna, 19, made 100 Valentines cards for seniors, because she believes "everyone deserves to feel loved and to know that they are loved!" By cats too!
5. "Sending A Little Love Your Way!" - Alexis, 17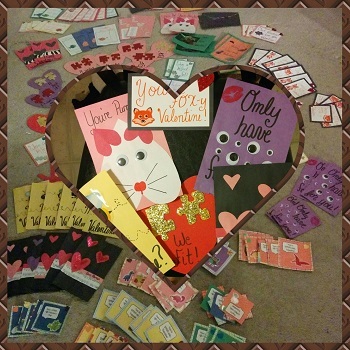 Alexis, 17, hand-made 162 gorgeous and unique Valentine's Day cards to warm seniors' hearts this winter.
6. Signed, Sealed, Delivered!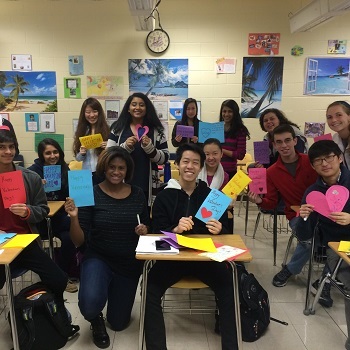 Sanika, 17, is president of the National Spanish Honor Society at her school and encouraged members to make 105 V-Day cards for seniors living at a local nursing home. The best part is she's going to hand-deliver a card to each resident at the facility!
7. Have a Heart: Make Someone's Day!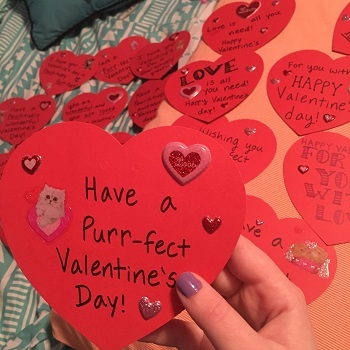 "Nobody should have to feel alone in life especially on a day dedicated to loving one another!" says Felicia, 19. We totally agree. "If I make one person's day, I've reached my goal." Goal crushed.
8. "Love does Not Fade With Age"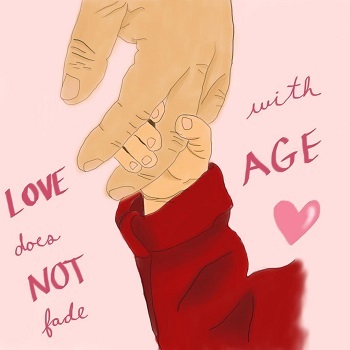 Lauren, 18, used her amazing artistic talents to highlight intergenerational bonds and the timelessness of love. Art is love!
9. Rockin' It on Valentine's Day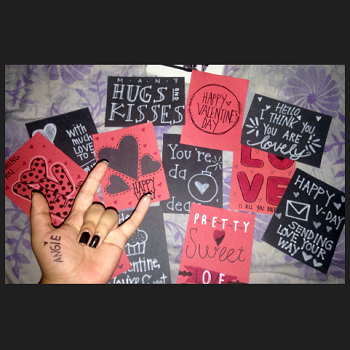 Angie, 19, reminds us how cool and effortless expressions of love can look. "With such busy lives we carry, it's important to take a little time to remind the people around us how much they matter to us," she says.
10. "A Spot of Tea and Chocolate Kisses"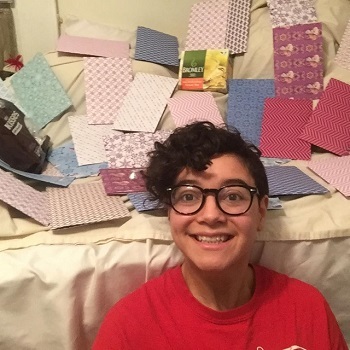 Luna, 21, went above and beyond with the Love Letters campaign by including a handful of treats and helpful resources in addition to Valentine's Day cards. "Each card will contain a decaf tea bag, a Hershey's kiss, a fortune paper, a special poem or song lyrics, and links to resources that will help them whenever they feel lonely." Sweet!
Rex Leonowicz is a Writing Intern at DoSomething.org. He's a trans/nonbinary/femme writer, poet, and visual/performing artist from Queens, NY. Find him online at rexylafemme.tumblr.com and @rexylafemme on twitter & instagram.
REAL LIFE. REAL NEWS. REAL VOICES.
Help us tell more of the stories that matter from voices that too often remain unheard.