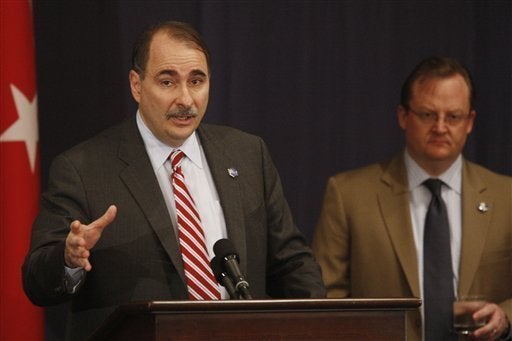 Responding to the somewhat overwrought critique that Obama did not properly stand up to hostile Latin American leaders during a trip to the region this past week, David Axelrod accused critics of missing the point.
"I think some people misinterpreted what happened this past weekend," said the president's close adviser. "I think the real message of what happened this past weekend with the Cuban regime's response to the president's decision on remittances, or the overtures from president Chavez. I think what has happened is that anti-Americanism isn't cool anymore."
The remarks were delivered during a conference hosted by the Religious Action Center, a Reform Judaism organization that seeks to influence society and politics. And they came as part of a broader attempt to frame the election of Obama as a fundamental resetting of "our relationships in the world."
"I had the honor and the pleasure to travel with him to Europe recently, to the G20 conference, and to NATO and to the EU and finally to Turkey and Iraq," he went on. "It was an extraordinary experience not just to see the way world leaders received Obama but to see the way average citizens in these various countries received him. There were tangible benefits immediate in terms of more money. We pushed hard for more money for the IMF so we could help struggling economies, more money for impoverished and developing nations who are having such a hard time, food security programs, all this came out of the G20 and the United States played a huge role in that."
The crowd, predominantly progressive Jews, was naturally interested in the state of foreign affairs and this administration's approach to the Middle East. Axelrod obliged by reiterating the president's support for a two-state solution between the Israelis and Palestinians, and he laid out the administration's accomplishments on the world stage as such:
"It has been just 100 days," he said. "There have been a lot of difficult decisions to be made and some we never anticipated. The pirate thing was not in the handbook, in any way. By the way, one other thing that was more anticipated and still challenging was the launch of the satellite by North Korea... a provocative act. But as you may have seen we have obtained a strong statement of condemnation out of the United Nations, joined in by the Russians and Chinese. As you look at those things, their willingness to join our country and this president in making that statement... when you look at the fact that the Cubans for the first time are saying we are wiling to talk about democracy, human rights and political prisoners... When you look at the fact that Chavez has said we want to talk about returning ambassadors and restoring relationships, these are first steps. We are not naïve we know there is a long way to go... but I believe we have made great progress."
Popular in the Community