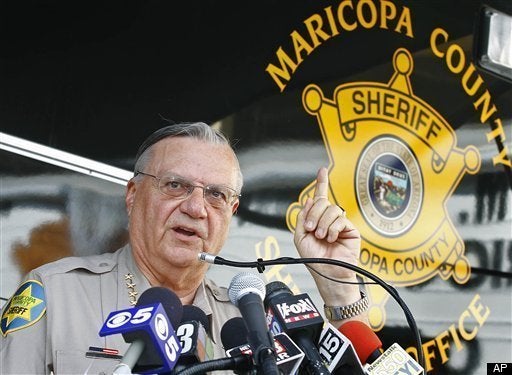 PHOENIX, AZ - Maricopa County Sheriff Joe Arpaio is making big news again for his office's controversial immigration enforcement efforts.
He made an appearance Monday on CNN alongside an official from Immigration and Customs Enforcement. The official questioned Arpaio's office's criteria for detaining a suspected illegal immigrant, saying Arpaio's sweeps "aren't consistent with our priorities as an agency," which he said were "to remove serious criminal aliens from the streets of Arizona."
During a heated debate between CNN anchor Rick Sanchez and Arpaio, Sanchez compared Arpaio to "Bull Connor," accusing him of violating the US Constitution and seeking publicity.
Last week, critics celebrated when Arpaio announced the US Homeland Security Department would no longer authorize his "crime suppression sweeps," but Arpaio quickly announced Wednesday that he would continue enforcing immigration laws under a little-known U.S. law. At his press conference, he said he would "bus illegals to the border" and handed out copies of the federal statute that he said allowed him to continue enforcing immigration. A reporter confronted Arpaio soon after arguing that the law he cited is nonexistent.

Friday, GQ Magazine published an in-depth interview with Arpaio in which he talked about his belief that mass immigration will lead to reconquista, a takeover of the southwestern region of America by Mexico. He also told GQ,
All these people that come over, they could come with disease. There's no control, no health checks or anything. They check fruits and vegetables, how come they don't check people? No one talks about that! They're all dirty. I sent out 200 inmates into the desert, they picked up 18 tons of garbage that they bring in -- the baby diapers and all that. Where's everybody who wants to preserve the desert?
Arpaio also appeared on a CBS affiliate channel Monday with this explanation of how his officers determine who to stop: "Certain criteria. No identification. Look like they just came from Mexico, and they admit it, so that's enough."
For months, Arpaio has been fending off accusations that his officers engage in racial profiling when conducting stops and sweeps. His office is under an investigation by the US Justice Department for alleged civil rights violations, which Arpaio has repeatedly denied. Arpaio's admission of targeting people who "look like they just came from Mexico" seems to vindicate the charges of racial profiling the Justice Department is investigating. A MCSO spokesperson said Arpaio was "overwhelmed" when he spoke at the CBS station and that "appearance is just one factor" taken into account.
Support HuffPost
The Stakes Have Never Been Higher
Popular in the Community