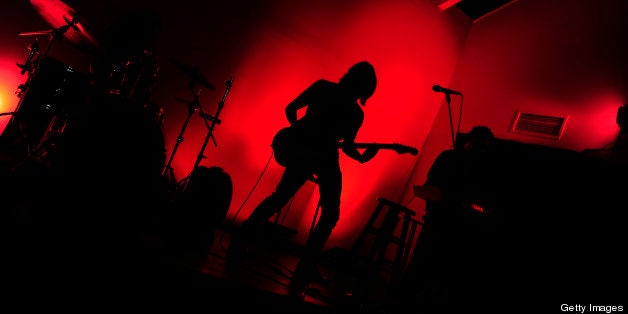 It's been almost forty years since the Buggles told us "video killed the radio star." While the golden days of music television are long past, websites like YouTube and Vimeo have ushered in a new era of music video broadcasting. Last year, the team behind San Francisco's Music Video Race took note and launched a festival marrying musicians and filmmakers. The Music Video Race (MVR) was an overwhelming success and is returning for its second year.
The MVR is a unique approach to music video production. 20 bands are paired with 20 filmmakers at random. They have just one weekend to write, film and edit a music video. All 20 videos are screened at a party the following weekend and judged by people like Katie Gillum (Disposable Film Fest), Allen Cordell (a music video director who has worked with Beach House and Cloud Nothings, among others) and members of SF's Noise Pop. The race is a great vehicle for bands and filmmakers wishing to bring their work to a larger audience.
I spoke to one of the MVR's organizers, Tim Lillis, over email. Submissions for the festival -- starting on on Friday, June 7 and ending Sunday, June 9 -- are now closed and all participants have been notified (for a list of bands chosen to participate in this year's race, click here). "What they won't know before then though, is who they'll be working with," Lillis explains. "We like to keep everyone on their toes. They find out who their collaborators are at 8pm on Friday night and have exactly 48 hours to create their videos."
Last year's inaugural MVR featured 16 bands and 16 filmmakers. This year that number has grown to 20. "We get tons of entrants. The trick is narrowing it down to a manageable number and retaining a high level of quality and variety. We have eclectic musical taste, and fortunately in the Bay Area there is no shortage of talent in any genre you can think of," Lillis says. And the festival isn't just growing by numbers of participants -- the organizers have big plans up their sleeves. Lillis continues, "As far as growth, we plan to expand to some more cities this year, as well as new countries. Jacquelyn [Marker, another MVR organizer] spends most of her time in Sydney."
The team behind the MVR is active year round. Lillis says:
We do a lot to try and connect the musician and filmmaker communities here in town. We have meet ups where folks can just come to meet new people, which has proven valuable for musicians to meet other musicians to play shows with, directors to meet other crew members to work on shoots with, musicians to meet filmmakers, etc. We really try to enable collaboration even outside of the frantic MVR filmmaking weekend. In those cases though: BYOD -- Bring Your Own Deadline.
Though submissions for this year's race are closed, all interested parties are invited to attend the June 15 music video screening at the Rickshaw Stop. You can stay up to date with all MVR news via their blog.
Related
Popular in the Community