 SILVER SPRING, Md. -- "Bar Rescue" host Jon Taffer has an important question about one of the D.C. area's most quirky businesses, an establishment that revolted against the Spike TV host's best make-over efforts.
"If you had a pirate concept that had failed for five years and had a new concept, would you go back to the concept that failed for five years or try something new? It defies logic that someone would go back to a concept just because they don't like the new name."
The second season of "Bar Rescue" premiered Sunday night with an episode profiling Piratz Tavern, a pirate-themed bar on Georgia Avenue near Silver Spring's Red Line Metrorail station.
Soon after the filming was complete, the renovations and rebranding were tossed aside to let the pirates back in.
Taffer told The Huffington Post that he disagrees with the bar's decision to revert to its pirate roots.
"I think it defies logic. Whether one likes the asthetic or concept I created, there are certain logical, indisputable points that one can't argue with."
Taffer and his crew didn't think the bar's location in Silver Spring was ideal for a dinner crowd. "There are roughly 270,000 people there in the daytime. Disposable income levels drop substantially at night."
He also didn't think the theme was working. "They didn't make money for five years as Piratz Bar. Five years. You know how many cooks, how many servers, how many different staff members worked there? Do you how many days she woke up in the morning trying to make a pirate bar work? So I'm sitting with a concept that has clearly failed, clearly built a reputation in the market place to be terrible."
"Bar Rescue" changed the look, feel, name, pretty much everything but the location.
"I targeted a menu for the business community, Taffer said. "I put in a menu with square plates. I targeted the people that work at Discovery Channel, which is a block away. I targeted office buildings that are two blocks away. I created an environment I've used before, a networking environment. I put in a reception desk when you walk in -- a really cool corporate environment. I used a concept that has worked in other places. I put in place mats that looks like desk blotters. I put in phone message pads, rather than say 'While You Were Out' they say 'While You Were Here' to encourage interaction. We put in custom bars, everything to target lunch and happy hour. I put in an environment I knew could do 3, 4, 500,000 thousand [dollars] a year on lunch and could do another $300,000 on happy hour."
But what about the pirates? Couldn't a pirate-themed establishment find a place in the market? "I was told [owner Tracy Rebelo] was targeting a pirate community. I asked how big the pirate community is, with real interest. I was told 200 people on Facebook. You can't operate a business for 200 people."
Taffer said he doesn't believe Rebelo gave the new identity or changes a chance. "She didn't like the aesthetics. Logic would dictate she change the name but embrace the targeting of lunch and happy hour. That's where the money is. What's interesting is they never opened for lunch. They never opened for happy hour. That defies logic."
"Let them have fun. None of it hurts my feelings. I can change businesses, but I can't change people. I'm guessing having a pirate bar meant more to her than having a home, sending her kid to college. That's the only driving decision. The decision was emotional. It wasn't against what I did, it was to become a pirate bar again."
A visit to the bar in June painted a happy picture of the place after the re-rebranding. Whether the business will boom after the airing is unclear but those at Piratz said they were pleased with their move.
"We knew it wouldn't work as a corporate bar," a Piratz bartender named "Saber" told HuffPost.
"They want to play sandbox, well, they built themselves a sandbox," Taffer said. "Go play. But you're not going to make money playing in a sandbox."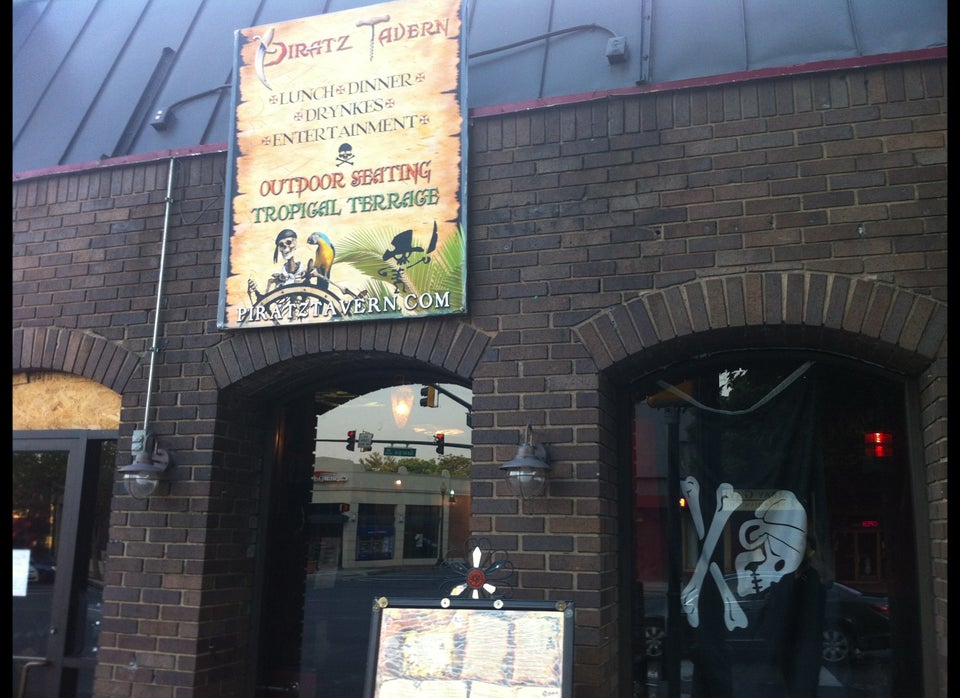 Piratz Tavern
Related
Popular in the Community