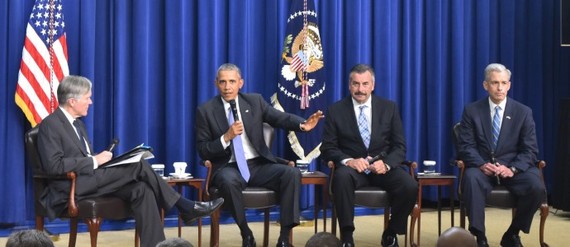 Photo copyright A Wilding, 2015 all rights reserved.
President Obama Speaks Passionately
Fixing the problem of mass incarceration, and other matters, were discussed at length in the Justice Reform Panel. Police chiefs don't deny there is a problem with racial profiling in some jurisdictions, and in some states, and aim to fix it.
There was a successful and positively-toned criminal justice reform panel, featuring President Obama, at the White House today. The event, moderated by The Marshall Project -- a nonprofit, nonpartisan news organization covering America's criminal justice system -- and was live-streamed on Yahoo.
Featured in the President's specific Panel were: • President Obama • Bill Keller, Editor-in-Chief, Marshall Project (Moderator) • Charlie Beck, Chief, Los Angeles Police Department, Member of Law Enforcement Leaders to Reduce Crime and Incarceration • John Walsh, United States Attorney, District of Colorado There is no question that Americas criminal system needs an overhaul, with increasingly large numbers being incarcerated, often for relatively low-level offenders in the federal system.
The Panel aimed to address key issues and to further discussions on a way to make the justice system smart, effective and, in President Obama's words, "Just, fair." The President was on point and spoke forcefully and pragmatically about relevant matters he believed were key to reform. In one part, Mr. Obama got personal and said, "As a young man, there have been times where I was driving and I got stopped and I didn't know why."
This resulted in a humorous quip from Chief Charlie Beck who said, "And, Mr. President, I've been stopped several times too -- I always knew why! " The discussion was significantly lively with an over riding sense of willingness for all agencies involved to fix the problems and move things forward in a positive matter, that would serve American citizens better. It was very refreshing to note that much of the conversation focused on moving away from solely a penal system and opening up other pathways for rehabiltaiton and recovery for low level offenders. Here are key takeaways from the debate.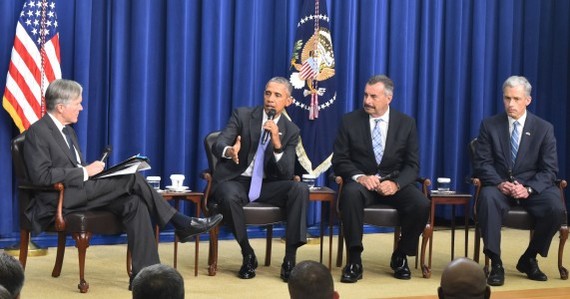 Photo copyright A Wilding, 2015 All rights reserved.
WHAT ARE THE KEY AREAS PRESIDENT OBAMA BELIEVES NEED TO BE ADDRESSED FOR ADEQUATE REFORM:
1. Fairness: I think there's a recognition that our criminal justice system should treat people fairly regardless of race, wealth, station; that there has to be a consistency in the application of the law.
2. Proportionality: In any criminal justice system we want to make sure that the punishment fits the crime. And if we know, for example, that someone engaged in a non-violent drug crime should be punished but that their sentence should not probably be longer than a rapist or a murderer, and yet that's not what our sentencing guidelines reflect, then that's a problem.
3. Recognition: A recognition that incarceration is just one tool in how we think about reducing crime and violence and making our communities safe. And if that's the only tool -- if we think we only have a hammer, then everything becomes a nail -- then we're missing opportunities for us to create safer communities through drug diversion and treatment, for example, or through more effective re-entry programs, or getting to high school kids or middle school or elementary school kids earlier so that they don't get in trouble in the first place, and how are we resourcing that. So that's a third area.
This story orignally published in Herald de Paris. For full story, click here.
Calling all HuffPost superfans!
Sign up for membership to become a founding member and help shape HuffPost's next chapter