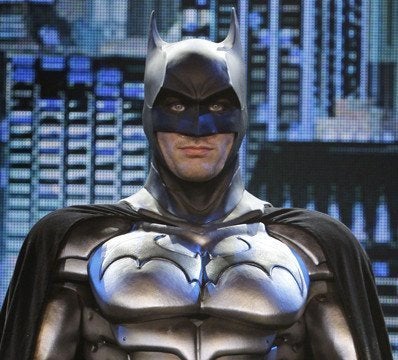 Turn off the dark on Spider-Man: relaunch or not, it's Batman's turn in the stage spotlight.
While photos of the stage have already surfaced, the first clip of the show's action has now been released. That being said, it's the camera that's doing the action; grand, sweeping movements on stage have been paused, frozen in ether to tease both audience imaginations and wallets wide open.
"What it is really is rock and roll," choreographer Anthony Van Laast said at the show's opening press conference. "Almost all of us come from a rock and roll background, we know we can fill an arena, we can do the whizz bangs and the special effects - all we needed was a really good yarn as the backbone of the show, and we've got that. It's not a musical."
Probably for the best; Bruce Wayne doesn't seem like he's one for show tunes. Joker, on the other hand...
REAL LIFE. REAL NEWS. REAL VOICES.
Help us tell more of the stories that matter from voices that too often remain unheard.