Read more about cooking barbecue and whole hog cooking on AmazingRibs.com.
There is one true test of a pitmaster's mettle so there could only be one definitive way to finish this battle. Whole hog.
The producers of TLC's BBQ Pitmaster's competition series started with 20 teams in August, whittled the field down to five finalists, and aired the shootout for the richest prize in barbecue history on Thursday 9/23. To earn the big bucks, judge Myron Mixon convinced the producers to go whole hog, cooked Old School. That means concrete block pits designed by Mixon, himself a whole hog champ many times over, and built under his supervision.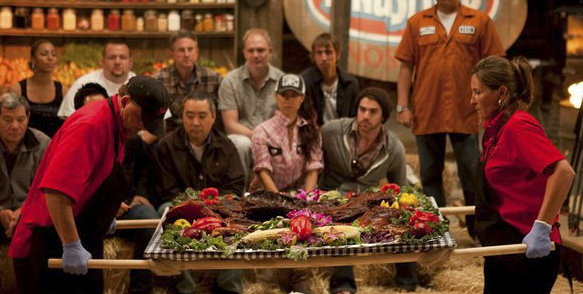 So they built five no-frills identical sarcophagi with nothing but coals, wire mesh to hold the hogs, and tin roofs. No fancy insulated steel cooking chambers, no thermostats, no fans, no wood pellets, no augers, no ash pits, no water pans, no deflection plates, no dampers, no chimneys, no offset fireboxes. "All that technology makes barbecue idiot proof" complains Mixon in his thick Georgia drawl. "But we fixed that" he chuckled. In the words of another judge, Warren Sapp, a retired pro football star, Mixon "evened the playing field." As it should be. An old fashioned down home Southern barbecue for a highpoint climax to an uneven series.
The hogs each team were issued were about 75 to 90 pounds. Each came "dressed" from the butcher, with the head attached, the spine split down the middle so it will lie flat on its back, and all the hair, feet, and intestines removed.
The challenge with whole hog is that there are so many muscles of different thickness with different degrees of fat, sinew, and collagen. The hams, the large rump muscles on the rear legs are the thickest and most dense muscle group. The shoulders are slightly less thick, and they have large fatty deposits within. The loins are lean and tender, not nearly so thick, and they run alongside the spine, so they are easily overcooked. The curved ribs are on top of the loins, and the belly, from which bacon is made, is mostly fat and it is a thin slab laying beneath the ends of the ribs when the carcass is laid out, skin side down.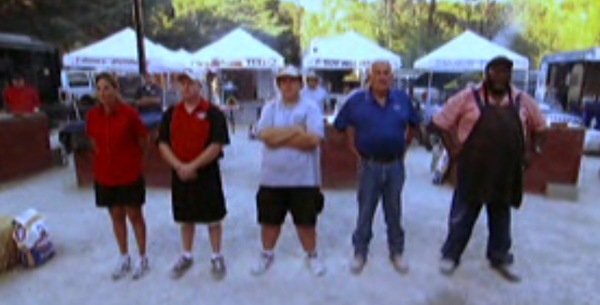 Sadly, in the network's desire to built drama and stick to the standard contest format, two finalists never got to finish their hogs. Moe Cason of Ponderosa BBQ, in Des Moines, IA (far right), and Craig Kimmel of Firehouse BBQ in Deland, FL (second from left), were voted off the island in the "Quickfire Challenge", the appetizer round, which this week was chicken. Mercifully it was not something off the wall like rattlesnake, frog, or alligator, some of the previous appetizers. It would have been nice to see how these three talented cooks handled their hogs, but if you're gonna go down, chicken is a fair fight.
That left three teams: Melissa Cookston of Yazoo's Delta Q from Nesbit, MS (far left), and her husband Pete; Shad Kirton of A Boy & His BBQ from Grimes, IA (center), and his wife Angie; and Johnny Trigg of Smokin' Triggers from Alvarado, TX (second from right), and his wife Trish.
For More About Cooking WHole Hog and Other Barbecue
Week 6, The Finals: Click here for an article about how to cook whole hog and a recipe.
Click here for an article about how to build an Old School pit from concrete blocks like the one used in the finals.
Week 5: Click here for Meathead's recipe for Turducken.
Week 4: Click here for Meathead's recipe for Last Meal Ribs.
Click here for the classic American regional bean styles.
Week 3: Click here for a recipe and tips on technique for beef brisket.
Click here for the recipe for the best Mac & Cheese you've ever tasted.
Week 2: Click here for a recipe for pork loin.
Click here for potato salad recipes.
Week 1: Click here for how to make pulled pork the way champions make it.
Click here for the Zen of Coleslaw, and classic coleslaw recipes, the side dish in Week 1, with and without the mayo.
For More About Competition Barbecue
Click here for
an article about barbecue competitions
, how they work, and a list of major competitions, barbecue associations, and links to more info.
Click here to follow Candy Weaver behind the scenes as she cooks her way through a KCBS competition.
Click here for a buying guide to barbecue smokers, backyard size, and the ones the pros use.
Cookston was the most experienced with hog, so she was my pick to win it all. She's cooked hundreds of them in competitions on the Memphis Barbecue Network (MBN) circuit, prok only events which featuring whole hog. She is the current Memphis in May champion, the biggest MBN event, but she usually cooks bigger animals, 160 to 200 pounds for 22 hours at 225F. As experienced as she is she admitted to struggling when I interviewed her. "We had to think outside the box, everything was different than we were used to." She prefers to cook on a big
Backwoods Smoker
, a big black sealed insulated box with a water pan for humidity and a steel deflection plate between the fire and the meat. In addition to competing extensively, she and her husband have owned and managed restaurants over the years, they teach barbecue schools, cater, and sell sauces and a rub. You can learn more about her cooking classes on her website.
Kirton competes mostly on the Kansas City Barbeque Society (KCBS) which does not have a whole hog category. Still, he has cooked about 10 hogs in a few MBN events, so he was no stranger to the problem, but, as he admitted when I interviewed him this week, "I'm definitely no hog expert". He was the only one of the five entitled to be called "chef" because he actually has a culinary degree, from the Western Culinary Institute in Portland, OR, and has worked up the ladder from line cook to executive chef of a Mobil 4 Diamond hotel. He is now co-owner of three Smokey D's BBQ restaurants in the Des Moines area, where he was raised. The 39 year old says he's been cooking seriously since he was 14. Normally he cooks on a CTO by Ole Hickory, a scaled down version of Ole Hickory's popular restaurant smokers. Oddly, the show makes no mention of his professional background, perhaps to perpetuate the good ol' boy barbecue pitmaster image, but Kirton is no weekend warrior. He is just as comfortable making bechamel sauce as barbecue sauce.
Trigg, now 72 years old and the most experienced competitor with 21 years and almost $500,000 in winnings under his belt, the most lifetime winnings of the three. He cooks exclusively on the KCBS circuit with a Jambopit, a trailer mounted steel tube with a big firebox on the side called an offset smoker. Nicknamed the Godfather of Barbecue, it is mind boggling that he had never cooked a whole hog. Still, he had seen enough of them done, so his instincts guided him to a respectable entry,.
This week we got more tips on cooking the featured meat than any previous week, even if most of will never roast a pig.
We saw that all the teams began by injecting an internal marinade into the hams and shoulders. As Cookston said, the goal is to "flavorize, tenderize, and moisturize." Most use a mixture of spices, sugar, salt, and apple juice or white grape juice. Kirton spiked his with Worcestershire. In a phone conversation I had with Cookston this week, she told me that she likes to make a pork stock with the trimmings from her ribs for her injection. After injecting, they all massaged their dry rub into the meat and let it sit a bit to penetrate. Cookston swabbed her hog with mustard before sprinkling on the rub.
The all used charcoal, not logs, and pushed the coals to the sides so the meat was not exposed to a lot of direct high heat. When it came time to put their hogs on the rack on the pit about 32" above the heat, they all put them on skin side down. Some hog cooks like to start meat side down, called "running style", and them flip it to crisp the skin. In the Carolinas (and in my backyard in Chicago) it is common to chop up part of the skin and mix it in with the meat to add flavor and crunch. Cookston put aluminum foil between the skin and the coals. Trigg wrapped his whole hog in foil at first and removed some of it later. Kirton did not appear to use foil at all, and it might have bitten him.
When cooking on pits like these, there is an ever present risk of grease fire, so the cook must be vigilant. A grease fire can easily engulf the whole hog in moments. Don't believe me? Watch this video of a pig roast gone wrong.
During the looooonnnnnggg cook, this one took 10.5 hours, pitmasters usually drink a lot of beer, but they didn't show that part on TV. They also spritz or paint the meat with a thin "mop", usually vinegar and spices, to cool the surface and bring more flavor to the party. As the sun set in the Southern California Hills,the temp dropped 45F, another complication with which the cooks needed to deal.
In a perfect world Kirton likes to cook the loins to 145F, the shoulders to about 185F, and the hams to 175F. But the loins are the thinnest and close to the heat so they want to run up. But heat management is tough on a concrete pit. As Cookston drawled, you can't move the meat, you've gotta move the heat." That means you have to monitor the meat temp with a quality digital thermometer and push the coals to where they are needed and away from where they aren't.
Cookston and Kirton had a clever strategy for protecting the loin meat. They covered it with bacon for part of the cook. But you've got to be careful with this approach. Leave the bacon on too long and you get a tan line, a difference in color between the meat exposed to heat and smoke, and that which is covered. And when you are competing in whole hog, you have to turn in a whole hog. The judges can see everything.
The trickiest part may be getting the hog off the pit and onto the presentation stretcher without it falling apart, but all three managed just fine. They proceeded to dress the shiny mahogany colored carcasses with sauce and surround it with what looked like curly kale and everything from pineapples to apples.
These judges asked for a taste of the ham, loin, shoulder, and the bacon (side or belly). Trigg did admirably well for a whole hog virgin, but not well enough. He finished third. He didn't help his cause by admitting that he used a bottled barbecue sauce, something that a lot of pitmasters do, and something that all three finalists did. Chef Art Smith, the third judge, looked chagrined at Trigg's admission, and no doubt held it against him. The other two cooks were never asked about their sauces, but I have learned that Cookston used her own Yazoo's Chipotle Bold BBQ Sauce, a sweet spicy tomato based glaze that you can order from her website, and Kirton used Blues Hog Tennessee Red, a thin vinegary spicy sauce, that he doctored with honey. Blues Hog sauces are all the rage on the BBQ circuits, especially the Original Sauce.
Cookston went old school in the serving, eschewing her knife when she served her samples. She reached her gloved hands into the meat and pulled out the most tender and juicy muscles for the panel. This pleased them, but not enough. She finished second. "My hog was perfect. It was." she said. Was she bitter about losing? "Well, at least I have the satisfaction of knowing the Myron hasn't beaten me in a year and a half."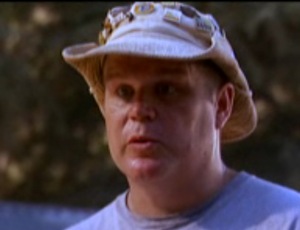 Even though Kirton knew he had overcooked his loins, and the judges made note of it, when the smoke cleared, he was the BBQ Pitmasters Champion, he hoisted the massive Kingsford Trophy, and was $100,000 richer. When he and Angie caught their breath, they went back to the hotel and passed out. Neither had so much as tasted the $100,000 hog.
The next day they spent 13 hours back on the set for the well rehearsed interviews they do for those private moments with the cooks that are spliced into the action so they look like they took place contemporaneously.
Next day, Disney World? Nope. On a plane to Des Moines where they and their partners Darren & Sherry Warth were preparing to open their third and largest Smokey D's. Warth and his wife make up another competition team, Iowa's Smokey D's BBQ, and last year they finished #2 on the KCBS circuit out of hundreds of teams, so I'm putting a trip to Smokey D's BBQ on my bucket list.
The night the finals aired Kirton and Warth had about 100 family, friends, and business associates gathered in the new restaurant for a viewing party. Warth said he planned to serve frogs legs, the Quickfire Challenge in the prelims that almost tripped up his partner, but he couldn't find enough in Des Moines. After the winner was announced, they rolled Kirton's huge trophy into the dining room to cheers and applause.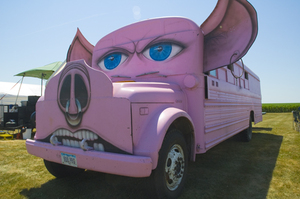 What will he do with his check? There are bills to be paid and daughter Riley age 12, son Alex 9 1/2 (Alex insists he is not 9). "Maybe I finish the trailer" he takes to competitions." He currently drives a huge pink bus painted to look like an angry pig.
As the credits rolled I was left with the satisfaction of knowing that the final hurdle was a high one, and that the winner earned his payday.
As aggravating as some aspects of this made-for-TV cookie cutter cookoff was, I believe that each week a good cook won. Competition barbecue is a passion shared by tens of thousands of hobbyists and a handful of pros every weekend in the more than 500 events every year, but it is a subculture not known outside the inner circle. John Markus, one of the producers deserves credit, and thanks, for this, his fourth televised barbecue show. Let's hope the network renews BBQ Pitmasters, and that Markus can refine the concept. There is plenty of room for improvement and millions more to entertain.
As the end of the credits approached I was satisfied, as if I had polished off a slab of ribs, but hungry for more, knowing there is better possible.
Then I laughed out loud as the final words on the scroll assured me "No live animals were harmed during the production of this program." Maybe no live ones had been harmed. But on this night, some dead hogs were treated with great care.
What is Wrong and What is Right with This Gameshow?
BBQ Pitmasters will not air on Thursday 9/9 as expected, with TLC ceding the time slot to the NFL season opener pitting the Saints against the Vikings, a rematch of last year's NFC title game. So this is a good time to look back at the strengths and weaknesses of this fascinating glimpse into the world of competition barbecue.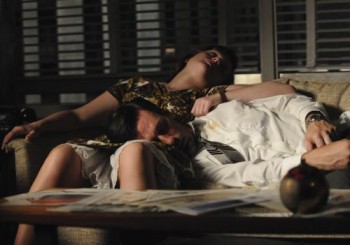 First of all, let's get this out front for the thousands of barbecue competitors out there plying the circuit of about 500 Kansas City Barbeque Society (KCBS) sanctioned events (and there are really thousands of teams): This not a KCBS judging. OK? It's a television game show!
In the words of Sterling Ball of one of the teams on week four, Big Poppa Smokers, "This is not Ken Burns Barbecue". It is entertainment, it is highly entertaining to me and a lot of other backyard cooks, and it brings the idea of competition barbecue to millions. Emmy Award winning Producer and accomplished barbecue cook John Markus has brought a nationally televised barbecue show to the public, and has done more to disseminate the concept than anyone in the country. He deserves credit, not the hate so widespread on Facebook and on other message boards because he has not staged a KCBS competition.
Last year the show was a docudrama that followed half a dozen teams to competitions across the nation to KCBS competitions. And they got skunked. Seeing someone run up the award stage yelling "I came in 6th! I came in 6th!" is not compelling television. This year Markus is using a proven TV recipe and it is working. Ratings are up significantly from last year.
In case you haven't noticed, food in prime time is all about competition nowadays. Cooking has become a sport. Here's the lineup of competitions on the Food Network alone: Iron Chef America, Chopped, Throwdown with Bobby Flay, 24 Hour Restaurant Battle, Food Truck Race, Chefs vs. City, Food Network Challenge, The Next Food Network Star, and the Ultimate Food Network Star. By the way, the Food Network Challenge has its own barbecue competition coming soon.
Then there is Hell's Kitchen and Top Chef on other networks. They're all baked from the same recipe: Create drama by annointing winners and losers, heroes and heels, and season with a few goofballs. They give us somebody to root for and somebody to hate.
Although the barbecue world should be thrilled with having more than a million viewers each week, we need to keep things in perspective. For example, on August 27, week three, BBQ Pitmasters had 1.154 million viewers, Real Housewives of DC had 1.429 million, Project Runway had 3.216 million, NFL preseason football had 5.79 million, Jersey Shore had 5.820 million, and Royal Pains (what the heck is that?) had 6.075 million.
The problem is, as entertaining as it is, the show is flawed. The good news is, this means that next season, and hopefully there will be a next season, has plenty of room for improvement. Let's look at the flaws and how they could be improved.
GIVE US MORE TIPS & TECHNIQUE. In the give and take between Markus and the network, the powers that be have chosen drama and entertainment over education. As a result, we just do not get enough info about how these experts cook their food. If they have to cut back to three teams to fit it in, fine, but I want more tips and technique. Give us something to take away from the show and more people will watch.
LET THEM COMPETE. They have chosen drama and entertainment over fairness by dismissing teams after the appetizer. It is just not fair to send a team packing, with their brisket still in the pit, because they made the worst of a bad batch of rattlesnake. Packing and hauling for this show was a major pain. Many of the cooks simply dumped everything from their kitchen, including the kitchen sink, into a trailer, and then cleared all their iron off their decks, took many days off work, and drove from as far away as Florida to the set in California.
Many of the haters have complained about making them cook "weird" foods. OK, rattlesnake and alligator are a bit weird, but I have no problem with pushing these cooks out of their comfort zone by making them cook more than the usual four KCBS competition meats: Pork ribs, pulled pork, beef brisket, and chicken thighs, all of them slathered in sweet red sauce.
With weekly prizes of $5,000 and a grand prize of $100,000, the producers have every right to make them earn it. Make them cook the standards in the barbecue canon: Slaw, potato salad, cornbread, beans, peach cobbler, banana pudding, biscuits, garlic bread, bloody Marys, tri-tip, steak, burgers, pork chops, prime rib, ham steaks, hush puppies, smoked salmon, etc. Score the appetizers and side dishes 15 to 20% each, and score the main meat 60 to 70%. But let them cook all three courses!
MAKE THE JUDGING BLIND. Qualified judges may have personal and business relationships with the teams. As hard as they may try to be impartial, it is human nature to be influenced by many factors, even subconsciously, not the least of which is when one competitor is hailed as the "Godfather" and other superlatives while the others get simple vanilla intros. Judges should not be allowed to wander among the cooks and watch them work.
A blind judging could be just as entertaining and Markus has proven this in the past by putting the judges in front of a camera while the judges gather around a big screen and groan, guffaw, poke each other in the ribs, trash talk, and call the judges names. In fact, I think this can be even more entertaining than having them stand in front of the judges, who may be pulling their punches in order to be polite.
GET BETTER JUDGES. Myron Mixon is unquestionably a great judge of the four KCBS meats, but when he proclaims that "You can put Velveeta on a dog turd and it'll be good" he reveals his culinary vocabulary to be, shall we say, limited. Chef Art Smith was an inspired choice, a real food expert with Southern chops, but his inexperience with competition barbecue styles left him looking to Mixon for guidance. And retired football player Warren Sapp is entertaining, but he seems unable to describe what is in his mouth, and he is at best a mini Mixon, with the same limited culinary experiences, looking to Mixon for approval. Somewhere out there must exist three judges who don't look for a smoke ring in everything, who know the difference between real cheese and cheese-food-product, with some serious barbecue sauce stains on his or her shirt.
GET MORE ALTO SHAAMS. These are humidity and temperature controlled boxes that can hold the dishes while the judges work their way through the other entries. Apparently there was an Alto-Shaam on the set, but it was not always used on all dishes. As a result, if one team is the last in the draw to be judged, their plate could sit around for as long as an hour. This does food no favors.
So four of the finalists have been chosen, one more to go. I will be watching next week and filing my report the minute the broadcast goes off the air. Who is my pick to win? Saints by 13.
Week 5 Recap: Iowa Supermen, Contest Jumps the Rails with Turducken, and There's No Crying in BBQ!
There is a bit of real accomplishment this week that is not revealed on air. According to producer John Markus "During the pre-production leading up to this episode the wrong taping dates were issued to one of the teams. They though they had a week, but they were due on the set in just over 56 hours, and they would be traveling from Iowa."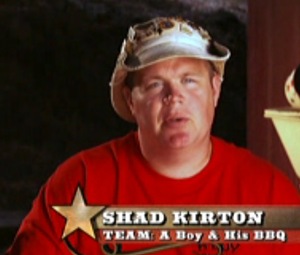 Typically, most teams load everything in their kitchens and on their decks onto a trailer and drive cross country to Calabasas, CA. "So now this panicked team had to hop a jet and scare up some pits which they'd never cooked on. And that's the team that won, Shad Kirton of A Boy & His BBQ from Grimes, IA."
This is pretty impressive, and a benchmark for competition cooks who whine about perceived injustices: Not enough water, not enough ice, bad weather, distance to the electric outlets, or neighbors who play their music too loudly. As Markus puts it "They can take this team's little saga to heart. Getting BBQ right is about your ability to adapt."
I'll say. This fifth and last week of prelims was a real test of patience for all four teams as BBQ Pitmasters officially jumped the rails with the three oddest choices of ingredients yet, ingredients many of the cooks had never worked with before. On the plus side, we got to see some talented cooks, ahem, really wing it.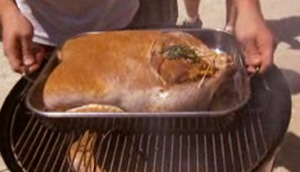 This week the "Classic Meat Challenge" was turducken. Classic? Everyone who has ever cooked turducken from scratch, please raise your hand. Nobody? OK, everyone who has bought a prefab turducken and cooked it, hands in the air. Not many. OK, how about the hands of the folks who've tasted turducken? Yeah, that's what I thought. Ever seen it in a BBQ joint? Me neither. How many have never heard of it? Well you're not alone, several of the cooks on Pitmasters had never cooked or even tasted turducken either, and one of them looked like she never heard of it.
So what the heck is turducken? Let this week's runner up, Dan Hixon of 3 Eyz BBQ of Owings Mills, MD, describe it: "You've got a turkey, you shove a duck in there, and just for good measure you shove a chicken in there, too." Tur(key)-duck-(chic)ken. Get it? Or is it Turd-(y)uck-(outta our)ken.
The turkey still has its drumstick and wing bones in, but all the others have been removed, and the duck and chicken are totally boneless. This birdzilla from Cajun Country is usually filled with a stuffing, and, when cooked, it is sliced like a giant meatloaf.
The concept of a bird inside a bird as been around at least since the Roman Empire, but the turducken is an American original probably created in Louisiana in the 1980s and popularized by football analyst John Madden who awarded one to the winning team on his Thanksgiving broadcast.
The invention of the the monstrosity is credited to either Chef Paul Prudhomme of New Orleans, or Hebert's Specialty Meats in nearby Maurice, LA. Culinary Historian John T. Edge has said "It strikes me as a dish invented by men in a hunt camp, men who have a snootful."
If you want one, you usually order it from them frozen on the internet. Nobody but nobody makes turducken from scratch. Still, TLC made these barbecue champions do just that. At least TLC was kind enough to give them boneless birds so they did not have to slice off their fingers trying to hollow them out. This may be a fine task for the trained professional chefs on Food Network's Chopped competition, but these folks rarely stray from ribs, pulled pork, brisket, and chicken. As I have stated emphatically in weeks past, with $100,000 on the line, challenging them to move outside their comfort zone is a good idea, especially for the appetizer or side dish. But the "Classic Meat Challenge"? Sheesh.
To make this silly concoction palatable, you have to remove the duck and chicken skins or they just turn to fatty limp rubber bands. It appeared that many of the cooks didn't figure this out as you could see the judges pulling strands of elastic from their plates.
The next big challenge with turducken is keeping the turkey from turning to leather. This is one large mass of meat and stuffing, up to 15 pounds or more, and by the time the center is cooked properly and safely, the outer layers are as dry as charcoal. The solution is to cook it low and slow. One cook cleverly grilled the duck a bit before putting it into the turkey. Another injected the turkey with butter. Another brined it. Another used only the breasts and made smaller loaves. Good thinking, all.
Even if you manage to keep the turkey portion moist, the real crime is what happens to the duck breasts. Duck breasts are red meat and are best cooked rare, like a steak. When buried in this dodo bird, the meat turns gray and tasteless.
The next challenge with turducken is to make a stuffing that doesn't taste and feel like plaster. The Cajun solution is a cornbread and andouille sausage stuffing that is not too wet when it goes in because there is a lot of fat rendering.
The final hurdle is the gravy, a necessity to add moisture back to the meat, especially the turkey. There is a lot of fat in the pan and degreasing it is not easy. The stuffing usually gets into the pan too, making the gravy cloudy. Aaarrrrrgghhh!
Where's the chicken? Where's the beef?
So I have one question for the producers? This far the main ingredients have been pork crown roast, beef brisket, pulled pork, pork ribs, and turducken. Where's the chicken? Talk about a versatile product that is great cooked outdoors, with a gazillion variations on the theme, an ingredient that the cooks can really step up and shine, and it is a meat with which all the judges are familiar.
How about steak? Something every viewer cooks and could use some tips from the pros. How about roast beef? How about anything except turducken!
Ironically, this week, for an ingredient none of us plan to cook anytime soon, the editors left in more cooking technique than in any other segment. Sure would have been nice to see this much info when the main dish was ribs, pulled pork, brisket, or pork loin roast. Perhaps there was more time because there was less yammering and badmouthing between teams.
Swamp Chicken?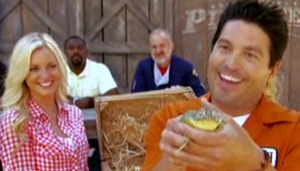 To add injury to insanity, the appetizer this week was "swamp chicken", a.k.a. froglegs. None of the cooks had ever worked with them, and judge Warren Sapp admitted he had never tasted them. Lee Ann Whippen of Wood Chicks BBQ http://woodchicksbbq.com in Chesapeake, VA, and a competitor on last years Pitmasters, groaned "I wouldn't even touch a frog let alone cook it." This from a woman with two restaurants. She finished third of four teams.
They all repeated the shibboleth that frogslegs taste like chicken, so they cooked them like drumsticks. Because they are fast twitch muscles, frogs legs are most successfully roasted low and slow, braised in flavorful liquid, or deep fried. Even though one team had a cookbook with them, none of them thought of these techniques. Didn't anyone have an iPhone?
Not surprisingly they failed miserably, so miserably that mild mannered judge, Chef Art Smith, started talking like his gruff fellow judge, Myron Mixon, and threatened to "Send all their asses home." Well one team was put out of its misery over the amphibian ends, Tyler Sayler of Big Mouth Smokers in Memphis. It's too bad that, with all the amazing teams from Memphis, one of the nation's barbecue capitals, the producers chose a team of inexperienced amateurs no doubt because they submitted a clever audition tape.
Boiled Weeds?
Finally, the side dish to go with the turducken was greens, a mix of collards, mustard greens, Swiss chard, and kale. The announcer introduced the mystery ingredient by saying "To make sure you have everything what it takes to be a champion pitmaster..." Since when does the title of Champion Pitmaster depend on boiling weeds? Whippen grumbled "I came here to cook meat not make a frikken salad."
OK, collards is a traditional Southern standard, but it is not really part of the barbecue repertoire, and they are rarely served with other greens in the pot. Greens are typically trimmed by removing the central stalk, simmered in chicken stock with a smoked ham hock and onions fried in bacon grease. Several of them figured out how to do it, but they had trouble getting it done on time. Like the beans last week, the show management just did not give them enough time.
There's no crying in barbecue!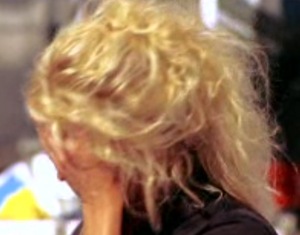 At one point one of the judges asked Whippen about her father's influence on her cooking. He is a famous judge and competition official, and for some reason Whippen choked up and fought back tears. I practically fell out of my seat. "Aw Jeez", I groaned. "Jim Tabb must have died" was the first thing into my head. Turn's out he's fine. Must've just been Whippen thinking about how he'd judge her food.
So far most of the 20 teams have been philosophical about their television experience. Only a few are bitter. Hixon says "I ain't gonna complain because nobody else knew what they were doing either. It was a level playing field."
Next up: The finals, and my predictions
So now the finals are set with all five teams:
1) Shad Kirton, A Boy & His BBQ, Grimes, IA (week 5)
2) Johnny Trigg, Smokin' Triggers, Alvarado, TX (week 4)
3) Craig Kimmel, Firehouse BBQ, Deland, FL (week 3)
4) Melissa Cookston, Yazoo's Delta Q, Nesbit, MS (week 2)
5) Moe Cason, Ponderosa BBQ, Des Moines, IA (week 1)
What awaits them in the finals? I'm betting on whole hog. It's one of judge Mixon's specialties, and it is a notorious ball buster. Here's hoping that the producers go out with a bang with a real barbecue challenge.
Side dishes? Probably worms and salsify.
My pick to win it? There's only one cook in the finals who has extensive experience with whole hog, a recent winner of Memphis in May which features whole hog. I predict that this year's winner will be a Pitmistress.
Week 4 Recap: Loaded Dice? Does Art Smith Have No Tastebuds?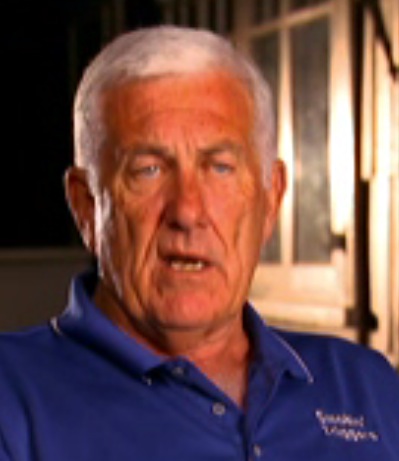 So the announcer begins by introducing all the contestants. He calls each pitmaster's name, the team name, and the hometown for the first three. Then he raises his voice as if he was a circus ringmaster introducing the main attraction: "And finally we have
two time world champion
, from Alvarado, TX,
The Godfather
, Smokin' Triggers' one and only,
JOHNNY TRIGG
!"
Trigg is the man who describes himself as the Godfather of Spareribs. Guess what the main course secret ingredient was. Then, when it was time to serve ribs to the judges, the ringmaster summoned Trigg to the judging table as "The Great Johnny Trigg!" Guess who got the only perfect score.
Now don't get me wrong. I'm certain the fix wasn't in. That is simply too risky in the TV game show business since the scandals of the late 1950s elevated rigging to the level of a federal crime. There are lawyers on the set of all these shows. But giving Trigg so much fanfare and then selecting his best category as the mystery meat, and then he wins it make me want to check the dice.
The pagentry for Trigg probably did not influence judge Myron Mixon who has known Trigg for many years and respects him as a peer, but I wouldn't be surprised if it influenced judge Warren Sapp who is clearly impressionable, and it possibly influenced Chef Art Smith, who knows quality food better than the other two judges combined, but is not fully conversant in the lingo of competition barbecue and seems to pay close attention to Mixon's pronouncements.
Although this was the fourth episode on air, it was actually the first one taped, and it was was recorded long before viewer complaints poured in about the policy of eliminating contestants after the appetizer round and before the main meat. Oddly, the ringmaster announced this week, as in other weeks, that the team to lose the appetizer would be sent home, but for some unexplained reason, management decided not to do it. One has to wonder why they followed through on their threat on subsequent shows but not this one. I understand TLC's desire to build drama, but this is one viewer who enjoys the show and didn't think the drama was diminished by allowing all four teams to serve all their dishes.
This week's contest was the best so far because there was more cooking info to be gleaned than other episodes. There were tricks and tips if you watched carefully. For example, if he can be believed, and one must always take confidences from barbecue cooks with a large grain of sea salt, we learned that Trigg cooks his St. Louis Cut ribs for four hours at 275F, much hotter and shorter than the accepted norm of 225F for 5 to 6 hours.
We also learned that my pick to win it all, Danielle Dimovski, better known as Diva Q of Barrie, Ontario, injects a marinade between the bones of her ribs, and then just after cutting them apart, sprinkles seasoning on the edges where they judges will bite in order to amp things up. These are both highly unorthodox procedures that helped land her in second place right behind Trigg. So much for my handicapping skills.
Third place went to Jody Clark of Big Poppa Smokers a barbecue supply store and website that sells some of the best grills and smokers on the market from their base in Coachella, CA.
Fourth went to Southern California BBQ catering legend, Neil Strawder of Bigmistas out of Long Beach. He was ballsy by adding raspberry to his rib sauce, but these judges are not looking for creativity. They're looking for the classic competition-style sweet Kansas City barbecue sauce flavor profile.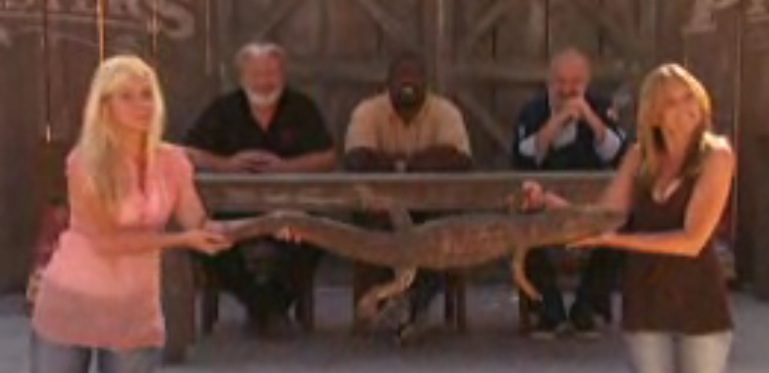 The off the wall appetizer they were given this week was alligator meat, an ornery piece of flesh that can be tough as alligator hide if not cooked properly. Three teams opted for ground meat. Two made Atomic Buffalo Turds (ABTs), jalapenos stuffed with ground meat and wrapped in bacon. Another made a meatloaf of ground meat wrapped in bacon. Trigg smoked fingers of the meat. Several teams made more than one dish but the show did not describe them all to the viewer. Diva won this category with her ABTs and whatever else she prepared.
The side dish they were given was beans. Thankfully none of them went for the dried beans because they were given only an hour. But they all complained about the quality of canned beans they were given. Not surprisingly the judges complained that most of their beans were undercooked.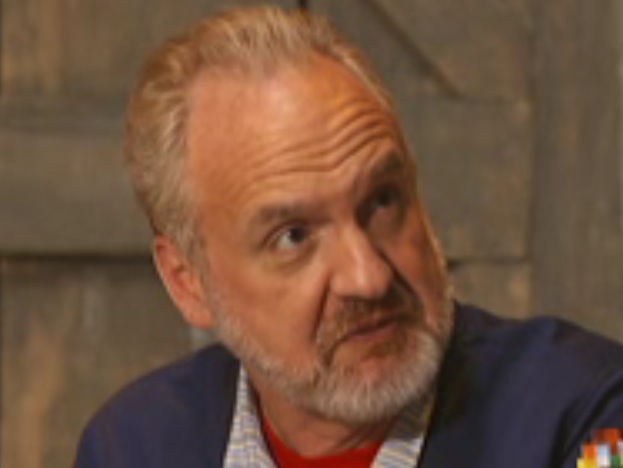 Diva demonstrated her made-for-TV personality with big brassy pronunciations about her food, the competitors, and the judges in those little interview vignettes they throw into the spaces between the action. It's one thing to be cocky, Diva, but to ask the rhetorical question "Where the hell are your tastebuds?" to Smith behind his back is a just a little bit over the top. This guy has James Beard awards, cookbooks, and restaurants on his resume. You're a talented barbecue cook, but you were a stay at home Mom until four years ago when you started competing on the barbecue circuit with four meat categories. I love you Diva, you're a fine barbecue cook but you can't carry chef Smith's apron.
I guess it's not fair to hold this against her too much, because competitors tell me that the interviewers really push them to be theatrical and controversial, practically putting words in their mouths.
By the way, those one on one interviews that often start with "The way we're gonna cook our ribs today...", all that trash talk and braggadocio, and dissing of the judges when the cook is alone with the camera were all taped the day after the contest and long after the pits were extinguished.
Yet another troubling aspect of the show is that there can be a wait of as much as an hour between the time the teams plate their food and serve it. For the ribs they were allowed to put their plates in a heat and humidity controlled holding box called a Alto-Shaam, but not all dishes were placed in the Alto-Shaam. One can only wonder about the texture of alligator after sitting around for up to an hour.
A great deal of venom is being spewed on barbecue message boards and Facebook by barbecue fanatics and competitors lamenting the format of the show. Despite its many flaws, which hopefully can be fixed if there is a Season 3, it must be remembered that this is the formula for TV reality shows and food competitions.
In an insightful article in Salon, Thomas Rogers writes: "Food television has increasingly come to include three kinds of shows: domestic ones in the morning, sports-style competition in the evening, and travel shows like 'No Reservations' and 'Cook's Tour,' in which food is a form of travel. The biggest thing to happen to food TV over the last decade is the growth of the sports-style competition show -- from 'Iron Chef' to 'Chopped.' They squeeze as much competition in as they can."
He continues "What's interesting to me is that these have become very established genres and they've become very predictable and tedious. Part of my surprise at the expansion of the Food Network is that nothing particularly interesting has happened to food television since the Japanese version of 'Iron Chef.' So much of American food entertainment is derived from that show."
I spoke with Sterling Ball, owner of Big Poppa Smokers about Pitmasters. "People need to realize that this is TV, not cooking. This isn't Ken Burns Barbecue."
Week 3 Recap: Meltdown, Conflict of Interest, Unfair Advantage, & Velveeta?
Kyle Laval is a fiery guy who needs his temper doused.
Loco Laval and Subdued Stephanie Wilson, a very successful barbecue team named The Slabs from Kansas City with numerous trophies and an excellent BBQ sauce and rub line, lost the appetizer round of oysters and prawns and were told they were eliminated before they could finish smoking their entree. And then Laval lost his cool.
So he did what hardcore barbecue fanatics on Facebook have been doing, he flipped his middle finger at the BBQ Pitmasters series and TLC. Then he took a long handled grill brush and destroyed two big slabs of brisket. Then he threw cold water on his coals sending a plume of smoke into the face of the camera. His tantrum was great drama, but evidence of one of this reality show's biggest flaws, unfairly eliminating talented cooks before they get to do what they came to do, cook beef, pork, or chicken.
As if that's not bad enough, this week's show unveiled another fatal flaw in the structure: Conflict of interest.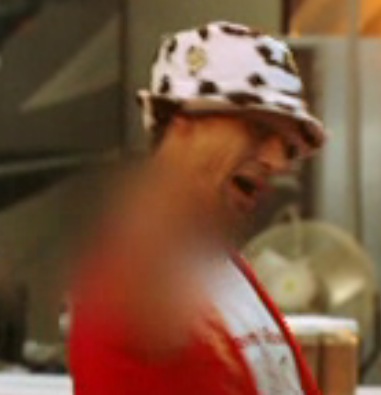 The winner, earning a $5,000 check and a chance to go on to the finals and compete for the largest prize in barbecue history, a $100,000 payday, was Craig Kimmel of Firehouse BBQ in Deland FL.
Kimmel is by day a fireman, by night a caterer, on the weekends a three time Florida state barbecue champ. Clearly a talented cook. He is also, as my research revealed, a graduate of Jack's Old South Cooking School a highly regarded program which is owned and taught by one Myron Mixon. Mixon is one of the three judges, and the most influential judge at that. He charges $750 to $1500 for his classes.
I know Mixon and he is a much softer guy than the hard-ass that the director portrays, but his presence on the panel is a clear conflict of interest and a distinct advantage to his graduates who know his preferences and methods. Kimmel took advantage of this, presenting Mixon with a brisket that had just au jus and no sauce while the other two teams doused theirs with sauce. Mixon even voiced his preference for au jus over sauce more than once during the judging.
I asked a competitor in the next episode on September 2, Danielle Dimovski, a.k.a. DivaQ from Toronto, and my pick to win it all, about this. She is also an alum of Mixon's school. "I think Myron's above that" she said. Perhaps. But the subconscious mind is a powerful device. This should be a blind judging. I am told that there were lawyers on site to make sure everything was on the up and up when it came to rules and tallying scores, but allowing the judges to know who cooked what is an insurmountable source for bias.
Aside from the show's defects, this week's episode was probably the best, not just for the laugh out loud drama of Laval's childish meltdown, but because this week's show had four of the most qualified teams and more cooking tips than the previous two. Both of the previous shows had what co-producer John Markus calls "wild cards" in the form of talented backyard cooks, but this week's contestants all have mantelpieces overflowing with trophies.
The main course this week was beef brisket, an ornery cut of meat that can take up to 12 hours to cook. Mixon called it "the toughest cut other than the hooves and horns." TLC showed us a little bit of how the teams differed in trimming it, cooking, and presentation, but not enough for my taste.
The indignant judges thought Laval's elevated digit was meant for them, but I suspect it was aimed at the conceit that has a team take time off work, load up a trailer with every spice, herb, knife, and pan in their kitchen, and then drive cross country to get the heave-ho on a dish that never counts in the standings in the more than 500 sanctioned barbecue competitions around the nation every year. Laval should be thankful he was not faced with rattlesnake or alligator as were some other teams. One can only wonder what manner of mayhem he would have committed then.
The side dish this week was Mac & Cheese and we saw once again how limited the repertoire of these cooks is. Most of them went for spirals not macaroni, piled on the Velveeta, and topped their dish with corn flakes. Now I don't want to sound like a snob here, but this is trailer trash cooking. Velveeta is legally not even allowed to be called cheese because it contains too many additives. It is labeled a "cheese food product" because it is closer to putty than a real dairy product. The only real chef on the judging panel, James Beard award winner Art Smith, practically gagged on the imitation cheese muttering a weak request for something sharper, like cheddar maybe. How radical!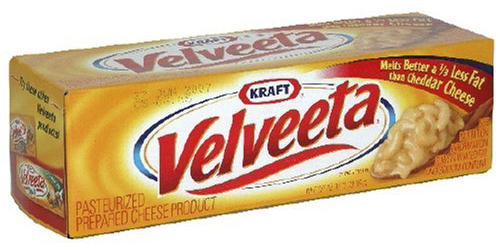 Smith's disdain for Velveeta was not shared by Mixon who said "You can put Velveeta on a dog turd and it'll be good." To his credit, Mixon balked at all the cornflakes "You need to leave your Tony the Tiger in the milk" he grumbled.
Despite the divide between Smith's sophisticated Southern palate and the homespun cooking of Mixon and Sapp, the three apparently bonded in the two weeks of taping. Both were on the invite list for Smith's wedding in DC last week.
Second place went to Bubba Latimer of Bub-Ba-Q of Jasper, GA. Latimer and his wife own two barbecue restaurants in Georgia and they are former winners of the Jack Daniel's World Championships.
Third place went to Joe Davidson of Joe BBQ from Bixby, OK. Davidson's claim to fame is that he founded and ran Oklahoma Joe's, a barbecue manufacturer since sold to Char-Broil. Davidson was the most credentialed cook with more than 300 championships, including the Jack Daniel's World Championships and the American Royal, two of the most coveted titles. He admitted that his brisket was not as good as it he had hoped.
Like many other barbecue lovers and an interested observer of the competition circuit, I will continue watching to see who wins the big bucks, but, like many others, I continue to be dismayed by the compromises made between the barbecue loving producers and the drama loving network. With a $100,000 grand prize and five $5,000 weekly prizes, the viewers and competitors deserve better than this.
Week 2 Recap: Snakes and a fattie bites the dust
As they prepared their main dish in the 110F+ heat in the hills above Los Angeles, one of four BBQ Pitmaster competitors, Rhoda Brown, a 300-pounder fronting the appropriately named Smokin' Fatties, buckled from heat exhaustion and was carted off in an ambulance. If you can't stand the heat, go into the kitchen seemed to be the message.
This week's episode, the second of six on TLC aired on Thursday, 8/19/2010, at 10 p.m. Eastern, with four more teams competing to go on to the finals on September 23 and compete for the grand prize of $100,000. It was significantly better than last week's show. The cooks faced tougher challenges, they showed us a little bit more cooking skill, and drama reached a fevered pitch. Literally.
Brown, from Monroe, LA, recovered and was released from the hospital the next day after his team was eliminated, but there was a bit of irony in that John Fernandez-Malone, head of Bare Bones BBQ, one of the three other competitors, was a surgeon who dropped what he was doing and tended to his frenemy.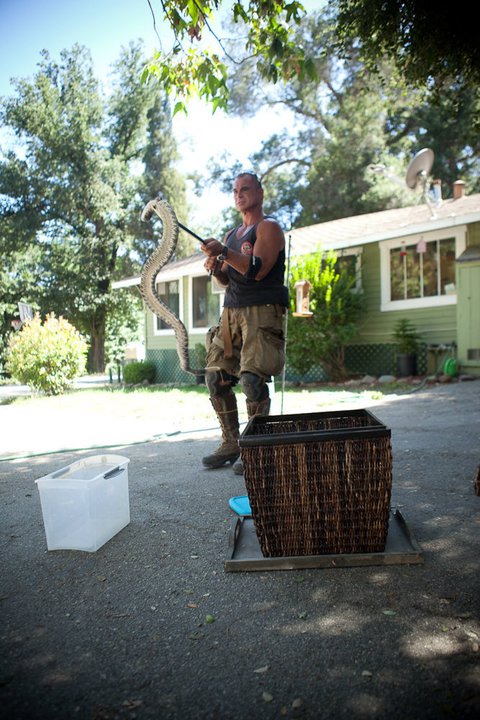 Once again the show chose drama over fairness and dismissed one of the teams before it could serve its main course, bone-in pork crown rib roast, because it finished last in a "Quickfire Challenge" of rattlesnake.
OK, I get it. Rattlesnake has a fear factor and watching manly man alpha judge Myron Mixon jump up and hide behind fellow judges, mild-mannered gay chef Art Smith and burly former NFL lineman Warren Sapp, was something I will be pleased to remind him of the next time I see him.
But eliminating an accomplished cook like Brent Walton of QN4U from Clovis, CA, because his rattlesnake was the least of a bad batch is just flat out wrong.
Last week they booted a team over another surprise appetizer, catfish. This is by far the most infuriating feature of this season and has enraged many of the thousands of barbecue cooks who tune in because they know the competitors. You can see the hate on the BBQ Pitmaster's Facebook page.
I shudder to learn which otherwise talented team will be sent packing before they really get to strut their stuff over alligator or rat or carp or whatever silliness they have planned in the next three weeks. Now don't get me wrong. I think it is perfectly fair to shake the competitors up and confront them with something they are not prepared for, to make them show they have chops beyond pork chops, but to eliminate them over the appetizer before they have a chance to serve the entrée is really aggravating.
Once again there was woefully little cooking technique on display, something I hoped I could comment on in this space. Without it there is just the drama of who would go on, but very little about why they go on.
This week we got to see a bit of culture clash between Mixon, the barbecue cook extraordinaire with rigid expectations and little tolerance for creativity, and Smith, the eclectic Southern chef who prizes creativity over recipe following. When it came down to the final two contestants, Mixon and his ally Sapp, who didn't even know where the rib roast comes from on a hog, outvoted Smith because their fave has more smoke flavor, despite the fact that Smith claimed Fernandez-Malone had cooked one of the best pork chops he ever tasted. At least they did not give a pass to the wobbly Brown who took his roast out of the smoker and proceeded to rip it to shreds, douse it with sweet barbecue sauce, and make pulled pork out of it. I wanted to pass out when I saw that, and it underscored why I think that this format is reasonable.
I mean crown roast and tenderloin, from just below the spine, are the most prized, tender, lean, and delicate cuts on the hog. Slave masters ate these cuts while slaves got the fatty sinewy shoulders and ribs, and that's where the expression "eating high on the hog" came from. At least the other two had the common sense to cut it into chops and keep it away from the barbecue sauce. Anybody who shreds pork loin should not even be on the show.
In the end, 2010 Memphis in May Champion, Melissa Cookston of Yazoo's Delta Q from Nesbit, MS, made it to the finals by presenting the judges with tender juicy rib chops with a peach chutney. She has posted her recipes here.
The show ended with Cookston trying to look tough through her joy and warning competitors that to get the top prize "You're gonna have to come through me. You better be wearing your big girl panties!"
I'm hoping she gets to go head to head with my friend Danielle Dimovski, a.k.a. DivaQ of Toronto, in the finals because Diva definitely knows how to cook, and she definitely wears big girl panties.
Week 1 Recap: Not at all like last year. Not even close. But fun!
On Thursday night, August 13, the second season of BBQ Pitmasters debuted on TLC at 10 p.m. Eastern. Yet another TV competition in the mold of Project Runway, this one holds special interest because it involves some well known barbecue personalities and a $100,000 check to the winner.

Yes, surprising as it may seem, there are well-known barbecue personalities in this world. Competition barbecue may be the fastest growing sport in the nation, with more than 500 cookoffs every year and a growing band of soot stained gypsies who drag sofa sized smokers behind their pickups across the landscape every weekend in order to cook, drink, and pray for a trophy and a prize check that can easily be $20,000.
Independent producer John Markus (Twitter @BBQPitmasters) is a barbecue lover and he has assembled some well known judges, excellent cooks, and a lot of wannabes that TLC includes in its claim that they comprise the top 20 barbecue chefs in the nation. That's a stretch. It might be fairer to say that it has assembled 20 of the most diverse and telegenic barbecue cooks. This is television after all. The show claims to be "designed to find the country's best BBQ cook." We'll see about that.
This season's format is a major departure from last year which was a docudrama that followed a handful of competition teams as they traveled around the country on summer weekends competing against each other and dozens of other teams. It was a fascinating look at the barbecue subculture, but it failed on the hype level because the teams they followed, as good as they were, seldom finished in the money. It just proved that winning a Kansas City Barbeque Society (KCBS) competition takes a lot of skill and, because of the seriously flawed judging system, a lot of luck.
The 20 BBQ Pitmaster teams will face a preliminary elimination round pitting four teams against each other with something traditional to cook, and something unusual. The five weekly winners get a $5,000 check and go on to the finale on week 6, September 23, and have a crack at a whopping $100,000 prize, the largest prize ever for a barbecue shootout.
In Week 1, the feature meat was supposed to be pulled pork from pork shoulder, but only one contestant actually pulled her pork while the others presented sliced smoked pork from the "money muscle" a particularly nice muscle in the shoulder, a technique pioneered by Myron Mixon, one of the judges. Would this be a fatal flaw, good technique, or just sucking up? While the meat was roasting slowly, the contestants were given two "quickfire challenges": Catfish, and coleslaw. Both traditional Southern dishes often found on barbecue restaurant menus, both seemed to constern several of the contestants.
Week 1 featured the "Taint the Sauce" team with Nicole Davenport of Sheffield, TX, a real Texas cowgirl incapable of smiling, who insisted the judges bow their heads and pray before tasting her food. They were clearly uncomfortable with this request. When I spoke to Markus he assured me she was a real cowgirl who can "can rope ride and shoot varmints." She presented two catfish preps, one smoked, and one breaded and fried and she was the only one to pull the pork. She finished third.
Then there were the "hippies" so called simply because they had long hair, "Southern Soul BBQ" with Harrison Sapp from Saint Simons Island, GA. They had the sympathy factor going because their restaurant had burned down recently. They lost the catfish cooking because the fish was undercooked and were sent home before they even had a chance to present their pork. That sucked.
There was "Hot Grill on Grill Action" with Ryan Amys from Omaha, NE who whined that he was no "granny" when told to make coleslaw. He brought an army of assistants and finished second. The slaw made the difference.
And then there was "Ponderosa BBQ" with Moe Cason from Des Moines, IA, a mountain of a man in coveralls and the deserving winner of the first round. He made a simple sweet/sour slaw without mayo, cooked his catfish on a plank and topped it with crabmeat, and just for the fun of it served collards with his overflowing plate of pork.
I've been around the barbecue world a few years and I've never heard of any of these folks and what little they showed of their cooking style, I wonder just how well they cook. Markus called the show a collaboration between TLC and his team, and, although he is happy with the outcome, he was not thrilled with eliminating the Georgia team after catfish and before the main ingredient, pork shoulder. But this is the kind of formula necessary to extract emotion from the stars, hold viewers and compete against Jersey Shore and Thursday Night Football.
Judges
The judges for the series were well qualified: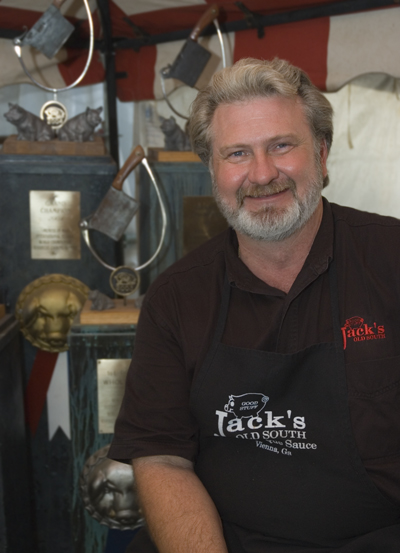 Myron Mixon of "Jack's Old South Competition Bar-B-Que Team" from Unadilla, GA (that's him at right). The frequently profane Mixon has won many competitions and probably as much prize money as anyone on the circuit, and his competition cooking classes have turned out many more money winners. They bill him as three time world champion, a title he won by winning the Memphis in May competition thrice. Mixon was a competitor last season and was clearly the alpha dog among the judges.
Art Smith, a superb Southern chef who rose to fame as Oprah's personal chef, and cemented it with popular cookbooks (Back to the Table, Kitchen Life: Real Food for Real Families, and Back to the Family), two restaurants, Table fifty-two in Chicago and Art and Soul in DC, and fans in the White House. Smith seemed a little tentative last night as he tried to balance his interests in great taste and elegance with the sloppiness of traditional barbecue.
Warren Sapp was a seven time All-Pro defensive tackle in the NFL for 13 years and won a Superbowl ring with Tampa Bay in 2002. A rural Floridian by birth, he is a serious backyard BBQ cook. Sapp is a TV analyst for Inside the NFL for the third season. He also came in 2nd place on Season 7 of Dancing With The Stars. His credentials as a barbecue judge were questioned on Facebook the morning after, but I can attest from email exchanges with him in the past, that he knows barbecue.
Initial feedback on the show's Facebook page and on barbecue message boards has been almost unanimously violently negative as the barbecue purists and competition teams complain about forcing the cooks to make catfish and coleslaw. KCBS judgings compete with four meats, pork shoulder, pork ribs, beef brisket, and chicken, usually thighs. Sadly, many competitors think that is all there is to barbecue.
The critics sound a lot like footballs fans who complain about the fact that kickers are allowed to score points. Well this barbecue lover thinks that it is prefectly fair to make the contestants prove they can cook more than four meats before they can take home the $100,000 first prize check. In fact, coleslaw, cornbread, beans, potato salad, garlic bread, mint juleps, and peach cobbler ought to be required to even be called a serious barbecue cook. The marketing peole at TLC should not call these people "chefs", a professional title reserved for culinary artisans with a full repertoire.
All text and photos are Copyright (c) 2010 By Meathead, and all rights are reserved
For more of Meathead's writing, photos, and recipes, please visit his website Amaz
Calling all HuffPost superfans!
Sign up for membership to become a founding member and help shape HuffPost's next chapter