Tap here to turn on desktop notifications to get the news sent straight to you.
Meathead
AmazingRibs.com, Barbecue Whisperer, Hedonism Evangelist, Omnivore
I am a Barbecue Whisperer and Hedonism Evangelist. An eater, drinker, writer, photographer, and teacher based in the Chicago area, I run AmazingRibs.com. Bacchus is my personal deity. That's my lab above. The key to the cookers is below.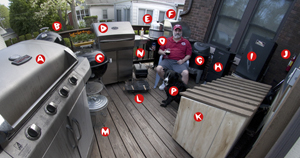 Along the way I have tried to share my love of the sensory. I have written hundreds of articles about food and drink for consumers as a syndicated columnist for the Washington Post, the Chicago Tribune, Restaurant Hospitality magazine, Wine Spectator, Wine Enthusiast, Wine & Spirits, and now Huffington Post.

I hosted the Food & Drink Network on America Online for nine years, and I have taught at Cornell University's famous Hotel School in Ithaca, NY, and at Le Cordon Bleu in Chicago. As the founder of the Beverage Testing Institute I produced seven books on wine, beer, and spirits.

My photos have been bought by a lot of folks from TIME to Playboy, and my first one man show was at the gallery at Robert Mondavi Winery. I've had the privilege of judging barbecue from Kansas City to Memphis, and wine from California to Italy. It's a dirty job, but...

Meathead's Lab
Readers often ask what kind of grill I use. Well, I test recipes on several different cookers trying to anticipate the problems you might encounter. In addition, manufacturers frequently send me cookers to test. As of 5/17/2010, my current inventory:

(A) Char-Broil Quantum Commercial 4 Burner with GrillGrates
(B) 22.5" Weber Smokey Mountain Smoker/Grill with a Rock's Stoker
(C) 22.5" Weber Kettle with GrillGrates and Smokenator with Hovergrill
(D) Memphis Pellet Grill/Smoker/Oven
(E) Cobb Portable Charcoal Grill
(F) MAK Pellet Smoker/Grill/Oven
(G) Char-Broil Big Easy Gas Roaster
(H) Brinkmann Gas Smoker
(I) Masterbuilt Electric Smoker
(J) Fire Extinguisher
(K) Storage box for charcoal, wood, accessories
(L) Cast iron Hibachi
(M) Ash Can
(N) Weber Go Anywhere Portable Propane Grill
(O) Newcastle Ale
(P) Molly the Border Collie