Working at the Los Angeles World Airport (LAWA) is my first volunteer job, and my first customer service position. All my professional life I've pursued either the big paycheck or the big career boost. While "doing good" was a personal ambition, it was never a professional goal. With the Recession of 2008 came a forced retirement from a collapsed investment banking firm and I had unexpected free time.
A friend was working as a volunteer at the USO at LAX, and told me of other volunteer opportunities. I am a frequent flyer, so the airport was not intimidating to me. Additionally I live in Playa del Rey, so LAX is very geographically desirable. It turned out to be a match made in heaven!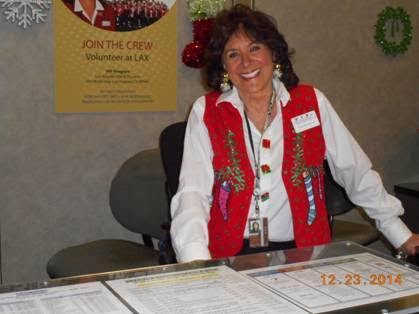 At my Volunteer Information Professional booth in LAX at Christmas
Volunteers at LAWA are called VIPs -- Volunteer Information Professionals. The program is an off-shoot of the old Traveler's Aid; many of you might remember that. You've probably not noticed our booths, I know I never did. Every terminal (at most airports in the U.S.) has an information booth in the arrival area. We are there to service incoming passengers transitioning from one terminal to another, or who are looking for car rentals, hotel shuttles, flyaways, etc. We also service the friends and family members who are greeting them. LAX is very confusing, mainly due to a lack of information signage. That's where we VIPs come in.
Volunteers go through about 20 hours of classroom training to familiarize themselves with the airport and its services. It's really fun to be knowledgeable about your own airport. It's a useful information base, even for those who do not fly often. My friends are always asking me for advice to make their trips more efficient. And the job comes with many perks. My badge gets me through TSA. I could surprise an incoming friend at his/her arrival gate if I wanted to. My car gets free parking at the airport. We also get invitations and educational opportunities: I've taken CPR classes, Emergency Responder courses and am now in my second year of Spanish classes. When the Endeavour landed at LAX for its final journey, I was on the Traffic Controller's deck, with flags waving and bands playing! Awesome!
People are so grateful for our help. Even the most frazzled travelers are calmed once they realize a knowledgeable person is helping them find their destination. We are afforded a lot of leeway also, and for someone like me accustomed to a leadership role, this is important as well as rewarding. I tend to get out from behind my booth and physically work the actual arrival area. I have a strong, clear voice and I announce "Welcome to Los Angeles, if you need directions or help, I'm here to service you." I also ask arriving passengers which flight they got off of, so that I can announce to the greeters -- which include waiting limo drivers -- that "New York is now exiting." Greeters really appreciate this alert and shower me with compliments. I never got that kind of verbal positivity in my professional life!
Every shift brings a problem never encountered before, and this helps keep me actively engaged. I like thinking on my feet. The hours fly by. I've left my booth to use my badge to run back to a gate and retrieve an iPad or iPhone a passenger unwittingly left on the plane. Under normal protocol, the passenger would have a very difficult time retrieving it.
I love helping people in need. It turns out I'm very good at it. Had I known how fulfilling customer service would be, I might have pursued some form earlier. The job only requires four hours a week and is especially well-suited for older people. I urge everyone to look at their local airport's website and investigate the opportunity.
REAL LIFE. REAL NEWS. REAL VOICES.
Help us tell more of the stories that matter from voices that too often remain unheard.