It has been six months since my last visit to China. This time around, the fragile architecture of Dali Dong village was wrapped in supporting beams and scaffolding as part of the efforts in progress to restore its heart and soul.
This project, located in Rongjiang County in the Guizhou province in China is one I feel most proud of. Firstly due to the extensive collaboration that is leveraging our philanthropic resources and second, the mutual priority placed on insuring that the community will benefit from the conservation of their tangible and intangible cultural heritage.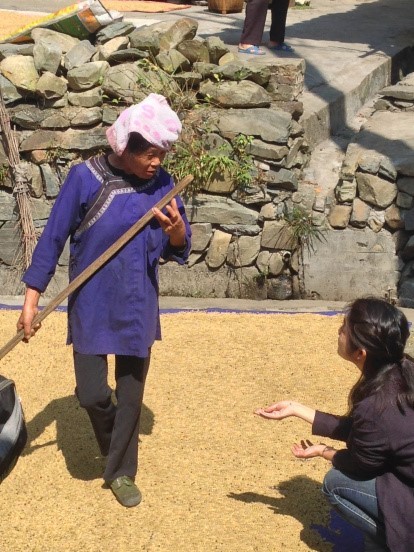 This collaboration includes several organizations, including the Guizhou Cultural Ministry, UNESCO, Tongji and Peking Universities, and You Cheng, a young, Chinese NGO specializing in conserving intangible cultural heritage. The execution of this project has been made possible in large part by the work of Han Li, Global Heritage Fund's (GHF) China Program Director. Over the last six years, she has built a network of relationships that have allowed us to manifest these collaboration plans.
Having successfully sewn such a strong partnership means that contributions to Global Heritage Fund are leveraged several times over, and what's more, with several stakeholders involved, the project is more likely to succeed. I've witnessed community planning come together at other project sites and I experienced it yet again, here in Guizhou. This kind of activity alongside conservation science lends great virtue to the project.
Preservation is a process, not a set of rules and regulations, yet ironically, there is one rule: follow the process. The process is one in which a community determines what elements of its past it wants to bring into the future and how that should be done. This phrase is a distillation of the international practice of heritage conservation enshrined in the Burra Charter and other similar accords.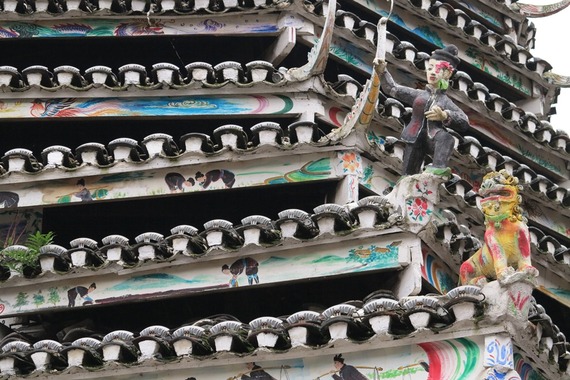 In essence, the role of the preservation professional is not to determine what needs to be saved and how, but to facilitate a community discussion on the subject. The Burra Charter was the first to acknowledge that cultural values must be integrated into the basic process of identifying, evaluating, and determining the treatment of historic assets. What is valued is not constant from place to place, but bends with local culture, just as how it is treated is not constant. We can attest to this by viewing the current state of heritage across the Middle East today, as well as other regions in the world. What is constant is the process of identification and evaluation, with the integration of the community into that process.
The drum tower has always stood at the heart of the community. The big drum beats when something takes place, indicating a call to gather. Such is the rhythm of life across all Dong villages. These drum towers are the central venue for the villagers to discuss and settle important events and celebrate festivals with music and song. Here at Dali Dong village, GHF's preservation work will help restore this historic drum tower.
Yet we know this is only one call to action in this project for developing the community. Now in our second decade, Global Heritage Fund is redoubling its efforts in community development, because we recognize that is the only true way to achieve sustainable heritage conservation that extends well beyond the current generation.
For this reason, Community development will include sustainable tourism in the delicate preservation of converted structures. We will also undertake more restoration projects employing local people, including the covered "wind and rain" bridges that are emblematic of Dong villages. GHF's partner, You Cheng, will work to market and support local intangible heritage, including the production of the indigo cloth, a historic process of cultural and economic significance that was ultimately replaced with the introduction of industrial, synthetic dye.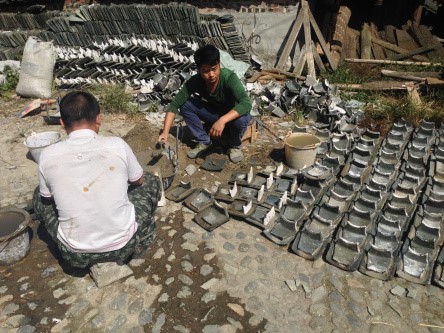 In addition, the Chinese government has committed to construct an eco-museum that will help local farmers to improve their practices and yields. This renewed focus on heritage preservation by the initiative of the Chinese government is also accompanied by a long-term commitment of funds. This support network on the part of the local and national government is indispensable to ensuring that the local community benefits from its heritage sites. It is also an intrinsic part of the equation to the implementation of GHF's holistic methodology, Preservation by Design.
GHF focuses on World Heritage sites that have the potential to promote cultural, economic and community development with a strong cultural footprint that is still evident among the local communities. While the Dong villages are on the Tentative List for World Heritage inscription, interestingly enough, the Dong minority songs and music are already listed as World Heritage since 2009. At the core of the Guizhou project is thus much more than monuments -- it is the people, their traditions, and their historic cultural production that breathe life and song into their shared history.
REAL LIFE. REAL NEWS. REAL VOICES.
Help us tell more of the stories that matter from voices that too often remain unheard.