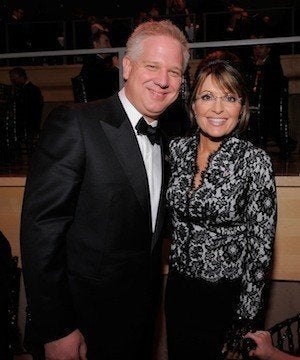 Taking a moment to mock reports of tensions, Sarah Palin did an interview with Glenn Beck on Friday, during which the pair indulged in self-satisfied ridicule over Rep. Alan Grayson's (D-Fla.) "hotness."
The former Alaska Governor and Fox News personality began their conversation by reflecting on a Politico piece published earlier this week that painted Palin as a diva who had managed to irritate the totality of the conservative movement, from the politicians to the media personalities. Obviously aggrieved by the story, Palin called the reporter, Jonathan Martin, a "punk" and "an idiot" for spreading "lies" about "the big guns" -- the big guns being Beck and other conservative talkers.
A conversation about Tea Party politics ensued, with some frank concern expressed about the tightening of the Senate polls. Then things turned to Grayson and got, well, a bit weird.
"Isn't he just the oddest duck in the entire political arena," Palin said of the Florida Democrat. "Is not he just an odd, odd person?"
BECK: He is, he is... We were talking about him earlier off the air. And I've come to the conclusion that he is just one of those people who has absolutely no moral compass. It was taken out of him and jumped up and down on it and just destroyed his moral compass, he has none.

PALIN: Right, right. Well, what is the deal then, what is the attraction voters to Alan Grayson? He is not effective in a positive sense at all for his constituents. People look at him and say surely, you don't respect and you don't reflect the good people of Florida. So what is the attraction there?

BECK: I think it is his hotness... it is all physical. Come on Sarah, you know if Todd wasn't around you'd be like, 'yum, yum give me some.'
Putting aside the imagery (however disturbing), it's worth taking a moment to note just how consumed Republicans are with getting Grayson out of congress. The Florida Democrat is an obvious political target for the simple reason that he comes from a district that has generally been represented by Republicans. Obviously, however, it's his style as a legislator -- cheered by progressives for its unapologetic self-assuredness -- that gets the Republican blood boiling.
"Sarah," one of Beck's co-hosts said, in a playful intro to the discussion. "I'm wondering if you are bored with my personal aspirations here for this election, which is, it's okay if the republicans lose every seat in the senate and the house except for one, as long as that one is Alan Grayson losing."