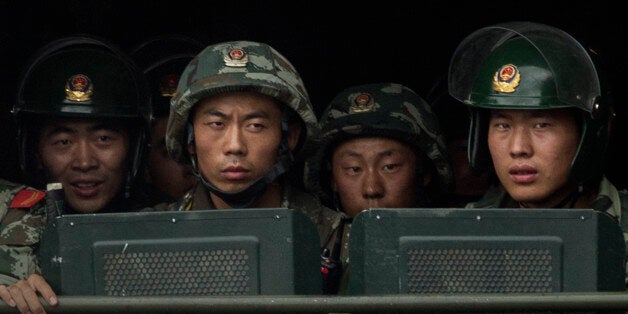 Every week, we bring you one overlooked aspect of the stories that made news in recent days. You noticed the media forgot all about another story's basic facts? Tweet @TheWorldPost or let us know on our Facebook page.
Tens of thousands of protesters in Hong Kong have taken to the streets in recent weeks demanding the right to choose their leaders independently from Chinese authorities. Under the watchful eye of international cameramen and photographers, the student-led protesters have peacefully challenged the authorities in Beijing and called for democratic reform.
The detailed international media coverage of the demonstrations, however, may obscure the fact that Hong Kongers aren't the only people within China at odds with Beijing. Far less publicized is the fight of the Uighurs, the residents of the region of Xinjiang.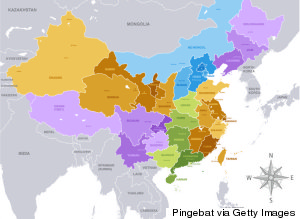 The Uighurs are predominantly Muslim and are based in Xinjiang, a resource-rich autonomous region in China that borders Mongolia, Russia, Kazakhstan, Kyrgyzstan, Tajikistan, Afghanistan, Pakistan and India. Uighurs speak a language related to Turkish, and it is often said they feel ethnically closer to Central Asian countries than to the Chinese.
The area that is now known as Xinjiang came under Chinese rule in the 18th century, the BBC explains, and it briefly gained autonomy before becoming part of communist China in 1949.
The separatist movement in Xinjiang started to gain strength after the fall of the Soviet Union. In recent years, it has become fueled by both the growing influx of Han Chinese to the region and by Chinese policies the Uighurs consider discriminatory and repressive.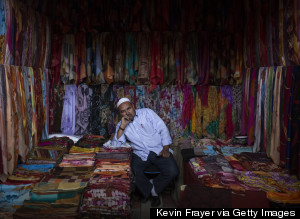 A Uighur man at his headscarf shop in Kashgar, Xinjiang. (Kevin Frayer/Getty Images)
Uighurs complain that while Beijing has heavily invested in Xinjiang, the investment mostly benefits the Han Chinese. Uighurs feel discriminated against when it comes to housing and employment. They don't have easy access to the region's profitable gas and oil industry, and can't apply for many of the available government jobs.
The separatist struggle heated up in 2009, when clashes between Uighurs and Chinese Han in Urumqi claimed dozens of lives. As China dramatically escalated its crackdown in the wake of the riots, the separatists' actions became increasingly brutal, setting in motion a vicious cycle of violence.
Recent separatist attacks include an October 2013 incident in Beijing's Tiananmen Square, in which three Uighurs drove a vehicle into a crowd of tourists. The passengers in the car as well as two bystanders were killed. According to Chinese state media, attackers also stabbed 29 people to death at a train station in the city of Kunming in March 2014. Two months later, a bomb blast in Urumqi reportedly killed at least 30 people and wounded more than 90.
Human Rights Watch notes that the climate has become so heated that even peaceful criticism of the authorities, as well as religious and cultural expressions of Uighur identity, are now seen as supporting separatism. Men younger than 18 are no longer allowed to enter mosques. Most essential classes are taught in China's official language, Mandarin, instead of the Uighur language. Uighurs have difficulties obtaining passports. There are reports that some students have been forced to eat lunch during the fasting month of Ramandan, and that civil servants can been fired for joining Friday prayers.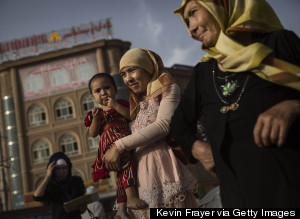 A Uighur woman walks with her baby at a market in old Kashgar, Xinjiang. (Kevin Frayer/Getty Images)
Human Rights Watch says it has documented several abuses by Chinese authorities against Uighurs since 2009, including dozens of enforced disappearances of Uighur men and boys, as well as hundreds of arbitrary detentions and summary trials. Just last month, prominent Uighur scholar Ilham Tohti was found guilty of "inciting separatism" and sentenced to life in prison in a trial Amnesty International called "an affront to justice."
Information about the abuses as well as the separatist attacks is hard to come by, as the Chinese government closely monitors the work of foreign and local reporters. The lack of reports often leads to contradictory claims by police and Uighur leaders. At the end of July, for example, Chinese authorities reported that knife-wielding Uighurs had attacked government buildings, police stations and passing cars in western Xinjiang. An organization of Uighurs in exile disputed that characterization of events, however, saying more than 20 residents were killed and dozens were arrested in protests over heavy-handed police treatment.
Since the attacks of Sept. 11, China has increasingly tried to tie the Uighur separatist movement to Muslim extremist groups around the world, including al Qaeda and the Taliban. Reuters notes that while it is known some Uighurs have fought in Afghanistan -- several have been detained at the U.S. detention facility in Guantanamo -- the Chinese government has not been able to provide evidence that any of the recent separatist attacks were linked to outside forces. The news service adds that some experts believe the unsophisticated nature of the Uighur attacks indicates a lack of support from abroad and points at "weakly organized revenge killings as opposed to coordinated international terrorism."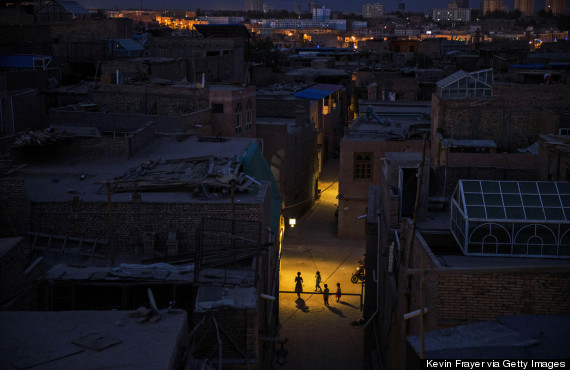 Uighur children play in the street in old Kashgar, Xinjiang Uyghur Autonomous Region, China. (Kevin Frayer/Getty Images)
Related
Before You Go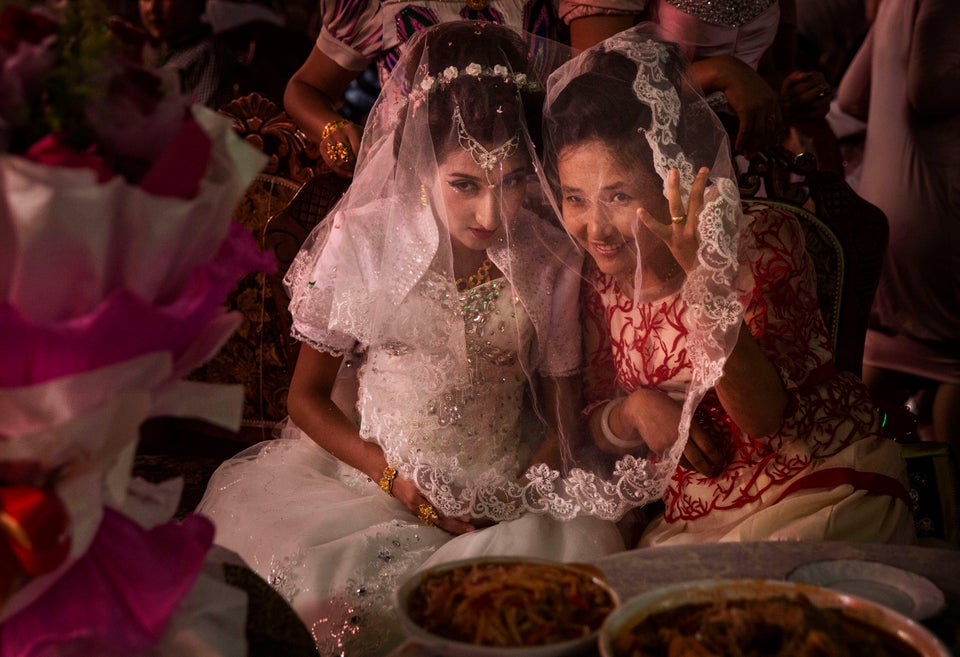 Life In Xinjiang
Popular in the Community