In the Information Age, "transparency" has rapidly become a buzzword, with calls for transparency in government, in business and even in church. Belgian architects Pieterjan Gijs and Arnout Van Vaerenbergh may have been taking that last example literally when they constructed a see-through chapel titled 'Reading Between the Lines' in Limburg, Belgium.
The ten meter edifice is made from 100 stacked layers of weathered steel plates, placed to allow visitors to almost walk through the walls. One's perception of the church depends entirely on physical perspective: from one spot the structure appears to be a traditional church building, yet a few steps away the seemingly solid walls disintegrate before one's eyes. An equally confounding image results from looking out to the landscape from inside the church, nature becoming defined and spliced by the abstract lines of the church's architecture.
Gijs and Van Vaerenbergh translate the meaning of transparency from the realm of information to the realm of the visible. While the traditional understanding of transparency refers to knowing everything there is to know, 'Reading Between the Lines' proffers the idea of the transparent as the unseen, even unseeable. As the title displays, the burden of transparency is not only on the church, or on the artwork, but on the spectator as well, who must learn to read between the lines.
All images courtesy of Gijs Van Vaerenbergh. Photos: Kristof Vrancken / Z33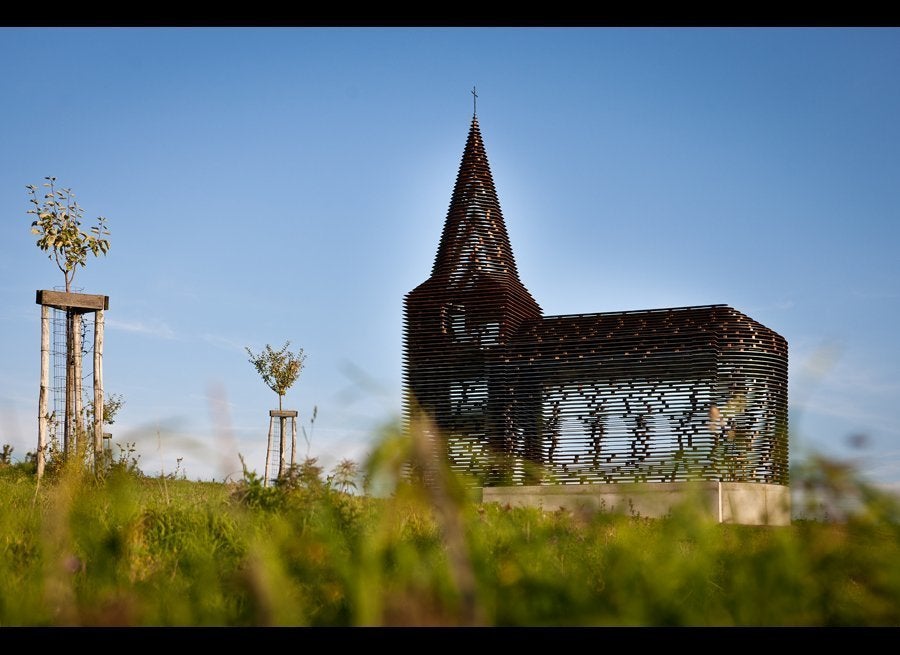 Gijs Van Varenbergh's 'Reading Between The Lines'