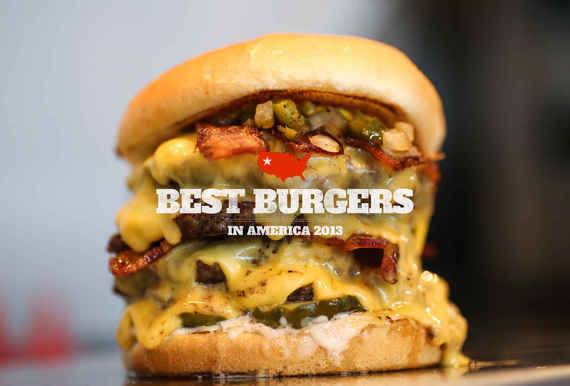 Twinkie, ramen, and Cronut buns. Pockets of deep-fried PBR. More bacon than Louie Anderson eats for second breakfast. 2013 was more than a slightly ridiculous year in the burger creation game, and we were there to greasily chronicle it all. While it was a torturous task, we picked out the 16 finest examples that hit the grill this year in order to help you satisfy your meat-lust needs.
Please resist the urge to squirt ketchup onto your computer. Unless it's a really old computer and you've been looking for an excuse to buy a new one -- in which case, do that.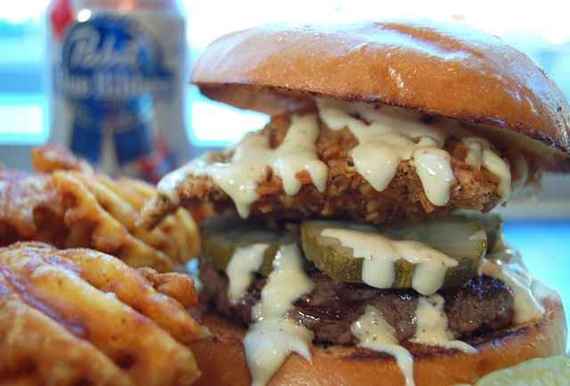 Most Likely to Wear Vans and Flannel and Ride a Bike with No Brakes: The Beerger
PYT, Philadelphia
Philly's PYT goes nuts all the time. For this, we got a patty, house-made pickles, and frozen PBR inside a deep-fried pretzel crisp-crusted wonton. Plus a dousing of mustard-dill aioli.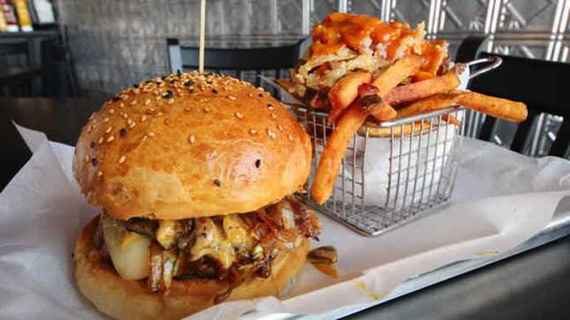 Most Likely to Make You Sing Its Praises: The Gallow's Pole
Leadbelly, Chicago
This one honors the resto's namesake blues singer with a house-ground beef & pork belly patty with caramelized mushrooms & onions, smashed potatoes, Swiss, and bearnaise sauce -- just like he ate every day in 1902.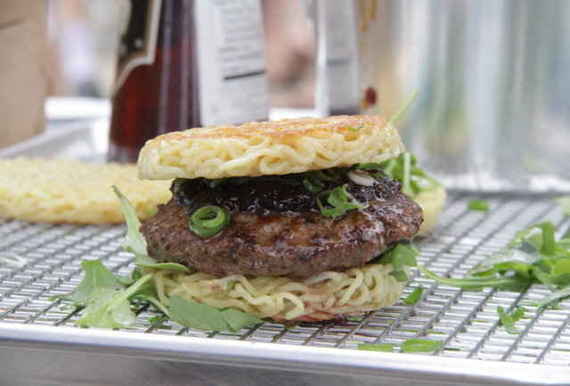 Most Likely to Make You Wait on a Line in the Rain for Four Hours: The Ramen Burger
Smorgasburg, New York
This infamous noodle-bunned miracle made headlines this year thanks to a beef patty, sweet/savory sauce, and scallions. Oh, and a BUN MADE OF RAMEN.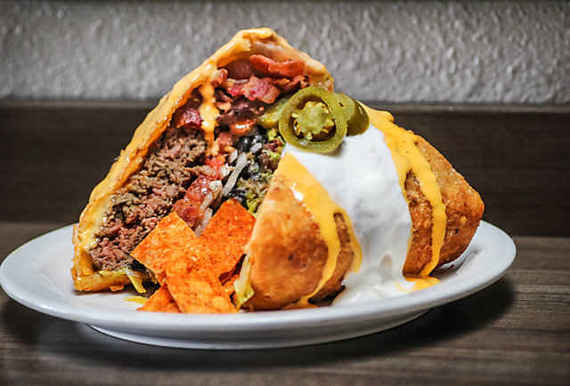 Most Likely to Make You Cheat on T-Bell: The Supreme Nacho Burger
Slater's 50/50, San Diego
This is a taco-nacho-burrito-something on very American steroids. Taco-seasoned patty, cheddar, tomato, onion, black beans, salsa, guac, bacon, and tortilla chips, wrapped in a tortilla and deep-fried. Throw some cheese sauce, sour cream, and pickled jalapeños on top, and you're set to breathe into people's faces allllll afternoon.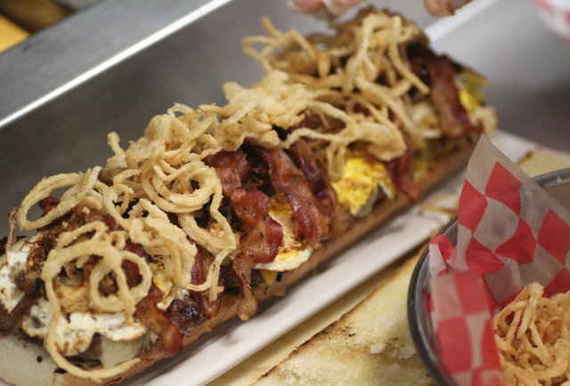 Most Likely to Scold You for Not Doing Your Homework: The Mother of All Burgers
B-52 Burgers & Brew, Minneapolis
Four 1/2lb patties, four slices of cheese, four eggs, a 1/2lb of BBQ pulled pork, 12 pieces of bacon, and onion rings, stuffed into an Italian loaf. You won't be able to dance to fit in this resto's namesake after you eat it.