The Netflix highlight: "Tuca & Bertie," Season 1.
Premise: Two city-dwelling women juggle their friendship with romantic partners, jobs and general urban malaise. The duo has a dynamic in which Tuca (Tiffany Haddish) is a high-energy extrovert and Bertie (Ali Wong) is a more bookish introvert. All the characters are anthropomorphic animals.
Sum-up: I just ranked this as the second-best Netflix Original show in 2019 so far. Creator Lisa Hanawalt reused her drawing aesthetic from "BoJack Horseman" for this show, but pushes and breaks the concept in fun ways. While "BoJack" operates with a somewhat realistic world, the "Tuca & Bertie" characters can bend and rip apart to service absurd jokes (like Bertie's breast leaving her body and developing a new personality), but then return to whole without other characters blinking an eye. Ultimately, the female friendship between Tuca and Bertie anchors this, but the show has plenty of creative jokes to elevate that central narrative.
Heads-up: Despite having the look of "BoJack," this is a very different show. The closest comparison would actually be "Broad City," rather than something that relentlessly unpacks depression like its aesthetic twin.
Will everyone be talking about this? I'd be surprised if this didn't become a hit.
Read on for more recommendations and news from the week.
And if you want to stay up to date with what to watch on a weekly basis, subscribe to the Streamline newsletter.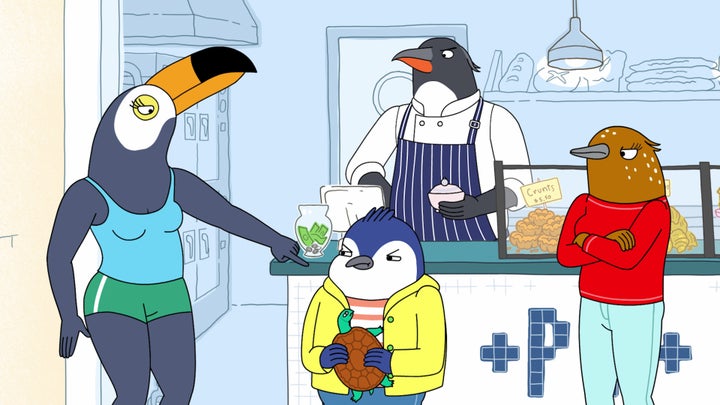 What Else Is New This Week On Netflix
1. The Obamas revealed the projects they're working on with Netflix. The former president and first lady's production company has a name ― Higher Ground Productions ― and as of now will have seven projects with the streaming service. The mix includes a few documentaries, a movie about Frederick Douglass and a show aimed at preschoolers.
2. Netflix will now use "studio quality" audio, which basically means shows and movies will sound a little better. The improvement won't be easy to notice, but if you're interested in knowing what to listen for, you can read a Netflix blog post that explains.
"Señora Acero" (Season 5)
"Burning"
"The Imitation Game"
"Anthony Jeselnik: Fire in the Maternity Ward" (Netflix Original)
"Baki" (Part 2, Netflix Anime)
"Ingress: The Animation" (Netflix Anime)
May 1
"Knock Down The House" (Netflix Film)
"Munafik 2" (Netflix Film)
"Angels & Demons"
"Austin Powers: International Man of Mystery"
"Austin Powers: The Spy Who Shagged Me"
"Casper"
"Chasing Liberty"
"Code Geass Lelouch of the Rebellion" (Part 1 & 2)
"Dr. Seuss' The Cat in the Hat"
"Dumb and Dumber"
"Fear and Loathing in Las Vegas"
"Gosford Park"
"Gremlins"
"Hairspray" (1988)
"Harold & Kumar Escape from Guantanamo Bay"
"Her Only Choice"
"Hoosiers"
"Inside the Mind of a Serial Killer" (Season 2)
"John & Yoko: Above Us Only Sky"
"Just Friends"
"Revolutionary Road"
"Roswell, New Mexico" (Season 1)
"Scarface"
"Scream"
"Snowpiercer" (2013)
"Taking Lives"
"The Da Vinci Code"
"The Dark Crystal" (1982)
"The Matrix"
"The Matrix Reloaded"
"The Matrix Revolutions"
"To Rome With Love"
"Wedding Crashers"
"Who's Afraid of Virginia Woolf?"
"Zombieland"
May 2
"Colony" (Season 3)
"Olympus Has Fallen"
May 3
"A Pesar De Todo" (Netflix Film)
"All In My Family" (Netflix Original)
"Alles ist gut" (Netflix Film)
"Cupcake & Dino ― General Services" (Season 2, Netflix Original)
"Dead to Me" (Netflix Original)
"Extremely Wicked, Shockingly Evil and Vile" (Netflix Film)
"Flinch" (Netflix Original)
"Jo Pil-ho: The Dawning Rage" (Netflix Film)
"The Last Summer" (Netflix Film)
"Mr. Mom"
"Supernatural" (Season 14)
"True and the Rainbow Kingdom: Mushroom Town" (Netflix Original)
"Tuca & Bertie" (Netflix Original)
"Undercover" (Netflix Original)
May 4

Related