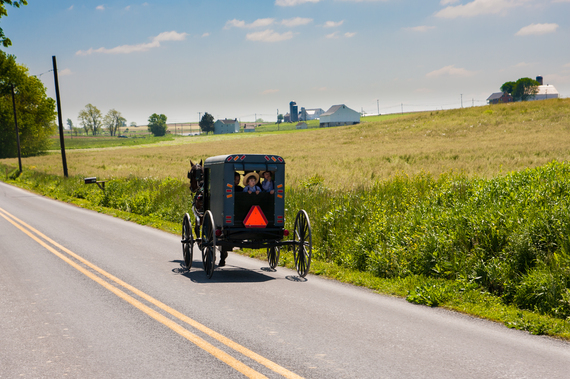 You can't help but slow your pace and your breath when the gentle rhythm of Lancaster County, Pennsylvania washes over you. About 64,000 Amish live in this beautiful corner of America, which is largely untouched by vestiges of modernity, like cell towers, high rises, suburban sprawl and even, in many cases, electrical wires. Attractions are spread out among the small villages and the verdant countryside of this landscape. Wholesome activities abound. Here are eight of the very best things to do with kids when visiting Pennsylvania Dutch country:
1. Aarons and Jessica's Buggy Rides. Friendly drivers lead visitors through authentic Amish farms via horses and buggy. Kids are often invited to hold the reins.
2. Kitchen Kettle Village. Founded in the 1950's by a family selling jam from a garage, this has blossomed into one of the region's biggest attractions with more than 40 shops like, Paw Prints, which sells animal products, Wash Pin Pals, a homey gallery of clothes pin characters, and, of course, the jam (and now hot sauce, salsa, pickles, etc.) where it all began.
3. Herr's Factory Tours. Started in 1946, this potato chip factory cranks out some of America's favorites. Free tours enable fans to sample warm from the cooker chips and witness the process.
4. North Museum of Nature and Science is part of Franklin & Marshall College in downtown Lancaster. Exhibit highlights include live animals, along fossils, rocks and minerals, as well as a 41-foot domed planetarium.
5. Strasburg Trains offers a 45-minute trip through 1,000 acres of scenic Amish Countryside. Younger kids will like Day Out with Thomas, a shorter ride on the iconic train.
6. Dutch Wonderland is a charming amusement park with 30 rides, water slides and a family-friendly theater.
7. Turkey Hill Experience. Learn how ice cream is made from one of the country's leading brands. Housed in a converted silk mill, this hands-on attraction give families a chance to milk a (mechanical) cow, eat unlimited samples of Turkey Hill ice cream, create their own flavors and even film their own ice cream commercial.
8. DRIVE. The very best activity is to simply meander amid winding lanes, where Amish horse and buggies dominate these roads. Get lost (Lancaster County is small) and discover covered bridges, charming villages and one-room schoolhouses where children in bonnets and breeches gather.