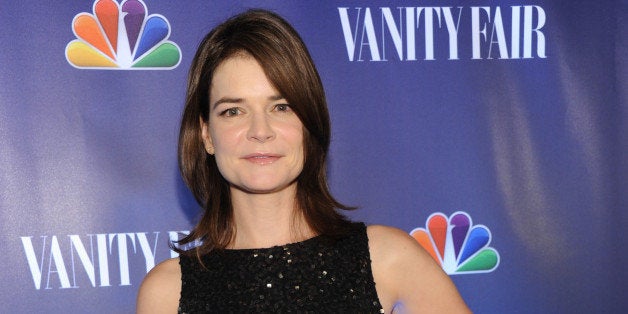 Betsy Brandt feels you, "Breaking Bad" fans.
Despite the heartbreak her character is going through, Brandt said she couldn't be happier with the ending Marie Schrader gets. "I told Vince ... I love what you did with my character, with all of them," she said. "I'm on the show, but I'm also a huge fan of the show ... I like watching it when everyone else watches it."
Brandt is switching gears to comedy for her next gig, starring opposite Michael J. Fox in NBC's "The Michael J. Fox Show."
"I so love this job and I love this group," Brandt said on the red carpet of NBC's fall TV launch party. "I want it to be a huge, huge hit. I was just saying if we could come out like 'The Cosby Show' or 'Family Ties,' I would be forever happy. I'll probably be forever happy because that's just how I roll."
She hasn't left "Breaking Bad" behind though -- she's hoping to welcome her former co-stars on her new show. "It's never too soon to have Dean Norris on anything. Never. I just texted him in the car on the way here. I was like, 'I love you so much, I miss you so much.' I would love that," Brandt said. "I did ask our producers, I'm like, 'Can I make lasagna one night?' I do ask that I don't wear a lot of purple because for me it's just someone else. That's someone else."
Brandt is still very immersed in the world of "Breaking Bad" thanks to her new co-stars, who are also "Breaking Bad" fans and have meetings with her after episodes air.
"OK, Betsy I just saw today for the first time ... I saw the 'BB' show last night, 'Breaking Bad.' Devastated! Kind of furious, sad, angry, happy, and just need to talk about it," Brandt's "Michael J. Fox Show" co-star Katie Finneran said. "I attacked her here. I was like, 'OK, we have to do this line and then we have to have a drink and then we'll talk about it.' I love what she does on the show. She's extraordinary."
However, Brandt doesn't give spoilers away.
"It's a relief to me to have someone to talk to ... It's fun to have people to talk to about it the next day," Brandt said. "Thank god, otherwise you're just out there alone."
"Breaking Bad" airs Sundays at 9 p.m. ET on AMC; "The Michael J. Fox Show" premieres Thursday, Sept. 26 at 9 p.m. ET on NBC.
PHOTO GALLERY
NBC's New Shows 2013-2014
Calling all HuffPost superfans!
Sign up for membership to become a founding member and help shape HuffPost's next chapter
BEFORE YOU GO