"What is given or granted can be taken away...What you do for yourselves and your children can never be taken away." - Senator Robert Kennedy, 1966

It has been almost 50 years since Robert Kennedy announced the Bedford-Stuyvesant Restoration Corporation, a program that would pair community based economic development with private enterprise in order to build and develop local, self-reliant businesses in Bedford-Stuyvesant, Brooklyn.
The Bed-Stuy Restoration Corp. still exists and continues to contribute to the development of this community. Today, Bedford-Stuyvesant is a trendy, sought-after neighborhood. The median income has risen and as a result, higher-end residential properties and businesses are following to set up shop.
But with development often comes gentrification--the displacement of long term, lower income residents that can no longer afford their newly "trendy" neighborhood. Bed-Stuy has certainly seen its fair share of that.
There are those that see this kind of development as progress. It's raising the quality of life for many residents, and as a New Yorker that has walked the streets of Bed-Stuy and similar neighborhoods, I can certainly appreciate that part of it.
Despite that, I have to wonder if there is a way to create a model of development where the whole community shares the benefits. One that protects its current residents while accommodating new ones. One that preserves the neighborhood's culture and history while making room for the new and modern.
A few blocks away from Bed-Stuy, just along its border, is another neighborhood you may have heard of: Brownsville, Brooklyn.
Brownsville may have similar characteristics to the Bedford-Stuyvesant of the past and other inner city neighborhoods. Crime, drugs, and unemployment have been notoriously prevalent in this community. Even as residents of surrounding neighborhoods like Bed-Stuy, Bushwick and Crown Heights are pushed out by rising rents, this 12-block community has, for now, remained untouched by gentrification. Cost of living remains low here. Education and economic security, especially for the women of this community, are ranked among the lowest in New York City. A cluster of 18 public housing developments constitute the highest concentration of project housing, not just in New York City, but in the entire country.
While there are certain benefits in developing a community like Brownsville, we must not overlook the imminent damage of gentrification. We must open our eyes, hearts and minds to the tremendous value of its culture and the untapped resources that already exist there.
This is a neighborhood teeming with potential. Not just the potential of land and property to build on, but within the people of Brownsville. It's in the entrepreneurial spirit of small businesses--like Sal and Paul Pizzeria that has graced Pitkin Avenue for 45 years or their neighbor of 33 years, Joseph Jewelry and Shoe Repair--that work tirelessly every day to provide their services to the Brownsville community. And it's in the young people of Brownsville who have that same spirit and big dreams, but who lack the tools and resources to make it come to fruition.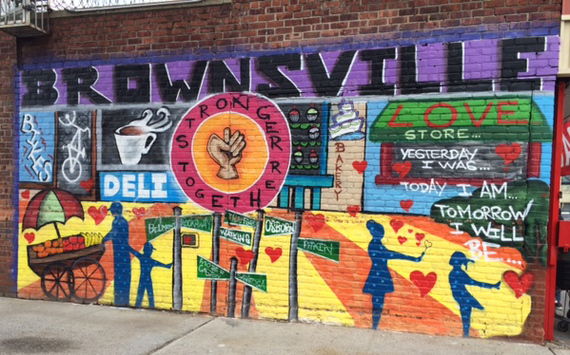 Providing these budding entrepreneurs with those tools and resources to turn their idea into a successful business is the key to growing this community from the inside out, rather than becoming a casualty of gentrification. This is the goal of my Dream Big Foundation, where we are launching a program that will incubate entrepreneurs from inner city communities, starting with Brownsville. The only requirement for acceptance into the Brownsville program is to be a current resident with clear ambitions and a solid plan to open a business there.
For Brownsville, this could change the tide. And for the women of this community, the potential to make a positive impact is even greater.
For investors looking to back a business, those statistics paint a persuasive argument for investing in women. For Brownsville, it presents the best chance for the neighborhood to pull itself into the future.
A few months ago, I met three of those aspiring female entrepreneurs from Brownsville. They would soon become the first investment of the Dream Big Foundation.
Ionna, Diana and Melissa Jimenez--better known in Brownsville as the 3 Black Cats--will open up the first "real" cafe in the. This cafe, backed by the Dream Big Foundation, will serve as a community space to mentor, teach and develop other budding Brownsville entrepreneurs. We hope that by investing in the people of this community, they can make positive change happen for themselves.
"The 3 Black Cats Cafe and Cakery will be the beginning of a stronger community. To be part of Brownsville's economic success allows us to give back to our community in ways we have never imagined," said Diana Jimenez, the baker behind the cafe's delicacies. "The support that the Dream Big Foundation is providing for entrepreneurs in Brownsville lets us know that there are still people out there who have hope in communities like ours."
For the Dream Big Foundation, hopes are high that Brownsville's future will be uncovered there.
The 3 Black Cats Cafe and Cakery is scheduled to open later this year.
Calling all HuffPost superfans!
Sign up for membership to become a founding member and help shape HuffPost's next chapter