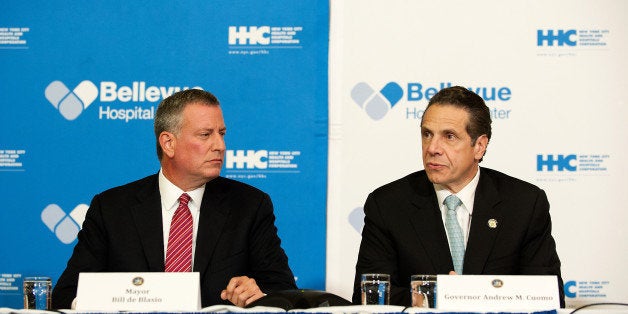 New York City Mayor Bill de Blasio's reported frustrations with New York Gov. Andrew Cuomo came to a head Tuesday when the mayor ripped into the governor's "lack of leadership," accusing Cuomo of prioritizing deal-making and vengeance over doing what's best for the city.
In a remarkably candid interview with NY1, de Blasio laid out his concerns with fellow Democrat Cuomo and his dealings with New York City. De Blasio accused the governor of wielding influence over the Republican-led state Senate, which dealt the mayor's progressive agenda a series of defeats earlier this month.
"What I found was he engaged in his own sense of strategies, his own political machinations, and what we've often seen is if someone disagrees with him openly, some kind of revenge or vendetta follows," the mayor said. "I don't believe the Assembly had a real working partner in the governor or the Senate in terms of getting things done for the people of this city and in many cases the people of this state."
De Blasio specifically pointed to the fight over a tax credit for developers, which the mayor has proposed changing to require more construction of affordable housing. Last month, Cuomo accused the mayor of favoring developers over labor unions and coming too late to the game with a proposal. De Blasio, meanwhile, called Cuomo's criticism "disingenuous."
"I find that to be a lack of leadership because here was an opportunity actually to get something done for people," he said to NY1 of Cuomo's opposition.
"It is fundamentally the wrong way to go about this work," he said, according to the Wall Street Journal. "Sometimes it's about deal making, sometimes it's about revenge. But it's not about policy, it's not about substance."
Cuomo's office brushed off the criticism while taking a dig at de Blasio's political experience.
"For those new to the process, it takes coalition building and compromise to get things done in government," Cuomo communications director Melissa DeRosa said in a statement provided to The Huffington Post. "We wish the Mayor well on his vacation.​​​"
Calling all HuffPost superfans!
Sign up for membership to become a founding member and help shape HuffPost's next chapter
BEFORE YOU GO
PHOTO GALLERY
Mayors Of America's Largest Cities