In no surprise to anyone, the people getting caught up in Donald Trump's scandals are already going down with the rest of the racist, sexist ship.
Billy Bush, of "Access Hollywood" and NBC's "Today" show, appeared in an explicit 2005 video recording in which he and the GOP presidential nominee discuss women and Trump joked about being able to "grab [women] by the pussy" whenever he felt like it.
Naturally, Bush is already taking a lashing on social media.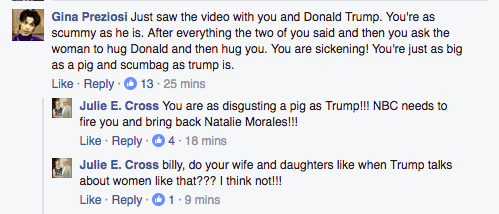 In the video with Trump ― which was filmed from outside an "Access Hollywood" bus as the pair made their way to the set of "Days of Our Lives" in 2005 ― Bush giggles and eggs Trump on as he talks about trying to have sex with women who are not his wife. The men don't acknowledge that they're being recorded.
At one point, Bush turns their attention to actress Arianne Zucker, who's about to escort them onto a soap opera set.
"Your girl's hot as shit, in the purple," Bush says.
"Whoa!" Trump says. "Whoa! ... I've gotta use some Tic Tacs, just in case I start kissing her."
"You know I'm automatically attracted to beautiful — I just start kissing them," he adds. "It's like a magnet. Just kiss. I don't even wait."
Minutes after The Washington Post released the video, Bush's viewers criticized him for speaking about women in such a way even though he has daughters.
"WOW you're such a pig," one woman said on Facebook. "I wonder how you'd feel listen to two men discuss any of your daughters that way."
In a statement Friday, Bush apologized for his role in the conversation.
"Obviously I'm embarrassed and ashamed. It's no excuse, but this happened eleven years ago," he said. "I was younger, less mature, and acted foolishly in playing along. I'm very sorry."
This story has been updated to include Bush's statement.
Calling all HuffPost superfans!
Sign up for membership to become a founding member and help shape HuffPost's next chapter