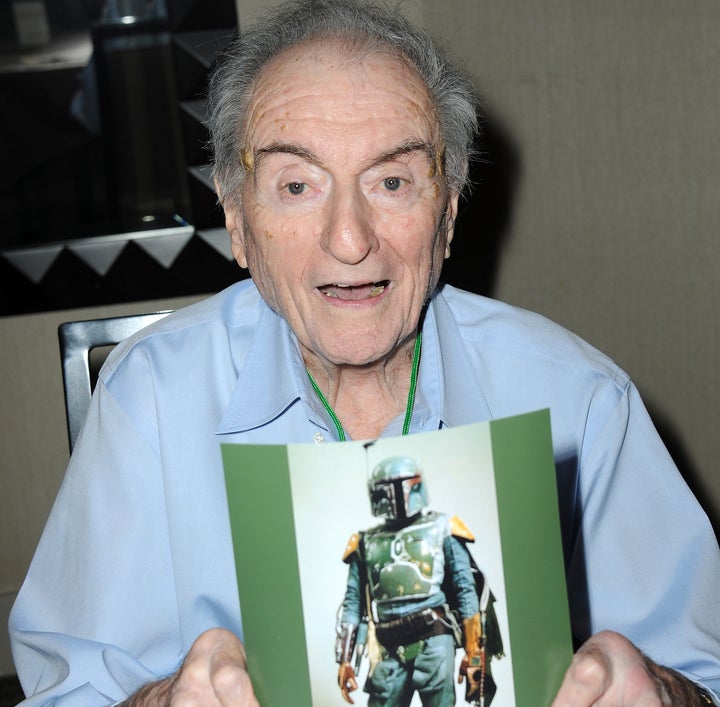 The "Star Wars" galaxy just suffered a major loss.
Actor Jason Wingreen, known as the voice of Boba Fett in "Star Wars: The Empire Strikes Back," died in his Los Angeles home on Christmas. He was 95. The actor's son confirmed the news to The Hollywood Reporter.
Before his retirement, Wingreen's roles include Harry the bartender on "All in the Family" as well as appearances on numerous other hit shows such as "The Twilight Zone," "Matlock," "Star Trek" and "Seinfeld." But perhaps Wingreen's highest-profile role, Boba Fett, was one no one even knew he did until recently.
Wingreen reportedly first auditioned to play Yoda, missing out but later getting the part of everyone's favorite bounty hunter. According to the actor, the part, four lines in total, required about 10 minutes of work and he received no credit. It didn't even become publicly known he was Fett's voice until 2000, reports THR.
According to Entertainment Weekly, the actor said he was living a "quiet, peaceful, unencumbered life" until news came out about the role. After that, "the letters just never stopped."
You will be missed, Boba.
PHOTO GALLERY
'Star Wars: The Force Awakens'
Calling all HuffPost superfans!
Sign up for membership to become a founding member and help shape HuffPost's next chapter