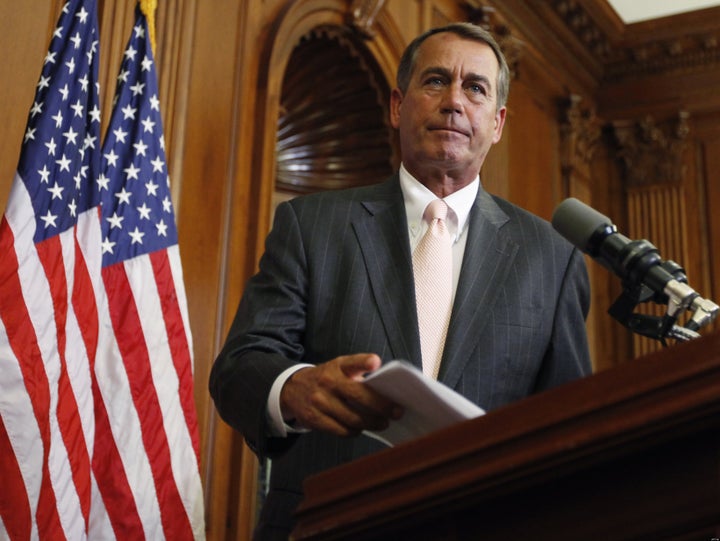 WASHINGTON -- Senate Democrats took some shots at House Speaker John Boehner (R-Ohio) Thursday for leaving town and playing a round of golf while congressional negotiators work to avoid a government shutdown.
Boehner was on a fundraising trip to Florida during this week's congressional recess, and on Wednesday reportedly hit the links at "an undisclosed course in Sarasota." This prompted a bit of snark from Senate Majority Leader Harry Reid's (D-Nev.) Twitter handlers, who asked the Speaker for his score.
The Republican National Committee quickly noted that President Barack Obama was set to go to Florida in early March for a fundraiser with Democratic Sen. Bill Nelson. That's a valid point, but as a Senate Democratic Leadership aide pointed out, in the run up to the last government shutdown in 1995, Boehner criticized then-President Bill Clinton for playing a round while Congress continued its work.
"Now is the time, not to play golf as the president did yesterday, now is the time to act. The president has talked about balancing the budget," Boehner said at the time. "But so far, the president has offered no leadership and the president has offered no plan."
Of course, as Boehner's office noted, the next move is Reid's, as "the House had done its job and passed legislation to fund the government for the remainder of the year." That response casts Boehner's trip more as a negotiating tactic than as a quick jaunt to sunny Florida. Then again, Obama's own golfing habits have served as frequent fodder for his conservative critics.
Lest someone question whether Boehner was even golfing in the first place, Jeremy Wallace, the Herald-Tribune's political writer who broke the piece, told The Huffington Post exactly how he got the story.
"I had three very good sources who backed it up," Wallace said, adding that the night before he had gone to the fundraiser Boehner attended looking for a comment. "He ignored me and walked past me and the some donor said, 'Don't worry, you can catch him on the golf course tomorrow.'"

Popular in the Community