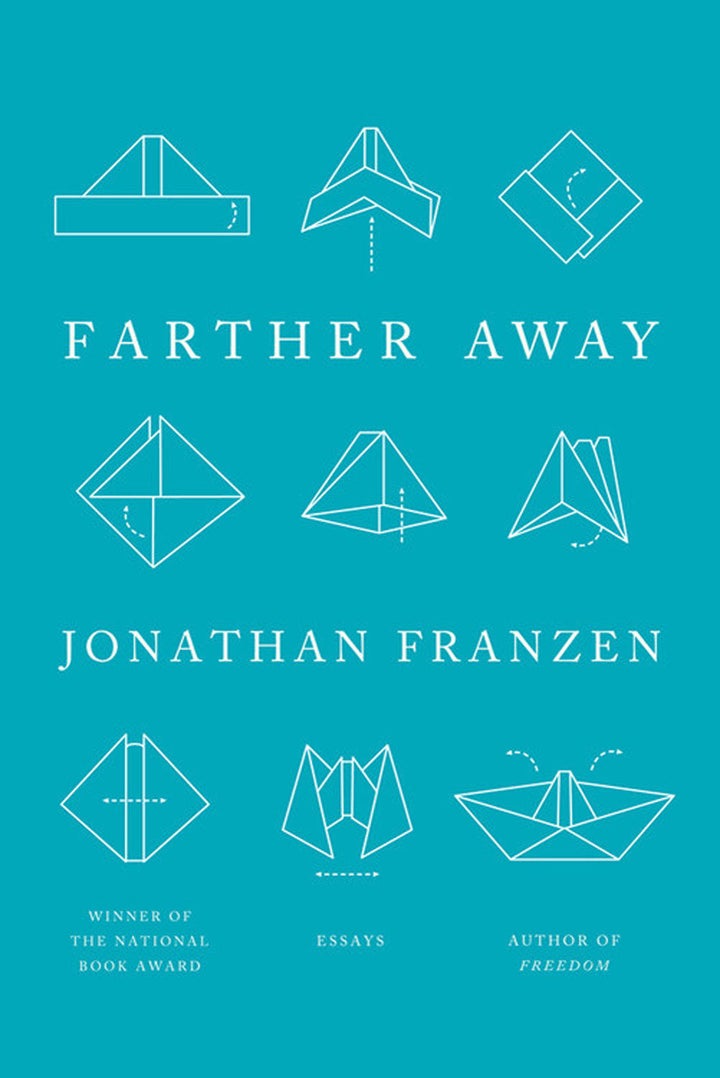 "Farther Away" by Jonathan Franzen
Farrar, Straus and Giroux, $26.00
Published on April 24, 2012
"Farther Away" is the seventh book by Jonathan Franzen, author of "Freedom" and "The Corrections," which was a finalist for the Pulitzer Prize. This time the writer opts for non-fiction, relating his opinions on environmental devastation in China and Cyprus, as well as revealing his literary tastes.
It is a collection of previously published essays about varying topics such as Franzen's dislike of golf and his fervor for avian animals. Some offer in-depth literary criticism but use humor and anecdotes to keep the language from getting too dry. The author offers strong, snarky opinions on why Alice Munro is one of the most overlooked authors of all time (her thematic consistency doesn't make for very interesting book review fodder), why "The Hundred Brothers" is one of the strangest books to have ever been published in America, and how Franzen learned the importance of not living beyond one's means.
Of particular note is the first essay, which was originally a commencement speech at Kenyon College. Franzen purposes that technology and our ability to "like" articles and opinions en masse keeps us from opening ourselves up and truly loving things.
If you dedicate your existence to being likable, however, and if you adopt whatever cool persona is necessary to make it happen, it suggests that you've despaired of being loved for who you really are. And if you succeed in manipulating other people into liking you, it will be hard not to feel, at some level, contempt for those people, because they've fallen for your shtick. You may find yourself becoming depressed, or alcoholic, or, if you're Donald Trump, running for president (and then quitting).
Why are we talking about it?
These essays show a different side to Franzen, who has earned a less-than-favorable reputation of being a pompous misogynist (recently, he criticsized Edith Wharton for being homely). In these essays, he can be funny and even self-deprecating.
Also, those familiar with the author know that he was close with David Foster Wallace, so the book is peppered with anecdotes about his late companion. Frazen recalls Wallace's apathy and obsessive desire to be remembered. He wishes readers could know Wallace's eccentricities because enthroning him as a flawless genius makes him less of a lovable individual.
Who wrote it?
In addition to being shortlisted for the Pulitzer Prize, Franzen was the winner of a National Book Award, and gained notoriety when he said that an Oprah logo on his book would discourage men from reading it.
Who will read it?
Fans of Franzen or David Foster Wallace; Fans of The New Yorker; Environmental protection advocates
What do the reviewers say?
Kirkus: "An unfailingly elegant and thoughtful collection of essays from the formidable mind of Franzen, written with passion and haunted by loss."
Slant Magazine: "Without the editorial restraint of his previous nonfiction collection, How to Be Alone, Farther Away suffers under the weight of all this worrying, filled as it is with so many rote pieces impassive to the author's skills as a novelist..."
What's it similar to?
"Arguably" by Christopher Hitchens for its curmudgeonly (yet eloquently fleshed out!) viewpoints; Literary website The Millions for its ability to review books in a broader context; "A Room of One's Own" by Virignia Woolf for its fusion of non-fiction and a narrative arc.
Impress your friends
In more than one essay, Franzen expresses his infatuation with birds and his attempt to save certain endangered species. There are over 10,000 species of modern birds, and 1,227 of these are listed as "threatened" due to human activities.
Opening line:
Good morning, class of 2011.
Notable passage:
David wrote about the weather as well as anyone who ever put words on paper, and he loves his dogs more purely than he loves anything or anyone else, but nature itself didn't interest him, and he was utterly indifferent to birds. Once, when we were driving near Stinson Beach, in California, I'd stopped to give him a telescope view of a long-billed curlew, a species whose magnificence is to my mind self-evident and revelatory. He looked through the scope before turning away with patent boredom. "Yeah," he said with his particular tone of hollow politeness, "It's pretty."
Correction: In an earlier version of this story we wrote that Jonathan Franzen was a winner of the Pulitzer Prize rather than a finalist.
REAL LIFE. REAL NEWS. REAL VOICES.
Help us tell more of the stories that matter from voices that too often remain unheard.