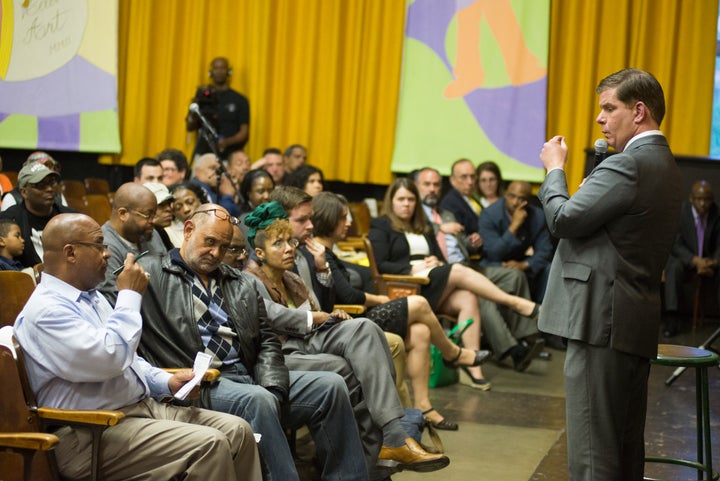 Bewildered Boston leaders are jumpstarting conversations in the city as they seek to address divisions that have created political and economic apartheid between whites and blacks across its neighborhoods. That's a wise move, because Boston sits on racial tinder that could flame up at any moment.
Boston Mayor Marty Walsh wisely announced last week that over the next two years he "wants to have hundreds of thousands" of the city's residents explore their racial attitudes as a means to finding corrective social fairness.
By no means has Boston exploded into racial conflagrations like in Fergurson, Mo. or Baltimore, where in recent years mostly black protesters violently clashed with the police and the white establishment around uneven police practices after law enforcement murdered unarmed black men. But in Boston there is an unmistakable subterranean racial boil that evinces the attenuated state of ethic tensions.
In 2016 black community leaders confronted Mayor Walsh over accusations of racism that broke out at the city's prestigious Boston Latin School, where two female African American students complained about racism on campus that for years went unheeded. The white headmaster at the school was eventually replaced. Walsh pledged racial reform at Latin and throughout the public school district.
Earlier this month, Baltimore Orioles outfielder Adam Jones — who is black — claimed he was a victim of racial slurs from a fan at Fenway Park during a contest with the Boston Red Sox. Days later a similar incident grabbed national headlines when another white fan at the stadium was charged with making racial slurs against a Kenyan woman performing the national anthem. The fan was banned for life. Mayor Walsh apologized on behalf of the city to Jones.
At the Super Bowl this February, Saturday Night Live comedian Michael Che called Boston one of the most "racist" cities in America. When asked about his statement months later during a talk with students at Boston University, Che was unrepentant. On Instagram Che wrote: "lol those boston university kids tattled on me to the media? yea, i said it. boston is racist. big f―-in deal..."
The expansive race initiative being backed by Mayor Walsh is funded with a $1 million pledge from the Hyams Foundation, a local charity that has done exemplary work on race and social justice. The project, which is in its planning stages, will center around listening sessions throughout Boston's 17 major neighborhoods, bringing residents of all racial and class backgrounds into "facilitated" conversations.
Walsh should be applauded for his leadership because he is adroit enough to know that an offensive approach to the city's quietly roiling race issues may have a long-term prophylactic effects. And he is pragmatic enough to know that the city's racial dysfunction stunts its civic growth.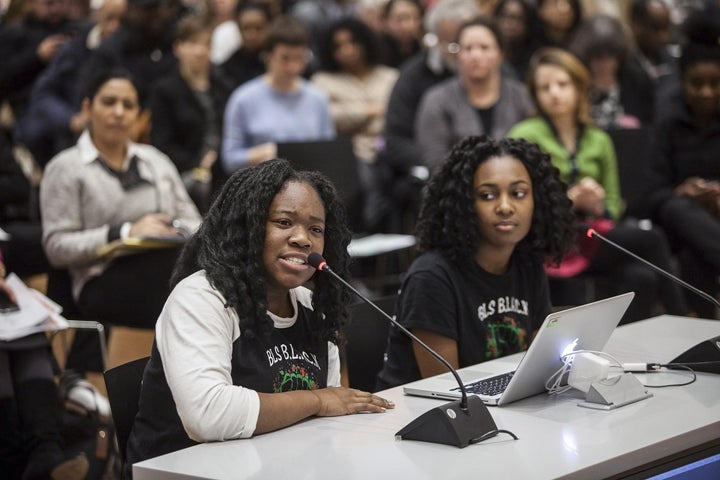 But racism in Boston is an enigma wrapped in a paradox that's cloaked in a mystery. Addressing it has been a effort historically ignored as a collective citywide project. For sure, engaging the problem requires more than just loquacious testimonies and fancy facilitative racial parlance.
"Our vigilance to end racism must far exceed the vigilance of those determined to perpetuate it [in Boston]," the prominent Civil Rights Attorney Charles E. Walker told me last week.
"Dialogue is good but only to a point. [And] it takes more than laws, more than protests, radio and TV shock jocks and op ed pieces. It takes a united commitment to celebrate and embrace our physical difference rather than condemn them."
Walker is right. Racism in Boston -- like most of America -- is deeply emeshed in its culture. Its reflected ideologically, institutionally and structurally. It's is constituetive of the city's long history — where even slaves were once part of the local economy.
The mayor's able moral leadership must champion the citizens of the city to engage in the tough task of spirtual reckoning around race that will lead to much needed reconciliation, repentance and reparation.
Anything less jeopardizes the courageous project that Walsh has deigned to launch.
Calling all HuffPost superfans!
Sign up for membership to become a founding member and help shape HuffPost's next chapter
BEFORE YOU GO